Posted By
Eric
on June 11, 2013 at 9:45 am in
Video Games
E3 2013 Schedule
---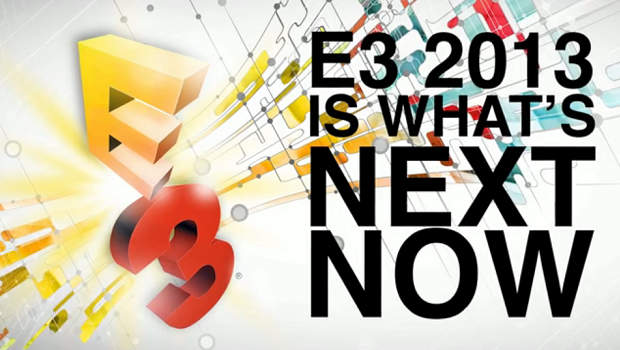 It's nerd superbowl time again kids, and you know what that means! It's time for E3!

*BOOM* Mind blown and junk, right? Probably not. . . You all knew this was coming. But this is still flippin' exciting!

So, there's a whole lot going on next week. Particularly in the Monday/Tuesday range. After that it's just show floor time. So, we'll have our live blogs set up nice and early so you can bookmark your favorites. We'll be liveblogging the Big 3 definitely (Sony, MS, and Nintendo). Some of the smaller guys run into some odd time slots, but we'll do our best to cover those.

Anyway, here's the primary lineup.

Monday 6/10/2013
kicks off the day with their press conference starting at 9am PST, 12 noon EST.

is next up at 1pm PST, 4pm EST.

takes stage at 3pm PST, 6pm EST.

rounds off the day with their press conference starting at 6pm PST, 9pm EST.

We will definitely have coverage for Microsoft and Sony. The other guys are going to be a little rough.


Tuesday 6/11/2013
keeps their E3 presence a little more personal with a Nintendo Direct instead of an actual press conference at 7am PST, 10am EST.

Square-Enix
has a special surprise for media attending E3 at their Future of Final Fantasy event. There won't be a live stream, but we'll be sure to bring you any exciting info that comes out of it as soon as possible.


Wednesday 6/12/2013
Nintendo
gives the public an opportunity to take part in the E3 festivities at nearly 100 Best Buy stores across the US. We'll be at our local store to check out the new games, so be sure to look out for our coverage of that event.

has the details on the event, so check it out and be sure to check out your local store for a chance to play some new Nintendo games between 4 and 8pm!

The Expo continues into Thursday, but currently nothing special is scheduled for that day. We'll be sure to keep you all up to date with any other info that may pop up anyway.

There you have it! E3 in a nut shell. We're stoked! Hope you are too!