C2E2 – Some Highlights And More
---
Independent Publishers
So you always have pretty big news coming from Marvel and DC, lately though there has been a lot going on with those smaller guys, like IDW, Image, Zenescope, etc. We've gotten lucky and have been able to supply the internets with some breaking news for some of these guys in the past months since we started, and we're all hoping that keeps up!
So the problem we run into is because most people are only interested in the big 2, there wasn't a whole lot of news about the smaller publishers on the web. So rather than strictly C2E2 news I figure I'll just do a little roundup of some cool stuff coming from these places soon.
1) Breaking Records and Selling Out (Image)
We've posted a lot of news from Image over the past few months since we started, because Image has had a lot of news coming out of it. The creator owned publishing company has been putting out some great books for years, and over the past few months have really kicked it up a notch with sell out after sell out at the distribution level and multiple printings of various issues. It definitely helps that they've got some great talent making this books. You've got people like Robert Kirkman, Nick Spencer, Brian K. Vaughn, and Jonathan Hickman working on their own characters. These guys all do a great job with characters that have been around for decades, and they do even better when they're left up to their own ideas. If you've never read a book from Image then the next time you're in a comic shop pick something up, they've had numerous series start over the past few months that wouldn't be hard to jump into now, and even more that have been running for a while that would make for a good Trade collection.
To go along with all the selling out, they've managed to break some of their own records with, easily their biggest title The Walking Dead hit record highs in sales for the last few issues, each one doing better than the last. If the trend stays strong like this it won't be long before people are calling it "The Big 3" when they're talking about comic publishers.
2) Grimm Fairy Tales – The Animated Series (Zenescope)
We talked about this when it first went up, but Zenescope is still looking to get their Animated Series funded and we are all behind them and really looking forward to see what comes out of this! Make sure if you haven't already that you head over to their Kickstater page and check out all the info they've got up, then make a donation and help it become a reality!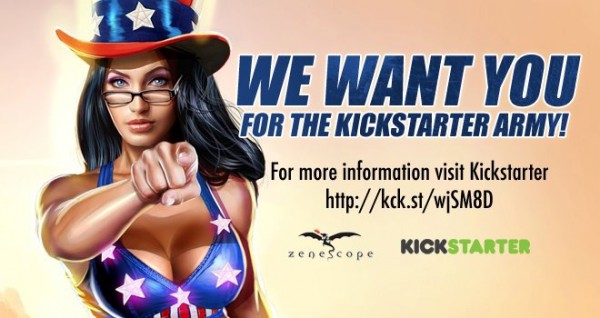 3) Zenescope Entertainment Presents: Comic Company (Zenescope)
Starting today the guys over at Zenescope are going to be doing a weekly web-series about the going-on's at their offices. This may sound kinda boring, but they say the Zenescope offices are anything but dull. Tune in at 2pm today (April 17th) on their YouTube channel. And make sure to check back weekly for new episodes.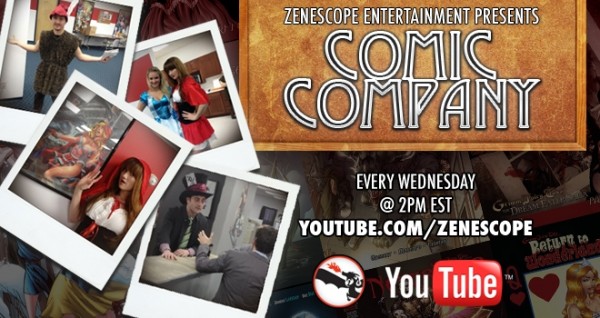 For everyone interested here are the full details on Comic Company via Zenescopes Blog

Zenescope Entertainment has announced plans for a new documentary web-series entitled "Comic Company" which will give fans a behind-the-scenes look into the goings-on at its office based in the Philadelphia area.
The web-series will consist of short weekly segments documenting day-to-day happenings at the offices of the popular indie comic book publishing house including pitch meetings, job interviews and general interactions and relationships between employees. It could normally be assumed there is not much excitement inside the walls of a comic book publisher. Zenescope's work environment could very well be the exception to that rule, with some of the company's own characters, such as Red Riding Hood, Bigfoot, Mad Hatter, Alice and Calie Liddle, being employed at the office. It's no surprise that any day at this comic company could turn out to be an extremely interesting one.
"It's been a pretty unique experience to open our doors to a film crew." says Zenescope co-founder and Editor-in-Chief Ralph Tedesco "We have a pretty diverse and eccentric collection of personalities here. Most of our employees were really excited about it with maybe the exception of Bigfoot and the Hatter. They're both pretty private in general but all in all they were okay with being involved and I think this will be a very cool glimpse into the inner workings of an entertainment company such as ours."
The first segment of "Comic Company" will air Wednesday, April 18th at 2pm EST on Zenescope's Youtube channel. It will be released on a weekly basis exclusively at this link: Zenescope Youtube Channel

4) Teenage Alien Mutant Ninja Turtles (IDW)
Michael Bay pissed off a lot of TMNT fans with what he said about our Heroes in the Half Shell. So for those of you who are still steaming, and claiming to boycott the future movie fear not. The Turtles we know and love are thriving over at IDW in their latest comic incarnation. They've got a reworked origin, and we haven't really gotten into a lot of the cool Turtle villians many of us grew up with, but they're Mutants, they're Ninja's, and they're Turtles and boy do they kick butt!
Coming up for the series is a Micro-Series one-shot based on sports fan Casey Jones which should be pretty cool. Also releasing today is the Leonardo Micro-Series to go along with the 3 previously released issue features his green skinned brothers.
So if you're a TMNT fan and you're looking for something to give the classic characters and fresh new feel, definitely give this a shot you won't be disappointed.