Baltimore Comic Con 2013 Recap
---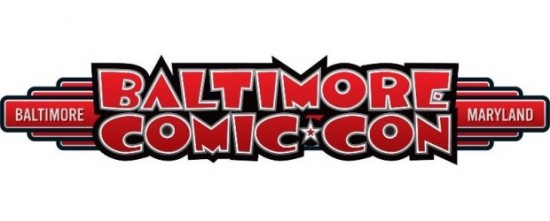 Baltimore Comic Con 2013 was on September 7 & 8, we're a little late with our coverage, but regardless of that it was still a great time. Below is a general recap of our day down at the convention, and expect some pictures to come later on through our Facebook page.
Baltimore's Inner Harbor once again played host to the popular Baltimore Comic Con. Like previous years the main show floor is covered with tables full of comics, figurines, artwork, and various other nerdy things. For the most part the layout stays the same with vendors on one side, followed by exhibitors who tend to be your comic publishers like Zenescope and Boom!. And then tucked back in the corner is Artist Alley, this is where you'll find a lot of the comic professional you'd want autographs from, and a whole slue of amazing artist you've probably never heard of yet. A straight up Comic Con like this one is a different kind of monster from your Anime conventions or your Wizard Worlds. The guests are writers, artists, and other industry professional in comics. You don't have big stars like Norman Reedus or John Barrowman showing up inflating the price and packing the house even tighter. These events are for your real comic book fans, and boy has it exploded recently.
2013 is the third year I've attended Baltimore Comic Con, this year we were only able to make it down for Saturday, but it was still one hell of a time. This convention has grown exponentially in those 3 years. Back in 2011 the line to buy tickets on Saturday was nothing, you waited an hour or so before the Con opened and you were in within 20 minutes of it starting. This year by 4pm the line to purchase tickets was still wrapped around the Baltimore Convention Center. And those are just the meeting who are buying that day, pre-reg looks like it skyrocketed too as the floor was quickly flooded with people as the doors opened to general attendees. Within an hour you could barely move down the aisles around vendors and exhibitors, and not long after artist alley followed suit. It's great news for the comics fandom that it's grown in popularity, but with the current spacing and layout they're using it's not going to be enough to accommodate the attendees. On the bright side next years event will be 3 days, not just two. This could help spread out the congestion as people won't have to cram everything into Saturday fearing they'll run out of time on Sunday. Best case scenario the convention continues to grow and they implement a system similar to Otakon, which currently uses the same convention center. That is, have Thursday night for pre-reg pick up so come Friday people can just roll right into the show. Not only that, but spread things out a bit more. Otakon has dealers and artist alley in two different areas, which while maybe not the best idea for a comic con, certainly couldn't hurt.
Enough talking about things to come, lets talk about what we saw this year, unfortunately with the massive crowds we didn't get a lot of photo's taken, next year we'll be ready to expect more congestion and come a little better prepared for that. Regardless of that we still had a pretty awesome time, talking to people, and checking out some of the amazing artwork people have up for sale. We saw some familiar faces, talk a lot about comics, and met some of the my favorite creators in the industry. Just like last year it was just myself and Erica attending, and like any dedicated fan we were there early enough to get onto the floor before the general admissions were in and scope the place out. It's a lot of fun seeing what new things people thought to make and bring to conventions each year. This time we saw someone doing comic book collages similar to the ones we did for Wizard World and are selling on Etsy at the moment. We also saw someone doing custom blankets with video game characters, drawback is they didn't look handmade, more like they printed the design onto fabric and put decorate stitching on the front. And of course lots of great artwork, it's amazing just how much talent is out there and relatively undiscovered.
Now we certainly didn't just spend the whole convention staring at things, one of our must do things at any comic convention is to check out the Zenescope booth and see what new stuff is going on. Those folks do some great stuff, and this year one of their top writers Pat Shand was on hand talking to fans and signing just about anything you wanted. We've known Pat since last year just before his first big Zenescope titles came out, Robyn Hood, and now he's just blown up in popularity with the publisher. I think he said by the end of this year he'll have released somewhere around 73 comics with them. That's an insane number when you think about it, an average comic is 22 pages published, that's 1606 pages of comic book greatness. Most novels aren't even that long, and your average comic script is longer than the finished book. Basically the point I'm trying to make is it's ridiculous to put out that much quality work in a year, and really shows a lot of passion for ones craft. The whole team over there is really dedicated to the company and it's characters, and it shows by the writers they hire to bring these characters to life. So next time you're at a convention and you see the Zenescope booth in the program make a trip over and talk to them. As we saw with Pat this past weekend, if you're unfamiliar with the stories, they'll get you all setup with what you need to know to jump right in.
Zenescope wasn't the only table we stopped by during the convention, we also ran into Chris Campana from Wyrlwind, you might have seen me mention Wyrlwind a few times in the past. Like after last years Baltimore Comic Con, or in the review of the first 2 issues of their comic series Kantara. Chris was representing Kantara solo this year, but still had plenty of books and prints for fans. I've gotta say Chris and everyone else over at Wyrlwind are some of the nicest guys I've met at a convention. Some people that are independently publishing their books come off as a little pushy like a car salesman. It's not that they're not interested they just want to get their books out there, which I get, but there are others ways to do it. When Chris recognized us walking by he got our attention and rather than going "Hey we have a new book, here's why you should buy it" he had a conversation. Of course after a few minutes he told me I would have to buy the newest issue. It was a joke though, since he new I enjoyed the previous 3. That's beside the point though, it's nice when someone is really into what they're doing that they don't have to pitch you on it. If the conversation can be natural and convey what your story is and why it's worth reading then you're doing a great job. I really can't say enough, if you're at a convention and you see anyone from Wyrlwind, stop by and talk to them. I promise by the time you're done you'll want to read these books, especially if you're into fantasy.
Baltimore Comic Con isn't just about talking to people though, they run some pretty cool panels too. In previous years I've gotten to see panels about DCs New 52, Marvel NOW!, and a Q&A with Stan Lee. As I mentioned before it was really packed this year, so panels really seemed to fill up. Erica and I managed to get in for the Marvel panel with Mark Waid, Mark Bagley, and Ed McGuinness. Personally I really enjoy hearing the behind the scene stories these guys tend to tell. And as a huge fan it was amazing to not only get to meet Mark Bagley (I'll mention this later), but to here some of his stories and thoughts on the comic book industry. I've had the privlege of meeting Mark Waid last year and attending a few panels he was part of, and boy is that guy into what he does. It's nice to know that not just the newbies love comics, but these veterans still have such a passion for it as well. Ed McGuinness was another great addition to the panel, while he was unfortunately held up getting to the panel he had a newer stance on how comics are done art-wise, then Bagley. The only real hindrance to this panel were the fan questions near the end. It's great that they let people ask, but I'm sorry please don't take up time if you just want to tell them how big of a fan you are, go wait in line and tell them at there table. It was also a shame more people didn't have questions for the artists, 95% of the questions were pointed at Waid, who even started apologizing to the other guys and asking people to direct questions at the others. Thankfully the moderator for the panel, who's name I can't recall, was pretty on the ball and slipped in several of his own questions directed at the whole group. Unfortunately only being there for the day I didn't get to spend much more time in panels, but they always have some cool ones. So if you're attending next year make sure to check our your programs, you'll get to learn something about an industry you like, and it's even a chance to sit down for an hour!
The remainder of our day was spent wandering the convention floor checking out various artworks and getting some autographs. I had made it a point to meet a few people down in Baltimore. Mark Bagley, Paul Jenkins, Eddy Barrows are just a few. I think aside from getting to discover new series, getting to meet the creators of my favorite books is one of the best parts about these shows. You get it at bit at shows like Wizard World, but they're so focused on the big celebrities that a lot of the comic stuff gets left in the dust.

The last thing I want to talk about is really a plug for a cool guy we met down at Baltimore Comic Con last year, and purchase some artwork from,
Teague Pupo
a digital artist who really does some cool work. He's got a
Kickstarter
running right now trying to fund a collection of short stories and illustrations. He told us a little about it when we were talking at the convention, and it sounds really interesting, all these characters he sells prints for have these back stories to them that are going to be available for everyone to see. The book is going to be called
The Solomon Collective
and as of right now he's needs about $5,000 dollars in the next 21 days. I've seen fundraisers blow up like crazy in the past, so hopefully the one will be doing the same thing. If you can't make a donation, just pass the word around about it, or we'll all be missing out on something with a lot of potential.
That's about it for Baltimore Comic Con 2013, I already mentioned that next year it's moving from 2 days to 3 days, and hopefully One-Quest will be back again to cover it. This is one of the more enjoyable conventions I get to go to, and I'm looking forward to watching it grow more, I just hope we get some more space next year. If you were at this years convention make sure to let us know what you thought in the comments or on our Facebook page!