Posted By
Chris
on September 11, 2012 at 12:59 pm in
Comic Books
,
Conventions
Baltimore Comic-Con 2012 – Comic Review Kantara
---


I feel like most comic fans take for granted how difficult it can be to not only break into the industry, but to make your own ideas a reality. Marvel and DC don't just hire guys off the street and let them make whatever they want. How many creator owned books can you think of from these guys that aren't made from at least someone established creators? Not to many, not compared to the vast amount of amazing content that's out there if you look in the right places. First instance this past weekend at Baltimore Comic-Con 2012 I stumbled across just such a book. It's called Kantara and it's something you should remember. Kantara is a fantasy story, it's also a story about choices and how different a life can turn out depending on the path you pick, but more on that in a minute.
If you're anything like me, at a convention you like to see what indie offerings there are. And frankly that's an awesome mindset. These guys and girls put a lot of themselves into these stories. So to paint a bit of a picture for you, while waiting in line to meet Scott Snyder and Greg Capullo I noticed some banners with some interesting artwork. I made a mental note of this booth with the cool banners, and after getting some things done came back around to check it out a little more. I saw that the table was selling a comic called Kantara, so I picked up the first issue and flipped a few pages. This for me is a test, if I pick up a book and put it back down without being acknowledged by the creators their book isn't worth my time. I actually had a lot of that this weekend. That's not the point though, I was almost immediately greeted by Mike the writer of Kantara. I asked him what the book was about and he launched into a story that he obviously had a lot of passion for and it drew me in. I wanted to know more about this world they crafted so I picked up both issues of the book. If you're interested in the story he told me, a variation of it can be found at the Kickstarter page they used to fund some of this book, it's over now but the video is still available.
So I purchased the first two issue, I was drawn to the booth because of the artwork and purchased them because of the the passion the creators had for it. The way the backstory was explained made you want to know more. When I first approached their booth, both writer Mike Radosti and artist Chris Campana were there, and shortly after they were joined by colorist Ron Wybraniec. I spent a good amount of time talking to these guys and they really are all about what they're doing. This isn't just something they did spur of the moment to see if it would work. They spent the time, fleshed out a story and characters and have what truly could be a hugely successful book.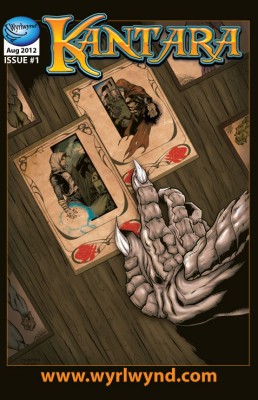 By now you're probably wondering about the comic itself. You'll get the backstory by watching the video I talked about earlier. The books start up with a young man named Ris being tortured for information by Lord Orem. We learn that Ris came from a village that had been destroyed by his captor's army and that he has shown the ability to wield powerful magic. This is what Lord Orem is most interested in as he is suppose to be the only one to possess that power. As the story plays out through the first two issues, we learn that Dragons exist, but are rare. Magic doesn't seem to be incredibly common but but exists and is extremely desired. We're also introduced to characters, whose true allegiances remain unknown, as well as some of the mysteries that I'm sure will play out through future chapters. And one of the most interesting parts for me was the point of view we get for a narrative. We have dialogue between characters just like any book, but what would usually be the thought boxes of your protagonist actually appears to be a third party narrative. Whether this is a character retelling the story, or an actually something closer to what you'd find in a novel isn't clear yet but I'm sure we'll find out as more issues are released.
By the end of the second issue we're left with a lot of questions, and absolutely no answers. This is a great way to start out a new series. I don't want any answers upfront I want surprises later on. Hopefully those answers don't come to to far down the road, for now though the pacing is just to my liking.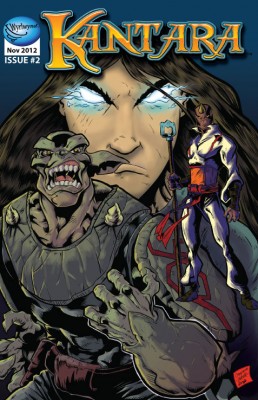 No comic book is all about the writing though, if it were it wouldn't be a comic. Everyone has personal preferences to artist, some people like the heavily stylized stuff, others want thick lines and lots of detail. That's all up to you, for me I'm a fan of clear detailed artwork, artist like Greg Capullo and Ryan Stegman usually top my list. Chris Campana has falls into that category too, he's got great detailed images without making it hard to understand what's going on. The worst thing you can have in a comic book is artwork that doesn't share the story with the words. Chris' art helps to keep readers engaged with the book beyond just the story itself. It's artist like this that you see at conventions trying to draw an audience to their works that make you wonder how some of the "Big Talent" out there got jobs in the first place. Chris' art is further brought to life by colorist Ron Wybraniec. Ron does a great job making things like dungeons and cellars feel like well dungeons and cellars. Take a closer look at the covers above for a better idea.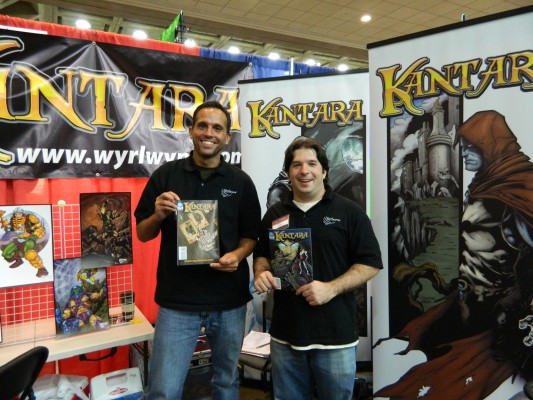 At this point you're hopefully interested, because this was a really fun read. Kantara is pretty much the definition of an indie comic, they're not in stores across the country, but luckily in this age of internet you can get your hands on a copy by visiting their website Wrylwynd.com. You can purchase both issue that are out now right there. Or if you're going to be at New York Comic Con next month look for their table and pick them up in person. You can probably even get them signed. If you've already read the book make sure to let us know your thoughts in the comments below.