Posted By
Chris
on June 7, 2012 at 3:15 pm in
Conventions
Wizard World Philly – Recap Sunday
---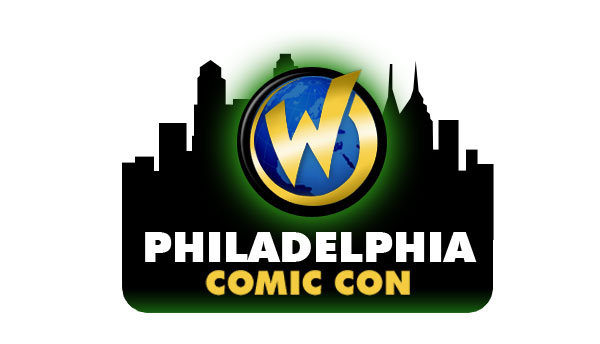 (Read about Saturday here)
Sunday was a small day for One-Quest, it was just myself and our photographer Erica wandering the show floor. I must say though it was a lot more enjoyable of a day. Without the two big names from Saturday, Chris Hemsworth and CM Punk, there was a lot more open space that had once been huge lines. You don't realize until you're stuck in a crowd of thousands how nice it is to be able to walk around and take your time checking things out.
We got to the convention center a little early, so we had to wait to be let in which wasn't bad. It gave us a chance to check out the programming for the day. Once they let us in we started wandering around checking out the various booths and tables we didn't get to really see the day before because of the crowd. It's funny some of the little things you miss when you're being herded along by hundreds of fans trying to get in line to meet their favorite star. After we got done browsing some of the cool stuff people were selling which I'll go into some more detail about soon we decided to go check out some of the celebrities.
The first place we stopped was to meet Sam Trammell, who plays Sam Merlotte on True Blood. Erica went up and talked to the guy who was taking the money and what not at his booth and asked if she'd be able to say hi and get a quick picture for the site. The guy was rude and pretty much called her a free loader which was fairly uncalled for. Luckily for us Sam was a nice guy and actually overruled the douche bag and said he didn't mind if we took a quick picture.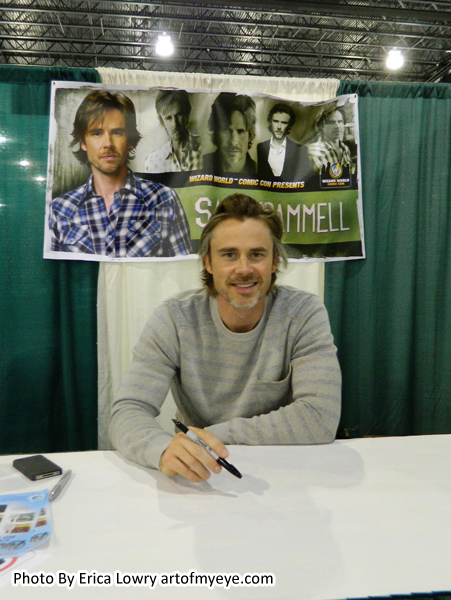 Now I understand these people who take money and what not for the stars are just doing their job, but it's one thing to say no it's another to be a complete ass about it and that guy was a complete ass. After this we decided to go see Sam Witwer who plays the vampire Aiden in Being Human. Erica made the same attempt here simply wanting to say hello and get a quick picture for the site. The staffer sitting with this Sam was much friendlier and explained that she couldn't allow it, especially because someone was let go the day before for letting a star get out of their booth and take a picture with a fan.
It sucked that we got turned down, but you know the lady was nice about it and it's understandable If the previous person had been as nice it wouldn't have been so annoying. Anyway Erica decided she wanted to meet him anyway and got back in line and paid her 30 dollars and got a signed photo and the chance to talk to Sam for a good 10 minutes. I thought that was cool that he actually spent the time and talk to the people coming up to meet him it wasn't just sign a photo and move along.
The last celebrity we decided to meet was Norman Reedus, who had a huge line, not as bad as Hemsworth or Punk had been the day before, but still. So we got in the line and waited for about 45 minutes, talked to some people in line who had already met him a few times that weekend. Which really seemed a little silly to me but hey, everyone is entitled to their own interests. One thing that was amusing, while waiting in said line, a girl informed us that during one of her trips to meet him, Norman told her about some things that would be happening in the next season of 'The Walking Dead', including a love interest for his character Daryl. So we continued our wait and when we finally got up to Norman, Erica mentioned what the other fan had said. He was shocked and sounded a little annoyed that we had been lied to, not at us for saying it. He explained that they had only done a few episodes so far and that none of the cast gets any kind of look ahead. They're apparently very secretive about the scripts and the stars are only given scripts a few days in advance at most.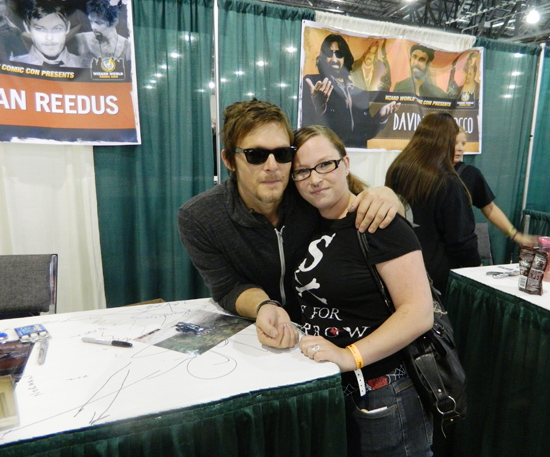 Regardless of that though, Norman Reedus was awesome to meet, like most celebrities at this kind of thing you have to pay for autographs, and a lot of them either charge for photos or prefer not to take them with fans. This was not the case, yea we paid for the autograph which wasn't bad, but Norman had no problems taking pictures with everyone who came up and talked to each person for at least a few minutes. It was really cool considering how long of a line he had.
So that's it for the celebrities we met, but there were a lot more, if you've read JohnScott's Wizard World recap you'll know he met all 5 of the Star Trek captains, as well as some other cool people. And that still isn't half of the stars that were in attendance. For us though, after waiting in line so long we decided to walk around and see some more of the cool stuff in the Artist Alley section of the floor. I particularly wanted to have a few comics signed by some of the folks that were there. One of the first tables we stopped at was for Tommy Castillo who, if you've never heard of him, is an incredible artist. I highly recommend you check out his website to see some of the stuff he's done. If you're ever at a convention he's attending it's well worth checking out the artwork, and picking some up. Tommy and his wife Sammy Castillo are both really friendly and you could tell they were totally into what they were doing. I picked up a really great print of Kermit the Frog writing a letter to Jim Henson. It was touching and looked amazing.