Weekly Comic Wrap-up April 14, 2014
---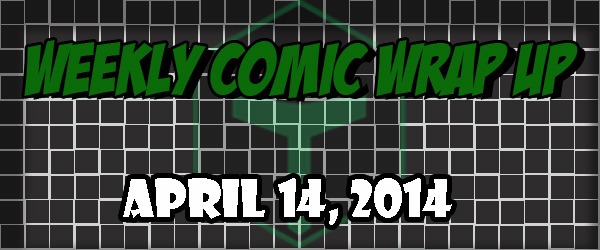 Welcome to a brand new weekly article I'm going to be doing. Drootin's been doing The Week In Gaming for nearly a year now, and it's about time we start talking up some of the news in other mediums! That's what we've got here, Weekly Comic Wrap-up may not have a fancy acronym like T.W.I.G, but hopefully the content is just a relevant to you, the readers.
Being that this is the first entry, I thought I'd take a minute to walk through what can be expected each week. First we'll cover some of the more interesting news items from the comic book industry. It's all going to run from oldest to newest with the date we received it.
After that I'm going to spotlight a few books to watch out for on your comic shelves this week. Again it'll be books coming out, so it's basically me hoping a book is good and letting you all know about it. Being the first week for this, the format could very well change, but for now this seems like a good start.
Without me rambling on any longer let's get to the actual news.
The News
April 7, 2014 – Marvel's Agents Of S.H.I.E.L.D. Changes Forever In the Wake of Marvel's Captain America: The Winter Soldier!
So if you happened to miss last weeks epsiode of Agents of S.H.I.E.L.D. then you missed all kinds of spoilers for Captain America: The Winter Soldier. This episode was a far closer movie tie-in then we got with Thor back in November. It was also one of the strongest episodes yet of the series. A lot of things went down, and I'm going to avoid spoiling them for you here, but if you're a little behind on S.H.I.E.L.D. or just wasn't feeling it early on, definitely give it a shot now. . . Just go see Cap 2 first.
Here's exactly what Marvel told us about it:
Nothing will ever be the same for Marvel's Agents of S.H.I.E.L.D. following the jaw dropping events of the blockbuster film Marvel's Captain America: The Winter Soldier, now in theaters! In the series' latest episode "Turn, Turn, Turn," airing Tuesday, April 8th at 8|7c on the ABC Network, Coulson and his team come face–to-face with the Clairvoyant and must deal with the greatest threat of all…one that will hit closer to home more than they've ever imagined.
April 8, 2014 – Legendary Comic Book Character Archie Andrews Dies In July
I've never read an Archie comic in my life, but I still know exactly who all the characters are and the basic idea of the world they're in. That's how ingrained into society Archie's world is, so to kill of a character, who is by no means a super hero, is a big deal. Luckily this is just one of many Archie titles, so while he's dying in one book, he'll live to tell more tales in another.
Here's a portion of what Archie Comics sent out about this issue:

Archie Comics, the acclaimed and bestselling comic book publisher that is home to some of the best-known pop culture creations in the world, including Archie, Jughead, Betty & Veronica, Josie & The Pussycats, Sabrina the Teenage Witch and the hit AFTERLIFE WITH ARCHIE series, announced the unthinkable today: Legendary comic book character Archie Andrews will die to conclude the hit LIFE WITH ARCHIE comic series.
The iconic comic book character, beloved by millions around the globe for over 70 years, will sacrifice himself heroically while saving the life of a friend in the pages of July's LIFE WITH ARCHIE #36, the final issue in the flash-forward series, which spotlights Archie's adventures after high school and college.
"We've been building up to this moment since we launched LIFE WITH ARCHIE five years ago, and knew that any book that was telling the story of Archie's life as an adult had to also show his final moment," said Archie Comics Publisher/Co-CEO Jon Goldwater. "Archie has and always will represent the best in all of us—he's a hero, good-hearted, humble and inherently honorable. This story is going to inspire a wide range of reactions because we all feel so close to Archie. Fans will laugh, cry, jump off the edge of their seats and hopefully understand why this comic will go down as one of the most important moments in Archie's entire history. It's the biggest story we've ever done, and we're supremely proud of it."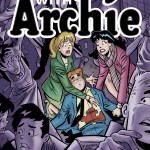 April 8, 2014 – ZENESCOPE ENTERTAINMENT AND CBS CONSUMER PRODUCTS BRING BACK CHARMED
There are a lot of shows that have been continuing as comic books over the last several years. A lot of them were on the WB too. Charmed is something that, by nature of the series, should work really well as a comic. Zenescope isn't new to the series either, having already done a comic series for Charmed.
Here's what Zenescope released about the upcoming series:

Zenescope Entertainment and CBS Consumer Products are bringing the fan-favorite series CHARMED back to comic book and graphic novel formats this Fall. Zenescope published the first 24 issues of the bestselling series from June 2010 through September 2012.
Constance M. Burge created the popular TV series, which starred Holly Marie Combs, Alyssa Milano, Rose McGowan and Shannen Doherty. Charmed aired from 1998 through 2006, and found a new life as original comics when Zenescope began publishing "Season 9" four years ago. Now, Zenescope will release a brand new "Season 10" in an on-going monthly comic book series with trade paperback collections released twice each year.
"I'm so glad to announce this news." said Zenescope Editor-in-Chief, Ralph Tedesco. "Charmed fans are an extremely rabid and loyal group. They write us all the time, asking about Season 10 since it's been almost two years since the last issue was released. We're happy to let them all know that it's been worth the wait — we're coming back with a brand new arc and a ton of surprises that we feel will absolutely satisfy hardcore Charmed fans, while also appealing to new readers."
The first issue of Season 10 will debut at New York Comic Con the weekend of October 9, 2014. Original comic book series writer Paul Ruditis will edit the series and Zenescope writer Pat Shand (Angel, Robyn Hood) takes the helm penning the new arc. The art team will be announced next month.

April 8, 2014 – Get Lost In 'The Woods' With James Tynion IV and BOOM! Studios
This book sounds like it could be interesting, and James Tynion IV generally writes great stories, makes it work mentioning or sure.
Now as usual, here's what Boom! had to say:
Award-winning publisher BOOM! Studios is excited to announce the May release of its newest ongoing series THE WOODS, a horror suspense title from creator and writer James Tynion IV (Batman Eternal, Red Hood and the Outlaws) and artist Michael Dialynas (Amala's Blade, Spera). In THE WOODS, an entire high school campus with over 500 students, teachers, and staff suddenly vanishes and reappears in the middle of an alien-looking wilderness next to a towering, mysterious obelisk. Left to fend for themselves in a hostile environment, the group tries to find out where they are, why they're there, and how to get back home.
"James' pitch for THE WOODS knocked me out of my shoes," said BOOM! Studios Editor-in-Chief Matt Gagnon. "We've been passionate about bringing this story to comics from the jump and I'm proud to say that James' story has surpassed even our lofty expectations. James and Michael have combined teen angst with high strangeness to create a slow-burning horror story that feels like what I love about Stephen King's work. It's completely gripping, and is equal parts mysterious, thought-provoking, and suspenseful."
WHY WE LOVE IT: As fans of James Tynion IV's work in the Batman universe (Batman Eternal, Red Hood and the Outlaws), we were eager to publish his first original comic series for print. THE WOODS gives us that same eerie, small-town horror feel we get whenever we read a Stephen King novel.
WHY YOU'LL LOVE IT: James Tynion IV honed his writing craft by working with one of the best writers in comics—Batman scribe Scott Snyder—so you know he can craft a compelling tale. If you're fan of teen conspiracy comics like Sheltered and Revival, you'll immediately be sucked into THE WOODS.
WHAT IT'S ABOUT: On October 16, 2013, 437 students, 52 teachers, and 24 additional staff from Bay Point Preparatory High School in suburban Milwaukee, WI vanished without a trace. Countless light years away, far outside the bounds of the charted universe, 513 people find themselves in the middle of an ancient, primordial wilderness. Where are they? Why are they there? The answers will prove stranger than anyone could possibly imagine.
THE WOODS #1 arrives in comic shops on May 7th with a main cover by Ramón Peréz and a 1-in-10 variant by Matthew Woodson for the price of $3.99 under Diamond order code MAR140952. A retailer incentive cover by Paul Duffield will also be available in limited quantities. Not sure where to find your nearest comic retailer? Use comicshoplocator.com or findacomicshop.com to find one! It's also available for order directly from boom-studios.com.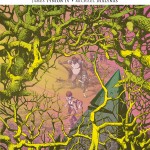 April 10, 2014 – Hack/Slash Returns With All-New Story Arc
Hack/Slash is a great horror comic, with a really interesting concept. A girl who's been tormented by 'Slashers' out to kill them before they kill others. You can pick up the back issues in a couple omnibus collections, and it's well worth it.
Now time to see what Image said:

Your favorite slasher hunter is back! Michael Moreci (HOAX HUNTERS) and Steve Seeley (HOAX HUNTERS) return to the fan-favorite series created by Tim Seeley—HACK/SLASH—with an all new arc in SON OF SAMHAIN.
When a mysterious cult of monsters arises, Cassie is forced to return to the life she thought she'd left behind. Coupled with a new partner and faced with enemies unlike any she has battled before, Cassie must confront the darkness in the world—and in her own life—in new ways. The agents of evil never rest, and unfortunately for them, neither does Cassie Hack.
The newest chapter in Cassie Hack's life will appeal to both long-time HACK/SLASH fans and readers looking for a jumping-on point. "Readers are going to get something that is immediately recognizable as Hack/Slash, yet unique in its own way as well," said Moreci. "I think Tim told the story he wanted to tell, and that's why he brought in Steve and I—we're preserving what he did while building a whole new thing. There's a lot of great stories to still tell with Cassie Hack and, hopefully, Son of Samhain is just the beginning."
"All biases aside, I've been a Hack/Slash fan from the beginning. It's a smart book with equal parts horror, comedy, action, sexiness; you name it. We knew continuing that legacy would be a difficult task, considering its history and loyal fan base, but Mike and I are damn proud of what we are doing with the book," said Steve Seeley. "It's still a sexy, comedic, action-y, horror comic, except it takes two of us to write it now. Mike's all sexy action. I'm comedic horror. This is our sequel… the next step in the evolution of Cassie Hack."
HACK/SLASH: SON OF SAMHAIN #1 arrives in stores on 7/2, and will be available for $3.50. It can be pre-ordered with Diamond Code MAY140592. An incentive variant cover featuring art by Cameron Stewart will also be available to order with Diamond Code MAY140593.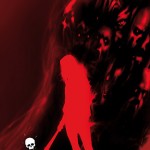 Comic Book Spotlight
As I mentioned before, this is just a few books to keep an eye out for this week on your trip to the comic shop or while you're scrolling through Comixology.
All books On Sales April 16, 2014
Check out ComicList.com for all the new releases
Batman #30 (Greg Capullo Regular Cover), $3.99
Batman has been a great read since the New 52 launched in 2011. Lately we've been wrapped in the year long story arc Zero Year. Delving into the New 52 origins of Batman. Not every issue has been the best, but the story as a whole has been just as interesting as you'd expect. Now with the final few issues of Zero Year coming, it's definitely not a time to start missing issues.
Witchblade #174 (Cover A John Tyler Christopher), $2.99
When Ron Marz returned to Witchblade he jumped everything ahead in time, and took the Witchblade away from Sara. Not the first time the writer has done that, but this time was under way different circumstances. While I feel like the release schedule's been a little wacky, and I didn't look it up to find out, the story is strong enough to make you not even care. Right now I just want to know how Sara is going to get back the rest of the Witchblade.
Sex Criminals Volume 1 TP, $9.99
This is the only book I can speak for the content truly. Sex Criminals has been a wacky ride, and should not be missed. While it's definitely an adult themed book, other than some language there's nothing really straight up offensive. But the characters, story, and humor all make this book a must read for any comic fan (that's 18 or older).
Superior Spider-Man #31 (Giuseppe Camuncoli Regular Cover), $5.99
The era of the Superior Spider-Man is coming to an end. Whether you hated Otto or loved him, Spider-Man fans shouldn't miss out on this issue, especially after how issue 30 ended. Things appear to really only be heating up, and who knows how the conflicts will finally come to an end.
Ultimate FF #1 (Mike McKone Regular Cover), $3.99
The Ultimate Universe is what really got me into reading comics. And boy has it had a rough road of late, but with this new relaunch of the books things seem promising again. Cataclysm may not have had the most satisfying ending, but the books that are spinning out from it potentially have a whole lot to explore.
Grimm Fairy Tales Godstorm Presents Hercules Payne #1 (Of 5)(Cover A Harvey Tolibao), $3.99
Godstorm was a great series from Zenescope, but it didn't seem to get the praise or the sales it should have. Luckily writer Pat Shand is getting another go with it. I remember reading in an interview that Shand didn't expect to get a chance to write this one, and had done is best to finish up the characters stories in other titles. I guess he did that a little to soon. Either way if this new volume of Godstorm is anything like the first it should be a good time reading.