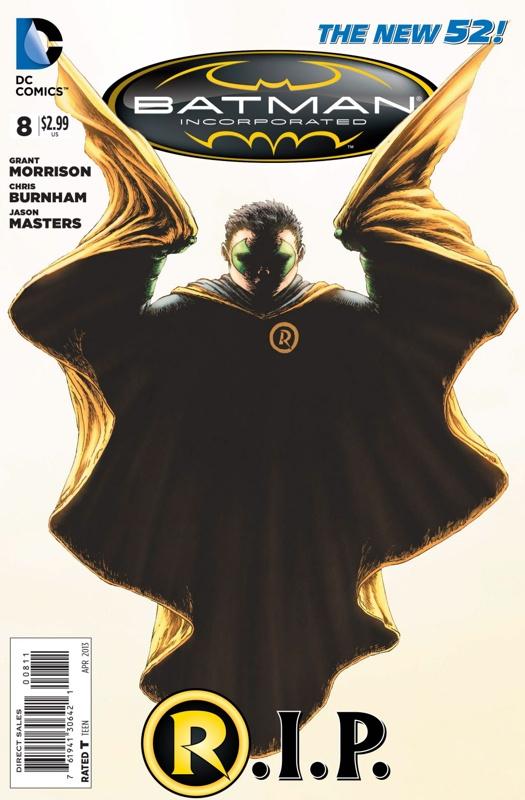 Batman Incorporated #8
Morrison – Burnham – Masters
DC Comics
On DC you've completely given up trying to be subtle haven't you? Unless you've been under a rock you know what this issue is about. We talked about it earlier this week, twice. So now just in case you have been under a rock, I'm not going to spoil it yet. I'm sure the cover art isn't helping though. Anyway first let's talk about the issues beginning, I haven't been following Batman Inc. I read the first volume pre-New 52, and picked up the first issue of Volume 2 back last summer. Since than I haven't heard much about the title though. Until this week anyway. So the issue opens up with a big fight going down, looks like Talia finally struck on Gotham, and has Batman held hostage while the rest of the family is trying to defeat her army and save the Dark Knight. We get to see Nightwing, Red Robin, and Robin battling in this issue, and a great call back to the pre-New 52 Batman and Robin title which featured Damian as Robin and Dick as Batman. That's where I started reading the title so it was cool to see those two at it again and pretty much express there mutual respect for one another. The book takes a turn for the worse though, and this is where I'm going to segue into spoilers so go ahead and skip to the verdict if you don't want to be spoiled.
*SPOILER ALERT*
So by this point Damian is fighting some kind of super ninja, I felt I was missing a lot having not read the rest of the series, but the outcome is the same no matter what. Damian dies, there's no other way to say it he loses the fight, but does it heroically and I guess if you're going to go out that's how to do it. I did feel it was a little anti-climatic, with all the talk going on and spoilers straight from DC I just expected a little more. I think the big thing with this turn of events is going to be the fallout in coming issues of all the Bat-Family books. The death itself just kind of happened, Damian was alive one second pleading for his Mother to stop this madness, and the next he wasn't anymore. There was a nice homage to the famous death of Jason Todd with batman knelling cradling Damian's bloody and beaten body. I've to go say, even though I knew this was going to happen, it was still pretty emotional, delayed but emotional nonetheless.
*END SPOILERS*
Ok no more spoiling of things, so at this point you're probably just wondering how the book was. It was good up till the end, I felt it was just rushed and came up out of no where, which is really impressive considering I knew it was going to happen. If you read any Batman title, this book was worth reading since it should have a big impact on all of them.
Verdict: Take It
Score: 6/10
Reviewed By: .