Posted By
Eric
on March 13, 2012 at 1:58 pm in
Video Games
Star Wars: The Old Republic Trial Weekend
---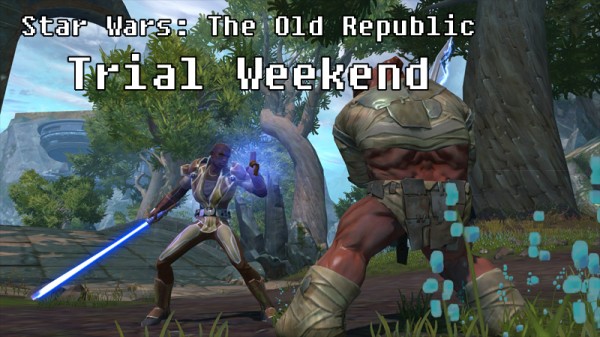 Star Wars: The Old Republic is the new MMO on the block, and it's been causing quite a scare with current champion, World of Warcraft. Activision/Blizzard is so scared of this new competition that they have begun offering bonus incentives to new and returning players. Incentives like: Instantly start at level cap, and free epic mounts. They even offer new players the opportunity to start a new character and play all they way up to level 20 entirely for free. Well BioWare and EA aren't going to sit this battle out. While they aren't offering instant jumps to level cap, or cool speeders, EA and BioWare are allowing anyone without a previously active account to log in and play Star Wars: The Old Republic for free this weekend!
You read that right! This weekend, starting Thursday, March 15th, at 12:01am CT you can log in and play Star Wars: The Old Republic for free. Players will have the ability to play as all 8 classes, and every race. All of the starting worlds, and both faction home worlds will be open to everyone. Players will also be allowed to engage in PVP Warzones. Lastly, The Black Talon and The Esseles Flashpoints will be available, as well.
This is quite  a bit of content, and really cool opportunity to get your feet wet and see what all of the buzz is about. If you have any interest in this game, or even if you don't, give it a shot this weekend, for free! What have you got to lose?
Checkout the Star Wars: The Old Republic website for the official details, and to research your starting classes! Don't forget to tell us what you think about the free trial in the comments below!