Posted By
Chris
on March 15, 2012 at 4:28 pm in
Comic Books
Review – Scarlet Spider #3
---
Scarlet Spider Issue 3
Written by Chris Yost
Art by Ryan Stegman, Babinski, Von Grawbadger, Marte Gracia & Andres Mossa
Covers by Stegman, Babinski & Gracia
Released: March 14, 2012
You may remember back in January we did a review on the first issue of Scarlet Spider, and it was good. Chris Yost did a great job fleshing out a character with a pretty crazy past in that first issue. Now we're up to issue three though, and the question is does the book still stand up to the bar that was set with issue one? More then that does the book stand up against the other spider book on the market right now? Or is there even a place for another Spider-Man type character, Pete's in 3 or 4 books, we've got Flash in 2 now, and little Miles Morales over in the Ultimate U. Where does this leave Kaine our newly reborn Scarlet Spider?
Kicking some ass in Houston, that's where. Yost really does a great job making Kaine live up to the tag line on the book cover "ALL OF THE POWER, NONE OF THE RESPONSIBILITY". We see Kaine saving a civilian from a mugger, after which he comments about how Peter would have done it the same way, only it was anything but a Peter Parker take down. And if you want to see what I'm talking about, go read the issue.
The book has it's moments of super heroness but has some humor to it as well, like running out of sky scrappers. The issue is also setting us up with Kaine's supporting cast, which with one exception know Kaine's also Scarlet Spider (granted that name hasn't been used yet). It's not just a carbon copy of Pete's friends either, they've got their own personalities and stories to them and they feel fresh. We're left at the end of the book with a hint at what Kaine will be facing in coming issues and his particular brand of justice might be just what Houston needs.
I talked about this in the review for the first issue, but the art team on this book is doing awesome. Personally I love Ryan Stegman's artwork and the inks by Babinski & Von Grawbadger and the colors by Marte Gracia w/ Andres Mossa are a perfect fit. Check out the preview image below from CBR, it just looks awesome. The pain on the criminals face, the obvious anger from Kaine, and don't forget the force he's using, his foot is denting the brick wall. The whole book is just tight and full of emotion.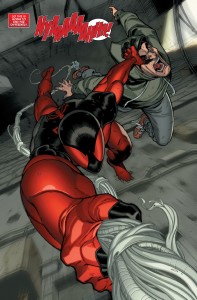 The downside for me was the opening, we're given this scene from the past with the Doctor who's been in the previous issues. I get that it's setting up for later things but jumping from that to our first scene of Kaine this issue just flowed poorly for me. Other then those opening pages we're kept on the same track for the rest of the book which is great. I just wish the first bit was a little more substantial on it's own.
As you may have noticed here at One-Quest we don't really give a grade, or anything to our reviews. But trust me when I say this is shaping up to be an awesome series and is definitely worth jumping on board with. For me Scarlet Spider is definitely in my top 3 current books, and my number 1 Spider Book currently on the stands. If you haven't read any of the issues yet, find them and do it you won't be disappointed.