Otakon 2013 Coverage: Part 2 Convention Overview
---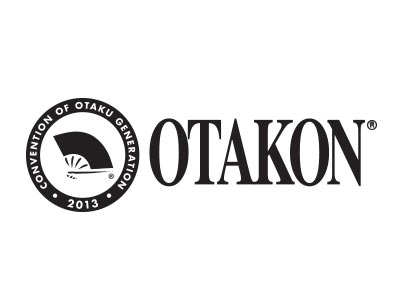 This is part two of our three part Otakon 2013 Coverage. You don't need to read them all, but it's worth checking out part one about Industry Panels, and our still to come final part about this years Cosplayers.
Continuing on with our coverage of Otakon 2013 anime convention. Being a veteran of this convention, 2013 having been my 7th year I believe, I can tell you that there is a lot this con brings to mind. With tons to do during the many hours of viewings, panels, dances, masquerade, and concerts, the two words that come to mind most for me are epicness and congestion. What do I mean by that though? Well in past years I got to meet Nobuo Uematsu, Johnny Young Bosch, see the first American concert of Mucc, the premier Sub-titled version of The Fullmetal Alchemist: The Sacred Star of Milos, and Eminance performed a free to con-goers concert. With the increasing number of participants though, the dated design of the Baltimore Convention Center has been getting a little tight. With a small handful of main traffic walkways between the now 4 buildings the convention stretches, you will find yourself waiting in highly congested areas a lot, and the likelihood of getting Con-Plague increased. That is all part of the experience though, and 2013 was no different.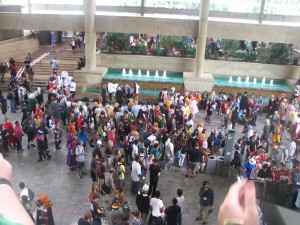 Although the schedule for the convention is Friday through Sunday, the festivities start on Thursday. Many people call Thursday Line-Con, since most of them will wait in line from mid to late morning until 3:00 when the doors open to let con goers in to get their badges and programs. Although over the past few years, I have learned that waiting in the sun that long is very unnecessary, it is still kind of a tradition. After getting your badge, rather than going back to your room and sulking until the convention starts, Otakon has recently introduce the Otakon Matsuri, a free outdoor fair/festival, with events, games, concerts, food, and much much more to do to kill time Thursday night. This festival is open for all ages, and to the public, so huge crowds will form. If big crowds are something you don't like then this convention probably isn't for you. Unfortunately it was raining quite bad this year, and I was unable to make an appearance to the festival.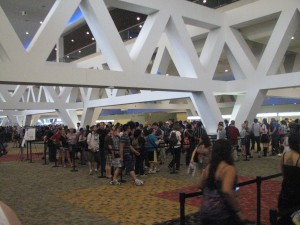 Friday and Saturday are fairly similar days, opening at 9am and closing at 2am, after the dance is complete. With 6 major video viewing halls running almost the entirety of the 17 hours the convention is open those days, there is roughly 102 hours of anime and other video segments to watch, each day! They have premiere anime, fan parodies, and anime music videos in these rooms for your enjoyment. This year's biggest viewing was the premiere of the English dub of Wolf Children. Wolf Children is a heart wrenching tale about a woman, named Hana, who falls in love with a mysterious stranger. This stranger happens to be a descendant of the extinct Japanese Wolf, and after being together for sometime they have two children. The father goes missing and Hana is left to raise their two half wolf children on her own. I have not had a chance to watch it, but the release of the English dub will be available in a Blu-Ray Combo pack November 12th. This year I spent most of my time in panels, but judging from the program they had some great anime being shown.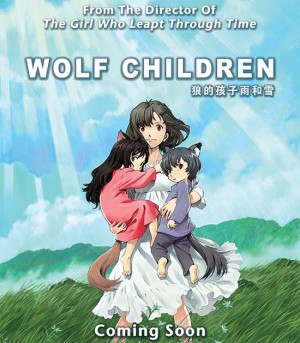 If spending the weekend at a convention watching anime isn't quite your thing there is still plenty of other amazing activities to do. With similar amounts of fan and industry panels being run through out the day, you can always step into see what's happening with your peers and their thoughts on a range of topics. There are panels run for fans of Digimon, Kamen Rider, OC Remix, special guests panels, and industry panels. These industry panels come loaded with tons of announcements, which you can read about in part one of our Otakon 2013 coverage. There are also tons of workshops that help you improve your skills in things such as how to play Pokemon Trading Card Game, How to pose in a cosplay, How to use photoshop, there was even a fitness anime aerobics early Saturday morning(I kinda wish I went to). Of course every year there are also many special guests with Q&A and autograph sessions. A handful of guests this year were, voice actor Krispin Freeman, writer Tsukasa Fushimi, voice actor Kyle Hebert, Producer Masayuki Ozaki, voice actor Vic Mignogna, and Batman just to name a few.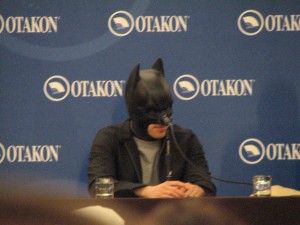 That's not even half of what there was to do this year. As always they have a giant game room, filled with all sorts of new and old school gaming. There were a few Arcade cabs, some were Japanese that I have never seen before, as well as classics like House of the Dead 2. You will be waiting quite a while, before you get a chance to play though, as this room gets packed. If you are planing to spend money at the convention, then the place for you are the Dealer Room and Artist alley. The Artist Alley is where amateur artists can get a table and sell you their hand made prints, plushies, statues, figures, and what ever else the artists can think of. In the back they have a silent art auction for original prints as well as other items. The dealers room is where licensed professionals and industry groups, such as Funimation, can sell anything in their inventory. This room is huge, spanning almost, the entire basement of the convention center, and barely any room left to move. You can find all sorts of items here, such as shirts, bags, wall scrolls, corsets, weapons, official figures, statues, movies, and video games. There is a lot of merchandise but try to hold from buying anything until the last day of the con, some dealers will cut prices to reduce the stock they need to bring back. All these rooms get congested quick so be prepared to walk slow and bump into people a lot.
With all that said, there is still a plethora of other things to fill your time throughout the weekend. If your pull is more toward the music of this culture, they do have live concerts in the afternoon. The performers this year were musical group Home Made, performer T.M. Revolution, vocalist Chiaki Ishikawa, and composer Yoko Kanno. I was unable to attend these concerts since you were required to wait in line early morning to get tickets for that afternoon's concert, by the time I got to the center they were all given away. As I mentioned at the start, the con runs till about 2 am, with plenty of things to do. Usually the younger teenage attendees will either be at the house/trance music rave, the game room, or the masquerade. The masquerade is a sort of fan made skit/talent show in cosplay. Every year I have attended Otakon, I went to the rave, and unfortunately the music is getting worse and worse each year. These are all fine events, but there is also some 18+ rooms and events to attend. Usually you can find a Cosplay Burlesque Show, an intense japanses horror film, voice actors after dark panel, or various showings of Hentai. There is always plenty to do with the Otakon night life.
Sunday at the convention is usually low key. Opening at 9am and closing at 3pm, most people use this day for last minute shopping, relaxing, and doing nothing. Sunday cosplays don't happen too often since most people have already packed up their cars and are saying bye to their new friends. There is a small handful of viewings and panels at the convention, but normally people try to make their own fun that day. This year there was a break dancing circle in the middle of the main floor. It was bad ass! There are closing ceremonies and a con feedback session at the end of the day. This year they had a sad announcement for the con veterans. In 2017 Otakon will be moving the convention to Washington D.C. for the following 5 years. This new facility is bigger and will accommodate the growing size of the convention. This is good news in the fact that there will be more room to move, and a lot more personal space. Everything else about the convention will be the same just the layout and location will be moved. I did hear that Baltimore plans on renovating the convention center, so there is a possibility the convention may return after their new contract is up, but that is currently just a rumor.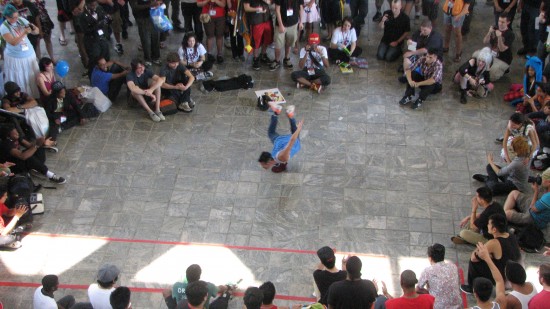 Overall Otakon is a blast for all fans of the anime/Japanese Culture community. After only 20 years the convention has grown into a must go destination for all east coast nerds. Since the convention is getting bigger every year, there are many changes needed to accommodate it's sheer size. With the upcoming move to Washington D.C. I am excited to see how this convention evolves. Everyone will get a chance to see the path Otakon has taken through out the years in their new Oatku-museum. One con-goer has collected and now donated, every badge, shirt, program, and all maps from the past 20 years. These items will be on display every year, showcasing the past of this amazing convention. If you've never been to Otakon, I suggest attending at least once. If you were in attendance, check out our other Otakon 2013 coverage, focusing on the Industry Panels and Cosplay around the con, and as always tell us your thoughts on this years convention.