One-Quest at TooManyGames!
---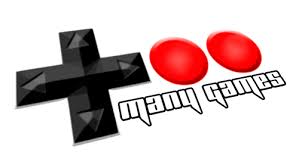 Some of the One-Quest crew are hoping to check out TooManyGames next weekend (June 24th-26th). Listen for our impressions of the show on the following #PodQuest!
FOR IMMEDIATE RELEASE
Pennsylvania's Longest Running Gaming Convention to Hold its 12th Annual Expo June 24th-26th
TooManyGames Expo features Top YouTubers, Tournaments, Retro and Modern Gaming, Cosplay, Wrestling, New Game Releases, Special Guests, an Arcade and more
Oaks, PA – (June 14, 2016) – The state's longest running gaming convention,TooManyGames, will be held Friday, Saturday and Sunday June 24th through 26th at The Greater Philadelphia Expo Center in Oaks, PA and will feature an arcade, vendors, tournaments, special guests, industry panels, famous YouTubers with more than 50 million views monthly, live music and more.
Some of the top YouTubers from around the world will be hosting panels, concerts and autograph sessions. TooManyGames is featuring multiple YouTube stars with hundreds of thousands of subscribers each including: The Angry Video Game Nerd, Team Four Star, Super Best Friends, ProJared and The Nostalgia Critic.
On the main show floor attendees can play on new and older video game systems in the consoles area, enjoy board games and card games in the Tabletop Arena, and sign up to participate in tournaments such as Super Smash Brothers 4, Street Fighter V, Mortal Kombat X, Marvel vs. Capcom and more for a chance at cash prizes. Several special events will be held at TooManyGames, including a Live Cosplay Wrestling Tournament featuring video game characters, Video Game Comedy Improv, a VIP After-Party with dinner and special guest performers, and a Cosplay Costume Contest for which the grand prize includes a chance to be filmed for a Cartoon Network commercial. New this year will be the Starship Horizons Bridge Simulator, an interactive role-playing experience.
TooManyGames, which is now in its 12th year, is a convention run for gamers, by gamers. Paul Truitt, co-founder and co-owner says, "I love holding TooManyGames to bring gamers of all ages together to celebrate the culture of gaming. We have classics like Nintendo, to newer consoles like the PS4, and we work to cover everything fun about video games and board games. We create a real connection when we get together to play games, that's what makes the gaming community so great."
The show is once again hosting a gaming for charity event run by Extra Life, and funds raised will benefit The Children's Hospital of Philadelphia (CHOP). Extra Life will also be on the show floor recruiting gamers and sharing how playing games can help benefit sick children in over 170 different Children's Miracle Network Hospitals across the United States and Canada.
You can find tickets and more information on their website at:www.toomanygames.com
About TooManyGames
TooManyGames is the premier gaming event in the Mid-Atlantic region, focusing on video games, board games, CCG's, and tabletop gaming. TooManyGames is known for its video game music concerts, chiptunes, industry panels, panels by famous YouTubers, and brand new game releases for old consoles. There is a marketplace with 60+ vendors selling retro games, new games, board games, crafts, art, and so much more.