Posted By
Anthony
on January 16, 2012 at 12:09 am in
Characters We Love
Characters We Love – Iceman
---
Today we honor Robert "Bobby" Luis Drake, aka Iceman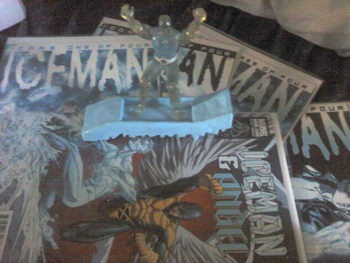 Iceman (of the marvel comic universe) not to be confused with the following:
Was created by Stan "the man" Lee and Jack Kirby. He first appeared in X-Men vol.1 #1 (September 1963)……..I guess we all know how to look things up on Wikipedia, that is not why we read things on one-quest! So lets dive right in.
First off, Iceman is an omega-level mutant! If that's not enough for you, how about his sense of style? Often times he's seen as a bald man whose damn near naked. Which shows he has balls..frozen balls…tucked away in some little wrestler-esque tights…..no seriously though, it means he's tough and that he has a tremendous amount of confidence. No one wants a superhero with low self-esteem! Although you gotta love the bald naked man look, you can't deny he knows how to accessorize better than any other superhero out there.
Style points aside, Iceman is badass. Not only is this guy ridiculously powerful, he's f'n fearless, and personality wise he's brutally honest which makes him an absolute a-hole in most peoples eyes. Who doesn't enjoy conflict in stories?!
Conflict = Entertainment.
The biggest reason Iceman made the pick for this article is the fact that he's been around for 49 years, and in that time has only had his own featured book twice. The first in 1984, the later coming in 2001.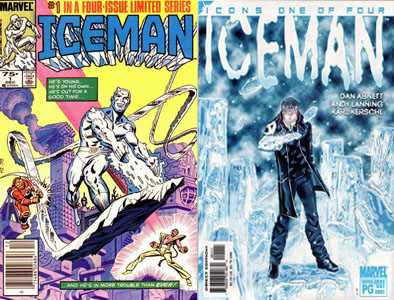 Both of these titles were only 4 part mini-series', which we at one-quest find to be completely unacceptable! This character is almost half a century old and he deserves his own damn book.
In case you need a recap, The reasons we love Bobby Drake:
Omega-Level Mutant
Usually bald and doesn't mind showing…Skin?..or Ice armor?….no Muscles because he's super tough!
Completely badass
Brutally honest (like Abe Lincoln)
Iceman embodies: integrity,valor, and strength. Like a boss!
So today Robert "Bobby" Luis Drake, Iceman, we tip our Templar helmets to you good sir.