Posted By
Chris
on September 10, 2012 at 9:46 am in
Comic Books
,
Conventions
BCC 2012 – DC Comics Panel
---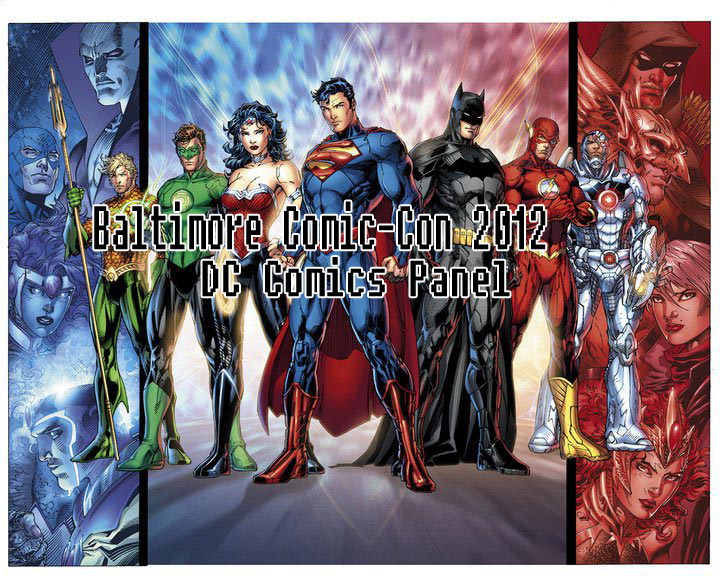 This past weekend DC hosted a panel featuring Co-Publisher Dan Didio and SVP of Sales Bob Wayne that was plagued by A/V issues(like most convention panels have). Luckily these guys were prepared calling on some of the DC creative team in attendance to fill in on the panel in place of the original presentation. Jeff Lemire writer for Animal Man, and Batman creative team Scott Snyder and Greg Capullo filled out the panel for what ended up being a really fun time, with some interesting information given during the Q&A.
I missed the issues early on as I was running late, by the time I arrived at the panel they were getting into the Q&A portion with a lot of questions being about fan favorite characters we have yet to see in the New 52 or that haven't been prominent yet. Unfortunately for fans it doesn't sound like Wally West or Stephanie Brown will be showing up anywhere anytime soon. But Blue Beetle Ted Kord just may be popping back up.
Most of the questions were of this nature, there were some stands out though, such as Didio talking about the planning of the New 52 and he originally didn't want to reboot Action Comics or Detective Comics, and was quickly shot down. According to him, someone else at the table objected to those plans stating people wouldn't take it seriously unless Action and Detective received new number 1's with everything else. This discussion was brought on by a fan asking about the legacy of books like Action that were over 900. Didio also promised that when the books started hitting those landmark 900 and 1000's they'd be making a big deal about them and the magnitude of that achievement would not be looked over.
With all the fun being had, some controversy had to come out of the panel as well, it wouldn't be the internet without it. If you follow Greg Capullo on Twitter you may already have heard about this. A certain news site published an article depicting Capullo as a vulgar sexist, and frankly this couldn't be further from the truth. Early on in the panel he mentioned having pictures of the new Joker on his phone and if anyone wanted to give him a good enough reason he'd show them during the convention.
So during the Q&A a girl stands up and offers up her scantily clad friend has tribute for a peek at the Joker pictures. The girl being offered was obviously nervous but stood up. Capullo who was obviously joking said in a deep voice something along the lines of 'Show me tha booty'. If you believe some of the other stories out there you think this was met with nervous laughter, but being in the room I can tell you most people were laughing and clapping and having a good time. Capullo smiled after saying it and even looked over at his wife who was in the front row and laughed. There were some other comments said, but it was all for fun and the majority of people had a good laugh about it. Enough so that a few minutes later a Kid Flash cosplayer offered to take off his pants for a look at the pictures. Capullo agreed to show him if he kept his pants on, and this drew more laughter and applause. This was really blown out of proportion by the sites complaining about it, and if they'd taken 2 seconds to meet Capullo they'd see he is probably one of the nicest guys and his awesome to his fans.
After that the Panel continued on with a few more questions, and ended with an Lightning Round of Yes/No questions. Mostly about whether certain things would be happening, or if certain creators may work on different books. They got a lot of no's and a few maybes, but it was generally a fun time. All the panelist hung around for a few minutes talking to fans, taking pictures that sort of thing before the next panel started.