Posted By
Drootin
on June 9, 2013 at 4:36 pm in
The Week In Gaming
The Week In Gaming June 9, 2013
---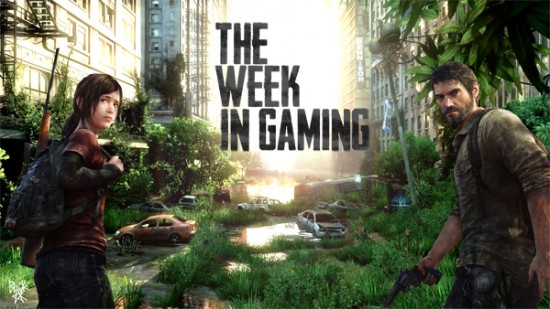 Its time for The Week In Gaming for the week of 6/9/2013. Its E3 week so lots of rumors are flying about what exactly we will be getting in the next-gen of gaming.
The News:
Dark Souls 2 coming in 2014? A banner in L.A. set up in preparation for next weeks E3 says that the sequel to Dark Souls will be launching next March. We will have to wait and see if they officially announce it next week.
The Last Guardian at E3? Website E3Insider.com has listed that Team Ico's next Sony exclusive The Last Guardian will be on display at e3 this year. Sony has said this is just "speculation". Again we will have to wait and see. I think it may be true and may have jumped from PS3 to PS4.
Harmonix has announced Fantasia: Music Evolved coming this fall for the 360 and Xbox One. It's a new Kinect controlled music game with a Disney tie-in. Right now only 5 artists have been confirmed: AVICII, Bruno Mars, Fun, Kimbra, and Queen. There is a trailer out now online for it and more details will be announced at E3 next week.
PopCap has announced Plants vs Zombies 2, launching July 18th and will be Free-to-Play. It will release on iPhone, iPad, and iPod Touch on that date with more platforms likely to be announced later.
Video game industry analyst Michael Patcher has released his prediction on the pricing for PS4 and XBox One and it's suprising. He has predicted a $349 price for the PS4 and $399 for the Xbox One. I for one will be very happy if he is correct.
Sony has announced 3 Free-To-Play games for PS4. Warframe, DC Universe Online, and Planetside 2 will be releasing for free on the PS4, no word on dates for these games.
Microsoft did a massive info dump for the XboxOne on Thursday and it was well, I'll go with interesting. Lets start with the "good", The Kinect sensor can be turned off this alleviates some of the privacy concerns that were floating around the internet. Also good you can have 10 people in your "family" be linked to your account and they can access all of your games on any XboxOne. Now for the truly interesting news, you can share your disc based games once and maybe only once? While not something unprecedented in PC gaming this type of restriction would be new grounds for consoles. Also used games will only be available at "participating retailers" and 3rd parties have the option to completely disable used games or game sharing. And the biggest news is that the XboxOne will need to connect to the internet once every 24-hours. Theres alot to digest there and while its not really new news its still sort of stunning that they are going with these plans. This has added more intrigue to tomorrow's press conferences.
The New Releases:
Naughty Dog's next big game The Last Of Us is the headline title for this weeks releases with an abnormal (but awesome and appreciated) Friday release.
Animal Crossing: New Leaf (6/9) – 3DS
SimCity (6/11) – Mac
Yoshi (6/12) – WiiU
Mutant Mudds Delux (6/13) – WiiU
The Last Of Us (6/14) – PS3