Tips for a Disney World Trip from Geek Parents — Part 2
---
Welcome to part 2 of our tips derived from our trip to Disney World. If you missed the first part make sure to go check it out first!
V: When it comes to reservations, it's really up to your preference. If you make more reservations, you'll wait less but have a stricter schedule. Less reservations and you wait longer, but it's a more leisurely pace. We made reservations the first night for Via Napoli, an Italian restaurant in Epcot. I'm so glad we made a reservation. Mainly because the looks people gave us when they called our name only 5 minutes after showing up were priceless. On a side note, this was the only restaurant all week that didn't wish my son a happy birthday. We also made reservations at Tokyo Dining, Epcot, Chef Mickeys for breakfast at the Contemporary Resort, and while in Disney made reservation at Hollywood and Vine, in Hollywood Studios. Chef Mickeys was awesome. The breakfast buffet was superb and the classic characters walk around dressed in chef's garbs and meet every table separately, occasionally going into song and dance through the restaurant. We also ate at the Crystal Palace in Magic Kingdom, we should have made reservations, the wait was a good 35-45 minutes. A lot of the waiting was a blur because we had so much fun, so I have a hard time remembering exactly how long the waits were, just that on the whole they weren't that bad.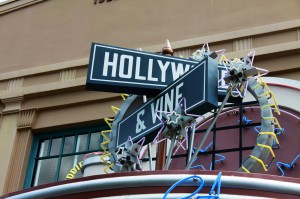 S: The main problems with waiting were the time we could have spent going on more rides, and whiny kids. If you'll have kids on your trip make sure you can spend as little time as possible in lines by making reservations and getting fast passes.
V:  I would like to point out that Chef Mickey, Crystal Palace and Hollywood and Vine are each character meal buffets, and they only count as one table service each. I know things like Cinderella's Magic Table, or whatever that's called, counts as 2 on most dining plans. Another point for kids, which I'm jumping the gun on our outline here, but we had a double stroller. Our son is 5 and big for his age, but he just made the max limit on the stroller, and boy were we happy we had it. It's one of the front back models, so it's easier to maneuver through a crowded store, so if you're planning on getting one, I recommend not getting one of the side by side models.
S: Not to mention renting a double stroller in Disney for a week is over $200. We bought ours off of somebody for $40. There are other options such as outside rental companies, but our method was still a lot cheaper. We paid to check the stroller on the flight to Florida because we didn't realize you can bring it to the plane and they'll put it in the cargo area. We did this on the way back and it saved us $25.
V:  One last thing loosely on the topic of kids, we decided to ask our parents (my mom and Shannon's dad) to come along with us on the trip. We thought they would love to be part of the celebration and would help look after the kids so Shannon and I could have some alone time in the parks. While without children we went to the AMC Dine-In theatre in Downtown Disney and saw the new Star Trek movie (epic btw). Had a nice night just the two of us walking around and just enjoying the sites. Then, at the end of the week, we went to an overnight event at the Magic Kingdom that I really enjoyed, but I think Shannon could take or leave.
S: Bringing our parents was probably the best idea we had. Not only did it make the trip easier, but it was much more enjoyable to share it with them. It also worked out because my dad got to visit my grandfather one of the days, and another day he stayed with the sick baby while the rest of us enjoyed Animal Kingdom. When we go back for our daughter's 5th birthday we'll try to convince them to come again.
| | |
| --- | --- |
| | |
V: Now on to the things I forgot to bring with me. I'm pretty forgetful so I try to write things down or ask others to remind me about things. I ended up forgetting my contact case, solution and sunglasses and ended up buying replacements in Disney. We stayed at the Art of Animation resort which is new, but I'd imagine that most resorts have essentials in their gift shop. On top of contact solution, our daughter got pretty sick so we had to get baby tylenol from the store. One thing I'll say about prices in Disney is they weren't that bad. So many times did I remark how inexpensive things seemed. Graphic tees were $25 just about anywhere you go, and that's pretty much the same price you'd get them for anywhere in the mall.
S: I also didn't bring enough underwear and Rob didn't bring enough shirts. Luckily the resorts have laundry rooms that are also reasonably priced. We did our laundry half way through the trip and we were good to go. So in theory you could pack lightly and wash your clothes during your stay, I think we'll be doing this next time. Something else we made sure we did bring was our son's stuffed Woody from Toy Story. This came in handy for our daughter because she was sick the whole time and took to sleeping with stuffed animals. So make sure you bring your child's favorite stuffed animal or blanket. We also needed things to occupy the kids on the plane and during down time in the hotel. Luckily our daughter slept on the plane, but our tablet and phones came in handy for our son. Of course, there's whatever you buy in Disney, but it's a good idea to have some backups incase you save your spending for later in the trip.
V: Spending. There was a lot of that. I would suggest a daily budget, but if you're anything like us, you're not going to follow it. It still may help from spending way too much money though. I think we had a $75 some-odd daily budget, and some days that was left at the starting line. A tip for shopping: Do not impulse shop. I know in a place like Disney this will be hard but if you see something you want that's readily available, keep it in mind and keep moving. You might run into something better later, if not go back and get it. I feel it's a matter of principle, as well as storage control, not to buy anything in the parks that you can get in any random Disney Store. Lastly, and I fell into this category, if you want something that you know is limited, hunt that shit down like it owes you money. Like I mentioned before, there was a shirt I wanted that as only being sold one day and then be gone forever. I got it though, and so many people commented on it and asked where I got it.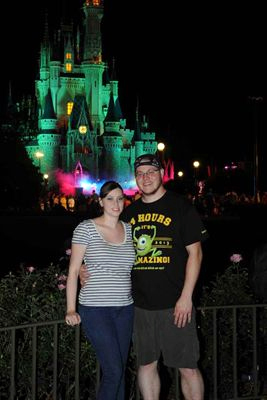 S: I think another good tip, that we never actually did ourselves, is to give each person a limit. Or at least pay attention to who's spending the most. I can't even tell you how much we spent on Rob and the poor kids barely got anything. It was our son's birthday and Rob spent all our money.
V: That's not entirely true. We got my son Lego Star Wars sets on his birthday. You may argue that they were for me anyway, but we went to the Lego Store for him and let him pick out whatever he wanted.So I didn't spend all of the money.
S: Next time he's not getting anything.
So, those are our tips for setting up and enjoying a Disney vacation. Hopefully this helps you out a little bit We had a blast and hopefully you will too. Please feel free to comment with any questions you have about taking a trip to Disney World.