Tips for a Disney World Trip From Geek Parents – Part 1
---
This May had a plethora of landmarks for our family. Our daughter turned 1, our son turned 5 and it was our 1 year wedding anniversary/6 years together. We felt it was appropriate to celebrate these events with a trip to Disney World. We had a lot of fun, but some things just really didn't go as planned. So we decided to write an entry discussing our trip.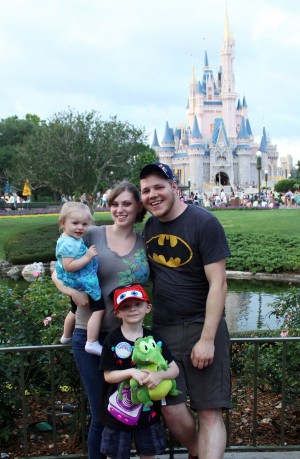 Vogel: Firstly, I'd like to start with saying that we started with a loose itinerary that we followed fairly well, but realized some issues with it almost immediately.
Shannon: One issue, we should have worked a little more on the itinerary before we booked the trip. It would have helped us to fit in a bit more.
V: Yeah, we should have made the itinerary a little tighter and considered things like park tickets and days in parks or water parks etc. I didn't know beforehand that Downtown Disney didn't count as a park day as well as the water parks. I knew the Fun and More package added things, but I didn't research it enough, I just trusted my wife with the booking.
S: I think I did pretty well with the booking, but I was misinformed. I could have completely booked the trip online and everything would have worked out fine, but I thought if I booked over the phone I could get park tickets for every day of our trip and the fun & more passes for just a few days. Apparently you get the same amount of tickets and fun & more passes. While talking to the travel agent I said we wanted 7 days in the parks and 5 days of the fun & more passes. He gave us 5 days of each because they add it to each day you have tickets per person, but I thought we had what I had wanted which messed things up on our last day, but we'll talk about that in a bit.
V: We keep mentioning the Fun and More package. If you don't know what that is you can look it up on the site for more specifics, but basically it'll get you into the water parks, mini-golf and Disney Quest (a 5 story arcade with rides and classic games, they also put in a bunch of Fix-It Felix JR machines). Disney Quest was a lot of fun and I love mini-golf. We went to Winter Summerland outside of Blizzard Beach, but I was told that their other mini-golf course is rated the hardest mini-golf course in the world but Golf Pro Magazine and Tiger Woods. I would have liked the challenge, but we were there for the kids so went to the easier one.
S: We only got to do one of the water parks, because of how much other stuff we wanted to do during our trip, but since we did get to do mini-golf once and Disney Quest the price of the passes was worth it. Also, I won mini-golf.
V: So, yeah, itinerary. I knew some of the tricks, start in the back, work your way to the front. But I wanted to plan for the sections of the parks, like the new Fantasyland etc. just make sure we were hitting all the things we wanted to without having too much of a rushed feeling. The next time I go to Disney I now know that you can't be too loose with your plan or you'll miss things you want to do. I was watching a 2 hour special of Modern Marvels about Disney World and saw quite a few things I would have liked to have seen but didn't have time for, mainly because of the issues we had with park tickets.
S: One of the reasons we had issues with missing things we wanted to do was because we would see one thing, do that, and then try to get to something half way across the park. Instead we could have done a lot more things on the way, even if they weren't our top choices. We did a lot of unnecessary walking during our trip. While it is good to plan for sections of the park, you don't want to plan down to what ride you want to do at what time because lines are always a big factor and other things may come up.
V: I think it could be possible to make a ride order, but never a time frame. It took us a few days to figure out that they had changed the system for fast pass. I haven't been to Disney for at least 10-12 years and when I went last time things were a bit different on the package standpoint. When I went with my parents, they had paid extra to add fast pass to our card so we could use it on any ride, so I assumed that this was a premium luxury that we didn't need. Turns out you grab a fast pass for a designated time for the ride you want and then come back, but you can only have one fast pass at a time. Our second trip to Magic Kingdom was a little nicer once we knew that.
S: The fast passes would have saved us a lot of time, but more of our time was taken up by trying to see all the events that were going on during our stay. The first day we were there was the last day of their garden festival, there was a Monster's U event that, honestly, I think we could have skipped and changed up our itinerary, and lastly, Star Wars weekend.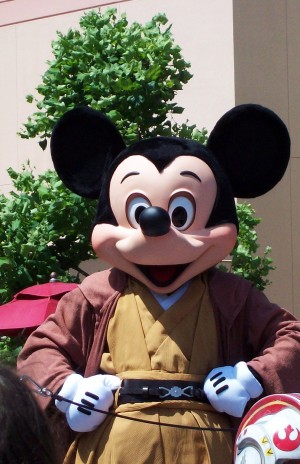 V: Speaking of Star Wars weekend, I wish we had done that more than just the half a day we did. I was watching one of the events that we didn't see (only because we had to get to the airport on time) on Youtube, and I would have loved to see it in person. As far as skipping Monsters U., I agree. That was really nothing special and we could have had a lot more fun elsewhere, the only thing I got out of it was a limited edition tee-shirt that's a size too big because they were sold out of anything smaller.
S: The issue I mentioned earlier with the ticketing really messed up our last day. Since we didn't know at the time why we couldn't enter the park we had to wait in line for guest relations to fix things. Since we got 5 days of park tickets, but one day didn't go to any parks (We did Typhoon Lagoon and Downtown Disney), we didn't know about this issue until day 7. It took about an hour after we got to Hollywood Studios to actually get in. I think we would have been able to fit in at least a couple more things if we got in right away. On the other hand though, we got to do Toy Story Midway Mania because the woman at the counter gave us what was essentially a fast pass. This ride/game was a lot of fun, plus I won. When we passed this ride later there was a two hour wait.
V: Not to mention a 100 minute wait when we got there in the first place. Anyway, back to itineraries. Research the parks you're interested in and figure out where you want to eat, what you want to ride and see and then book your trip according to that so you don't have the same issues we had.
S: Speaking of eating, the dining plan is a must! It saved us a whole lot of money. The first table service meal we had was over $200 for 5 people. We had multiple meals throughout the trip that were around that much. If you include those table service meals, the quick service meals, snacks, refillable mugs, etc. it was well over $1500. They actually only give you meals for every night you're there, not how many days, so take that into consideration.
V: We figured that out the second day or so and adjusted our eating schedule accordingly, so it wasn't that big of a problem. Along with the dining plan and itinerary, you'll want to make reservations for the table service meals you want. We lucked out and ate at Beast's Castle Be our Guest Restaurant for lunch one day. For lunch it's a quick service, but for quick service it's still a sit down inside and the food is delivered to you. By night it's a table service. We were told ahead that there was a 3 year reservation list because it was a brand-new restaurant and if we didn't have a reservation don't count on eating here. This was the worst misinformation I've ever gotten. Firstly, you can't even make reservations for the quick service lunch and it was only a "45 minute" wait (we stood in line for like 25 minutes tops and it took us longer to decide what to eat.) A lot of the "advice" we got from this person was bad. But like I said, the food was great. My mom and I got this braised pork that was amazing and Shannon couldn't decided between the quiche or the carved turkey sandwich. I suggested the sandwich because a quiche is a quiche, right?
S: That was the best turkey sandwich I've had in my life. Also probably the best meal I had during the whole trip, but don't get me wrong, it wasn't an ordinary turkey sandwich, all the food in Disney is amazing.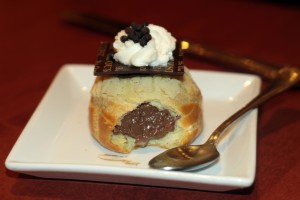 And on that tasty note, we'll be ending the first part of the article. Keep on reading with Part 2!