Posted By
Drootin
on September 8, 2013 at 8:34 am in
The Week In Gaming
,
Video Games
T.W.I.G 9/8/2013
---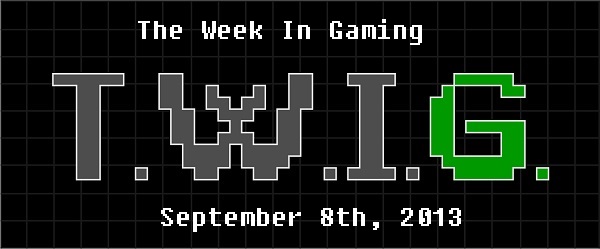 Hello again, its Sunday, September 8th so that means its time for another edition of The Week In Gaming.
The News:
The biggest news of the week was that Microsoft has announced that the Xbox One will be launching on November 22nd. The only worry I have about that date is it is only 1 week from "Black Friday" here in the U.S. so will they have enough time to get retailers restocked for the biggest sales day of the year?
Sony and Microsoft have announced how many controllers their respective next gen systems will be able to use at once. The PS4 will support 4 controllers while the Xbox One will support 8. While most games will max out at 4 players on 1 console the extra 4 players on Xbox One will be nice for sports games.
The PS4 will support voice commands with the new PlayStation Camera. Very little information has come out about how expansive the voice controls will be but more details are expected at Tokyo Game Show.
EA has said that they are currently working on 6 to 8 new IPs, all likely for the next gen platforms.
EA has also announced that female fighters will be available to play as in their upcoming game EA Sports UFC. This marks the first time in any UFC game where women will be available to play as.
The new releases:
Puppeteer (9/10) – PS3
Killzone: Mercenary (9/10) – Vita
Kingdom Hearts 1.5 HD ReMIX (9/10) – PS3
NHL 14 (9/10) – PS3, 360
The Elder Scrolls Anthology (9/10) – PC