Posted By
Drootin
on August 24, 2014 at 11:47 am in
The Week In Gaming
,
Video Games
T.W.I.G. 8/24/2014
---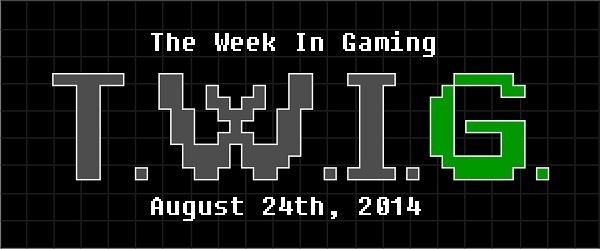 It's a little later in the day than normal, but its time once again for The Week In Gaming! Its been a very slow news week, so this is going to be MUCH shorter than last week's edition.
The News:
Gamers have translated the radio messages from P.T. and they seem to point to alien involvement in the game. The messages when translated seem to reference the original War of the Worlds radio broadcast with lines like "As the radio drama from 75 years ago was the truth. They are here, on our Earth. And they oversee and see all." So we will see what kind of updates come as we hear more about Silent Hills.
Call of Duty: Advanced Warfare is not coming to WiiU. Sledgehammer studios says it was "an Activision decision" but also Sledgehammer is only working on the PS4/XB1 versions and an unnamed studio is working on PS3/360.
In semi-related news, Ubisoft CEO Yves Guillemot has stated that Watch Dogs will be Ubisoft's final M rated WiiU game. The decision was made because of the poor sales numbers of Assassin's Creed IV: Black Flag on the WiiU.
Sony Computer Entertainment Japan Asia will be holding a press conference on September 1st. No word on what it will be about but it will be broadcast online.
The new releases:
Madden NFL 15 (8/16) – 360, PS3, PS4, XB1
Metro Redux (8/16) – PC, PS4, XB1
Professor Layton vs Phoenix Wright: Ace Attorney (8/29) – 3DS