Posted By
Drootin
on August 17, 2014 at 9:32 am in
The Week In Gaming
,
Video Games
T.W.I.G. 8/17/2014
---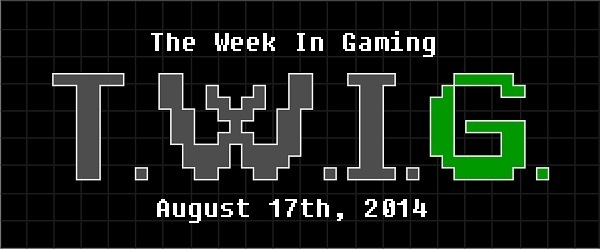 Well its another Sunday and Gamescom was this week so there's a TON of news to get to so let's get started!
The News:
Sony has announced that in the upcoming fall 2.0 system update for the PlayStation 4 they will add a new feature called Share Play. This is actually an extension of a feature announced back at the original unveiling of the system. Back then it was shown that you would be able to have someone take control of your game for you to pass a difficult spot or something like that, it has now been extended to allow full co-op play even if your friend does not own the game. Share Play is limited to 60 minutes at a time but there is no limit on the number of times you can use it with your friends so as soon as the 60 mins ends you can jump right back in.
Meta Knight is returning to Smash Bros for WiiU/3DS.
Guillermo del Toro and Hideo Kojima are teaming up for a new Silent Hill game. Titled Silent Hills the game stars Walking Dead/Boondock Saints star Norman Reedus as the main character.
The next game in the Tomb Raider franchise Rise of the Tomb Raider, is a timed Xbox exclusive. No word on length of the exclusivity but it will be only on Xbox when it releases holiday 2015.
Halo 5: Guardians beta will be coming to XboxOne on December 29th.
Microsoft has announced 2 new XboxOne bundles to release this year: a white console and controller bundle that comes with Sunset Overdrive and a custom Call of Duty console that comes with Advanced Warfare and a 1 TB hard drive. The white console bundle will retail for $399.99 and the COD bundle will be $499.99.
With the revival of the Sierra brand we are getting new King's Quest and Geometry Wars games. Both games are set to release in 2015.
DayZ is coming to PS4. No date set for release.
The first expansion for Destiny will be releasing in December. No word on if it will be a new planet or really many details other than a title "The Dark Below"
DmC, Enslaved, and Heavenly Sword creators Ninja Theory have announced a new game coming exclusively to PS4 titled Hellblade. As with many of the games at Gamescom no release date has been announced.
Tearaway is coming to the PS4.
PlayStation TV is coming to North America on October 14th. It will cost $99 by itself or $139 for a bundle with a Dualshock 3 and Lego The Movie Videogame for Vita.
Dead Nation and Resogun creators Housemarque are making a new game titled Alienation. The game looks to be at least 3-player co-op as you battle against an alien invasion.
BioWare has announced a new episodic RPG Shadow Realms coming to PC "late next year". The game is set in a modern fantasy world and features an asymmetric 4-vs-1 multiplayer aspect with 4 heroes battling the "Shadow Lord" who can control minions. Signups for the alpha test are available on their website ShadowRealms.com.
Obsidian Entertainment has partnered with Paizo Inc. to produce games based in the Pathfinder Roleplaying Game universe.
A new game based on Robert Kirkman's The Walking Dead is in development at Overkill Software, the developer of Payday, Kirkman and Starbound announced at Gamescom. The game is currently scheduled to release in 2016.
Ikaruga director Hiroshi Iuchi is working a new shoot-'em-up for PlayStation 4 called Ubusana. Ikaruga is a favorite of ours at One-Quest even with it being one of the most difficult games we've ever played. I'll be looking forward to this coming out for sure.
Lastly, the original EverQuest will be getting its 21st(!) expansion, The Darkened Sea later this year.
The new releases:
Diablo III: Ultimate Evil Editon (8/19) – 360, PS3, PS4, XB1
Plants vs Zombies: Garden Warfare (8/19) – PS4
Hotline Miami (8/19) – PS4
The Golf Club (8/19) – PC, XB1