Posted By
Drootin
on June 15, 2014 at 10:06 am in
E3
,
The Week In Gaming
,
Video Games
T.W.I.G. 6/15/2014
---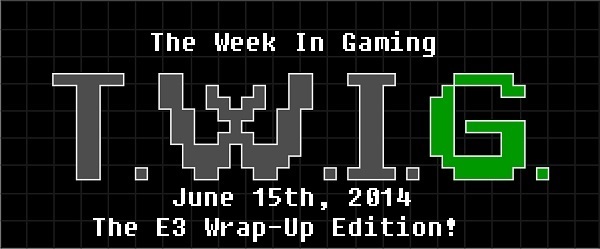 Well, E3 was this week and we recorded an awesome podcast covering our thoughts on this years show, and because we're us completely unrelated things that derailed the show more than it needed to be. That should be up for your listening pleasure soon! So the T.W.I.G. this week will cover mostly just the new announcements quickly from each press conference.
The News:
Microsoft: Halo: The Master Chief Collection has been confirmed, it will contain Halo 1-4 on one disc and you can play the games or parts of the games in any order you like, it will also come with a code for the Halo 5 Beta. Fable Legends showed it's 4-player co-op mode and the ability to play as the villain. Platinum Games announced a new Xbox One exclusive called Scalebound. A new Tomb Raider game was unveiled. A few very interesting indie games were announced: Ori and The Blind Forest (a beautiful side-scroller), Inside (from the makers of Limbo), and Cuphead (which looks like an old Disney cartoon).
EA: EA had a very uninteresting show to be honest. They started with a character intro trailer for Dragon Age: Inquisition. EA Sports showed the 1st gameplay trailer for NHL 15, detailed the new defensive improvements in Madden NFL 15, introduced their new player emotion tech for FIFA 15 which seems like it will change how certain players will perform depending on how the game is going for that player or their team, also they showed their new fantasy courses for EA PGA Tour 2015. EA showed off their new MOBA titled Dawngate. Maxis showed some of the new details for the Sims 4 and its online connectivity and being able to download other players created items and characters and gave a release date of September 2nd. EA also showed some behind the scenes footage for Star Wars Battlefront, the next Mass Effect, BioWare teased a new project, and a new action-sports/racing game from Criterion.
Ubisoft had a good showing. They started with a trailer for FarCry 4 that showed off the villain. Showed 2 new Just Dance games: Just Dance 2015 for consoles, and Just Dance Now a mobile app based game that makes it possible for many players to play at once. They showed some more Assassin's Creed Unity gameplay and announced a release date of 10/28/14. There were trailers for The Crew, The Division, and a heartwrenching trailer for Ubisoft's Ubi-art engine based World War I game Valiant Hearts. There was a gameplay demo of their new XboxOne exercise game Shape Up, which looks to gameify working out. They closed the show by unveiling a new Rainbow Six game called Rainbow Six: Siege, it looks great.
Sony: Announced a new Destiny bundle for PS4 which includes a white PS4 and controller. On the hardware end Sony also announced that they are officially bringing the VitaTV, now called the PlayStation TV to the US this fall for $99. Sucker Punch announced a new stand alone DLC for Infamous: Second Son. Media Molecule announced LittleBigPlanet 3 for PS4 and announced 3 new playable characters: Toggle who can shrink down and get through small gaps or stay large and push certain things down in the ground, Oddsock who runs on all fours and can wall jump and knock down certain walls, and Swoop a bird who can fly and carry the other characters, all who look as adorable as they should. From Software, makers of Dark Souls and Demon Souls, have announced Bloodborne, exclusive to the PS4 coming in 2015. Deep Silver announced Dead Island 2. The PS3 & PS4 versions of the Diablo III Ultimate Evil Edition will have The Last of Us themed enemies. Grim Fandango is getting remastered for the PS4 and PS Vita. FarCry 4 will allow you to play co-op with friends who do not own the game. Sony announced that The Hulk will be a timed exclusive to PS platforms for Disney Infinty 2. Suda51's next game Let It Die will be PS4 exclusive, looked to be some sort of RPG-shooter, and will be free-to-play. YouTube support for sharing video clips is coming this fall. The Last of Us Remastered will be coming on July 29th. No Man's Sky an open world, procedurally generated, space exploration game will be debuting on the PS4. Grand Theft Auto V is coming to PS4 in the fall. The original Ratchet & Clank is getting a PS4 remake, and there is a Ratchet & Clank movie in the works. Uncharted 4: A Thief's End should be out in 2015.
Nintendo: Unveiled Lady Palutena and custom Miis for Smash Bros, also later announced Pac-Man. Announced Yoshi's Woolly World, a yarn-themed Yoshi game with 2-player co-op that looks adorable coming in 2015. Also announced Captain Toad: Treasure Tracker coming this holiday season. Bayonetta 2 is coming in October, it will include Nintendo based costumes they showed Samus, Peach, and Link, retail copies will include Bayonetta 1. Midina an Zelda as playable characters for Hyrule Warriors. A custom Mario level designer called Mario Maker is coming soon. Release dates for the Pokemon remakes Alpha Sapphire and Omega Ruby of November 21st. Announced Kirby: The Rainbow Curse for Wii U, a sequel to the DS Canvas Curse. They also announced a 4-v-4 shooter called Splatoon where the goal is to cover as much of the maps surface with your team's paint, you can even quickly travel in your team's ink as a squid, very vibrant and colorful it looks pretty fun.
The new releases:
EA Sports UFC (6/17) – PS4, XB1
Pushmo World (6/19) – WiiU