Posted By
Drootin
on February 23, 2014 at 10:16 am in
The Week In Gaming
,
Video Games
T.W.I.G. 2/23/2014
---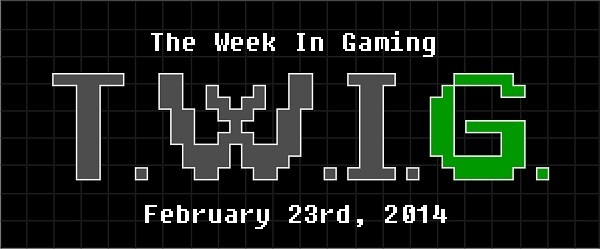 I don't know about you guys but I can't believe that we are already at the end of February! There's been a decent amount of news this week so let's get right to it!
The News:
Activision has confirmed that there is a new Tony Hawk game in development. No word on what systems it will release on or any time frame but
Diddy Kong has been announced as the next character for the upcoming Super Smash Bros. for 3DS and WiiU. This brings the current total number of characters to 24. There were 35 characters in Brawl (36 if you count Shiek as a separate character) so there's likely many more characters to be announced for this game in the time leading up to its release.
TowerFall Ascension, the updated version of the only popular Ouya game TowerFall, is slated to release on PS4 and PC on March 11th. No word on pricing for either platform yet but one would think it wouldn't cost much more than the $15 it cost on the Ouya.
Bethesda has announced that Wolfenstein: The New Order will be releasing on May 20th for PC, PS3, PS4, 360, and XB1. Along with that announcement came the announcement that everyone who pre-orders the game will be getting access to a beta for the next game in the Doom franchise. I personally didn't even know that there was a new Doom in development but this makes me even more interested in the new Wolfenstein game.
Harmonix, the studio most famous for creating Rock Band (and site favorites Frequency and Amplitude), have announced a new combination rhythm game/team based first person shooter called Chroma. It is a very different concept to say the least and I'm interested in checking it out. Alpha testing sign-ups are available at playchroma.com
The new releases:
Castlevania: Lords of Shadow 2 (2/25) – 360, PC, PS3
Thief (2/25) – 360, PC, PS3, PS4, PC, XB1
Tales of Symphonia Chronicles (2/25) – PS3
Magus (2/25) – PS3
Resident Evil 4 Ultimate HD Edition (2/27) – PC
Professor Layton and the Azran Legacy (2/28) – 3DS
Everyone should go watch Twitch Plays Pokemon, even for just a few mins, it's pretty ridiculous.