Posted By
Drootin
on December 22, 2013 at 11:00 am in
The Week In Gaming
,
Video Games
T.W.I.G. 12/22/2013
---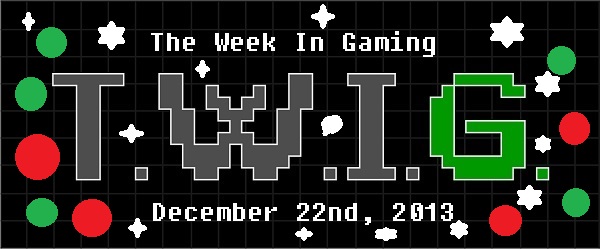 Hello, and welcome to the next to last T.W.I.G. of 2013! Its Christmas week so lets get to the news!
The News:
The biggest news for at least me of the week is that the expansion to Diablo III, Reaper of Souls, will be releasing for PC & MAC on March 25th, 2014. I can't wait to play more Diablo and try out the new class and modes and see all the changes.
Nintendo has unveiled a new Legend of Zelda game, but it's not what you think, its a Legend of Zelda themed Dynasty Warriors game titled Hyrule Warriors. While it looks exactly what you would think a Legend of Zelda/Dynasty Warriors mash-up would look like, I don't know how well this game will work.
Nintendo has also announced Rosalina as a playable character for the next Super Smash Brothers game.
Yoshi's New Island, a sequel to the SNES game Yoshi's Island will be coming out on the 3DS in the spring of 2014
The new releases:
Halo: Spartan Assault (12/24) – XB1
Castlestorm (12/26) – WiiU
Merry Christmas everyone!!!!! Hope you all have a great holiday and get all the gifts you wanted!!!!!