Posted By
Drootin
on November 3, 2013 at 10:16 pm in
The Week In Gaming
T.W.I.G. 11/3/13
---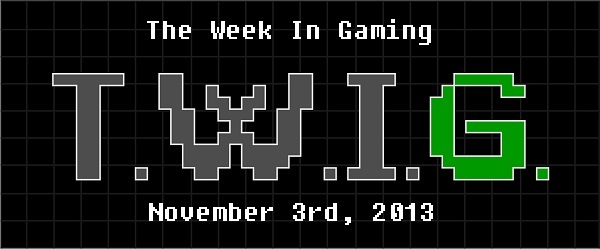 Welcome back to The Week In Gaming. I'm back after taking a week off to spend time with my new wife, so lets get right back into it!
The News:
The South Park: The Stick of Truth, the long anticipated RPG has once again been delayed from this December and pushed to March 4th, 2014. This is at least the third official delay for the game and it is time to start thinking that this game may just not come out.
EA has canceled the upcoming free-to-play version of Command & Conquer. Citing negative feedback from players in the alpha the company decided that the game was not up to par and scrapped the project. Eric and I are big fans of the franchise (mostly Tiberian Sun) and it sucks to see a new game canceled.
EA Sports has dropped Tiger Woods from the name of their upcoming next-gen golf games.
The XboxOne and PS4 with both support 8-player party chats.
Titanfall will be releasing on March 11th, 2014 for XboxOne, Xbox 360, and PC. This is one of the biggest games for the early lineup for the XboxOne so I'm sure plenty of people will be pre-ordering this one soon.
The new releases:
It's starting to be the busy time of year for new releases and add in to that we are only 12 days away from the PS4 release and these lists are gonna get long!
State Of Decay (11/5) – PC
Call of Duty: Ghosts (11/5) – PC, PS3, PS4, 360, XB1, WiiU
Ben 10: Omniverse 2 (11/5) – PS3
Mario & Sonic at the 2014 Sochi Winter Olympic Games (11/8) – WiiU
Did You Know
Not really a Did You Know this week, but I just did want to thank all my friends and family that came to my wedding or sent me well wishes on Facebook or by text over the last week. The wedding was great, Eric, Cobb, Vogel, Shannon, Anthony, and Audra were all in our wedding party and Eric gave an epic best man speech. Love you Sara!