Posted By
Drootin
on November 10, 2013 at 8:00 am in
The Week In Gaming
T.W.I.G. 11/10/13
---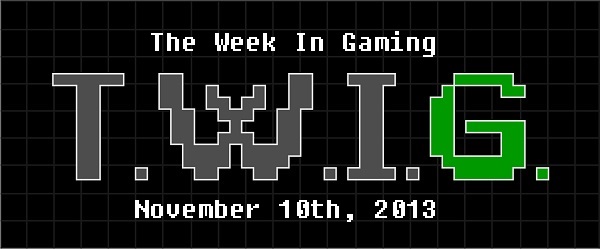 We are a mere 5 days away from the true start of the next generation of video game consoles and the release of Sony's PlayStation 4. We are all very excited here for its release. That said there's TONS of news to catch up on so lets take a look at The Week In Gaming!
The News:
Peggle 2 is coming to the XboxOne in December. It is a timed exclusive for the system.
Metal Gear Solid 5: Ground Zeroes, the prologue to The Phantom Pain, will be releasing next spring for PS4, XboxOne, PS3, and 360. For PS4 & XB1 it is currently scheduled to only be a downloadable game with a $29.99 price tag, for PS3 & 360 it will be sold both on a disc for $29.99 or digitally for $19.99
Need For Speed Rivals has had its release date moved up to November 15th to be available with the launch of the PS4.
SpikeTV will be hosting a PS4 launch event on their channel on November 14th starting at 11 P.M. Rumors have it that something big for the PS4 is set to be announced during this broadcast but as of right now there are no leads on to what that may be. We will keep you posted during the week if any news comes out about this before Thursday.
Sony has announced MLB The Show 14 will release on PS3, PS4 and Vita next spring (likely early March). This isn't really unexpected but something interesting did come out of the teaser image that game along with the announcement, Sony has a small little bit of text on it claiming that The Show will be the only baseball-simulation game available on next-gen consoles. 2K's Major League Baseball 2K series has been lagging behind The Show in all the critical reviews for the last few years and was rumored to have been killed before last season but made a seemingly last-minute comeback. We will see if 2K makes any announcements about their MLB offerings in the coming months.
Unity will be free for all indie developers that are registered for the ID@Xbox when it launches next year. Microsoft hasn't had the best reputation with the indie community over the last few years so this is a good step in the right direction for them.
The new releases:
As I stated last week the New Releases section is starting to get a little daunting with the new consoles
PlayStation 4 (11/15)
Madden NFL 25 (11/12) – PS4, XB1
FIFA 14 (11/12) – PS4, XB1
Ducktales: Remastered (11/12) – 360, PS3, WiiU
Just Dance 2014 (11/12) – PS4, XB1
Ratchet & Clank: Into The Nexus (11/12) – PS3
Injustice: Gods Among Us Ultimate Edition (11/12) – PC, PS4, Vita
Knack (11/15) – PS4
Killzone: Shadow Fall (11/15) – PS4 [Note: this may be available at some retailers already]
War Thunder (11/15) – PS4
NBA 2K14 (11/15) – PS4, XB1
Minecraft (11/15) – PS4
Resogun (11/15) – PS4
Divekick (11/15) – PS4
Warframe (11/15) – PS4
Skylanders: Swap Force (11/15) – PS4, XB1
Flower (11/15) – PS4, Vita
Sound Shapes (11/15) – PS4
Contrast (11/15) – 360, PC, PS3, PS4
Lego Marvel Super Heroes (11/15) – PS4
DC Universe Online (11/15) – PS4
Did You Know
Brutal PC FPS Kingpin featured a boss called The Jesus, named after the character from The Big Lebowski. He even repeated some of the lines from that film, including the immortal "Nobody f**** with the Jesus!"