Posted By
Drootin
on October 6, 2013 at 8:00 am in
The Week In Gaming
T.W.I.G. 10/6/2013
---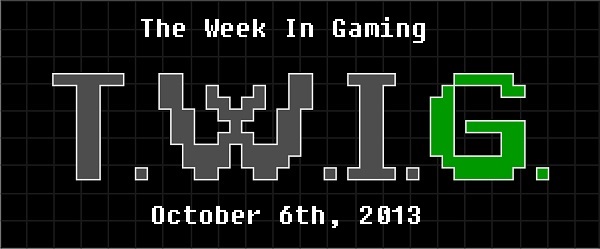 We're back! After a missed week (sorry about that!) we are back with a double-stuffed edition of TWIG. That's right 2 weeks worth of news in one post!
The News:
The infamously difficult GameCube top-down shooter Ikaruga may be coming to Steam soon. It is currently up for vote on Steam Greenlight. We are fans of this game even though it is so difficult it is still very fun to play.
Ratchet & Clank: Into The Nexus will be releasing for PS3 on November 12th. It will cost $29.99 both retail and download.
Deus Ex: Human Revolution Directors Cut will be releasing on October 22nd for PC, PS3, 360, and WiiU.
A new Kirby platformer will be coming out on the 3DS in 2014.
Batman Arkham Origins will contain a "permadeath" mode called 'I am the Night'. This mode will unlock after beating the game regularly.
New single-player The Last Of Us content is set to release in either December or January. No details on what this will include but I will be purchasing that as soon as it comes out.
Valve made a series of announcements aimed at getting Steam into the living room: 1) A new free, Linux-based Operating System called "Steam OS" 2) A number of options for something called "Steam Machines" that will be released by both Valve and other companies for a range of prices and specs 3) A new controller usable with these "Steam Machines" and current PCs that is aimed more towards games that aren't really viable with currently existing controllers.
Keiji Inafune's spiritual successor to Mega Man, Mighty No. 9 has been fully funded on Kickstarter and is slated to release on at least PS4, XboxOne, and PC.
The new releases:
Beyond: Two Souls (10/8) – PS3
Disgaea D2: A Brighter Darkness (10/8) – PS3
Borderlands 2: Game of The Year (10/8) – PS3, 360, PC
Dishonored: Game of The Year (10/8) – PS3, 360, PC
Just Dance 2014 (10/8) – PS3, 360, WiiU
Pokemon X & Y (10/12)
Did You Know
George Lucas originally wanted Luke Skywalker to become Darth Vader at the end of Return of the Jedi? His last lines were going to be "Now I am Vader. Now I will go and kill the [Rebel] fleet and I will rule the universe." This would have been MUCH different, and maybe even better, but who knows?