Posted By
Chris
on April 11, 2012 at 8:18 am in
Comic Books
Spider-Men Revealed To Be "A Story That Matters"
---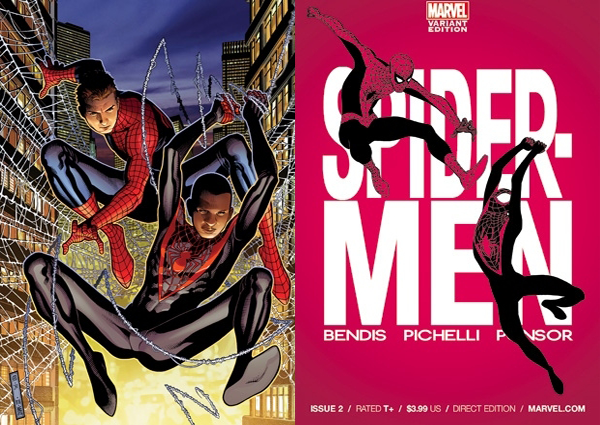 We finally have confirmation on what many of us suspected. The upcoming summer series from Ultimate Comics Spider-Man creative team Brian Michael Bendis and Sara Pichelli is going to be the first 616/Ultimate Universe Crossover in Marvel history.
Bendis has been doing Ultimate Spider-Man since the begining and has often times denied that their would ever be a crossover between the two imprints, well after 12 years of waiting we're getting one. It should be an interesting series. And even though I'm sure it wasn't meant the way it sounded I can already here the internet crying out at Bendis for calling this "A story that matters" and if that happens, people really need to just get over themselves and enjoy the book.
Here is the story courtesy of The New York Daily News

"Comic book geeks' Spider senses are tingling.
To celebrate the 50th anniversary of Spider-Man, Marvel Comics is bringing together two versions of the iconic character — one who is white and one who's a dead ringer for A-Rod — in a mashup that pays homage to everyday New York.
A new five issue mini-series, "Spider-Men," available starting in July, uses a common villain to bring the two heroes from different alternate realities.
"For the 50th anniversary of Spider-Man, what everyone was looking for was a Spider-Man story that mattered," says series writer Brian Bendis. "Well, here you go."
When Marvel introduced Miles Morales — a half-black, half-Latino teen — as the new Spider-Man in one of its comic lines last year, it made national headlines. Critics grumbled it was a character who would never make it alongside the original Spider-Man known to generations of fans since he was created by Stan Lee and Steve Ditko in 1962.
But Morales got a key stamp of approval from Lee. "Doing our bit to try to make our nation, and the world, color blind is definitely the right thing," the comic book legend told The News.
Bendis agreed. "Someone had once said to me, 'When I was a kid, I could only play Spider-Man, I couldn't play Batman or Superman because my friends would say you're not the same color, but I could play Spider-Man because when I fantasized about Spider-Man, he looked like me under the mask.'
"That was a big inspiration."
Yet, despite the uncanny resemblance to the Yankees third baseman, Marvel Comics spokesman Arune Singh said "there is no A-Rod connection whatsoever." "

So that's some pretty big news for Spidey fans. Let us know your thoughts in the comments. How do you feel about the crossover and were you hoping it would be a Pete & Pete crossover instead?