Posted By
Eric
on June 5, 2012 at 8:59 pm in
Video Games
South Park: The Stick of Truth E3 Trailer
---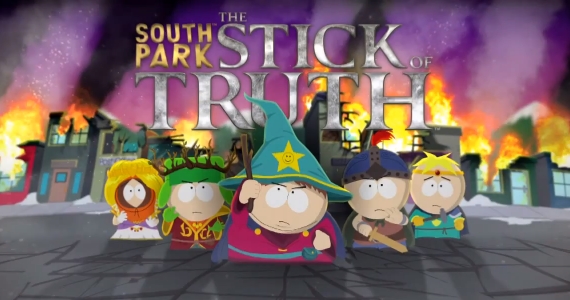 So it's been a really long time since a good South Park game came out. In fact… there's never been a good South Park game. Like the plague that many licensed games suffer from, South Park games have just been… bland. We'll that's about to change! Or, is it?
The good news is, South Park: The Stick of Truth looks awesome! At least as a trailer. Behind the game we have THQ, who has been hemorrhaging money for a while now, and closing studios left and right. It's unfortunate that the only thing that scares me about the trailer is the THQ logo that flashes at the opening. However, it still looks really awesome.
The story has it that the kids (Kyle, Stan, Eric, and Kenny) are trying to save the world with The Stick of Truth, but they need help. Your help! At the outset of the game you create a South Park child avatar and join in the battle against goblins, underpants gnomes, crabmen, and more icon south park enemies. It lookt like it will play in a traditional Turn-Based RPG style, complete with spells and new equipment.
The trailer is full of references to episodes of the show like, my favorite the Anime episode! I'm stoked! It looks awesome, I just really hope THQ can hold everything together with this one. Check out the trailer, and tell us what you think in the comments below!