Posted By
Chris
on March 16, 2012 at 12:04 pm in
Comic Books
Review – The Amazing Spider-Man #681
---
The Amazing Spider-Man Issue 681
Written by Dan Slott & Chris Yost
Art by Giuseppe Camuncoli, Klaus Janson, & Frank D'Armata
Covers by Giuseppe Camuncoli, Klaus Janson, & Frank D'Armata
Released: March 7, 2012
Dan Slott has written some great Spidey adventure over the course of his run on The Amazing Spider-Man, and 681 is no exception. Throw Chris Yost into the mix and team the wall crawler up with the recently "reborn" Human Torch (Johnny Storm) and you've got one hell of a ride. IN SPACE!
This issue is the last one before the highly anticipated Ends of the Earth storyline that will see Spidey taking on the Sinister Six once again, trying to stop Dr. Octopus' final "master plan". Prior to a big storyline like Ends of the Earth a lot of comics end up being pretty boring, giving mostly lead ups to the event. Lucky for us Slott and Yost took a different approach. Yes, we did get a bit of setup for the next issue, but it was just the last page. Everything else was just a fun adventure in space with 2 friends, who happen to be super heroes, and just happen to be trying to save a space station full of people. So, you know, a normal day in the Marvel U. If you enjoyed the previous issue (680) then there is no reason not to read this one. Especially since it's the conclusion to the story. And if you didn't enjoy that last issue I would recommend giving it another shot, read the whole thing through and right into 681. Get the full story then make your decisions, which might just be changed.
I've only got one complaint about the book, and it has to do with the ending. As fitting as that ending was for this story. I would have preferred something with a little more Jameson yelling at Spidey, blaming him for everything. I know it's been done over and over again but there is just something about their interactions that I've always enjoyed. Like I said though, the ending was fitting and played very well to the Spidey and Torch friendship.
Now as good as the story was, a comic is nothing without good artwork. Good thing for us that Giuseppe Camuncoli delivers with some great scenes. I haven't really seen a lot of Camuncoli's work other then his previous Spidey stuff but it's always been good and I've got nothing negative I could say about it. To go along with Camuncoli's pencils, Klaus Janson and Frank D'Armata add depth and color to the art. I particular enjoyed the portrayal of Johnny, they did a great job making it feel like he was really burning up from all the extra heat.
Well if you're still on the fence about this issue, then the only thing I can tell you is just give it a shot. You don't get many issues of The Amazing Spider-Man with the amount of humor this one has. Torch and Spidey have the relationship that you see in a lot of action movies, they've got each others back, but every other word is pretty much an insult.
If you have read the issue, and liked it of course, make sure to check out Chris Yost's other book Scarlet Spider, which we reviewed the first issue of back when it came out earlier this year.
Preview Courtesy of CBR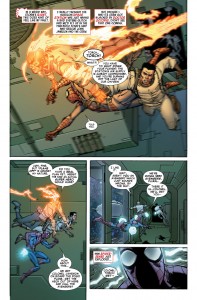 Anyway, next up is Ends of the Earth, so make sure you're ready. And don't forget to let us know what you think in the comments below.