Posted By
Chris
on April 19, 2012 at 3:32 pm in
Comic Books
Review – Batman #8
---
Batman #8
Written by Scott Snyder, James Tynion IV
Art by Greg Capullo, Jonathan Glapion, Rafael Albuquerque, FCO Plascencia, Nathan Fairbairn, Richard Starkings, Patrick Brosseau
Covers by Greg Capullo, FCO Pascencia, Jason Fabok, Peter Steigerwald
Released: April 18th, 2012
Every comic has it's ups and downs, there isn't a single series I can think of that doesn't have it's off issues here and there. And Scott Snyder's Batman is no exception, lucky for us we have yet to have that happen! Issue 8 is the opening of the first major crossover of the New 52, the "Night Of Owls". This story has been slowly coming to a boil since before the line was even rebooted, originally being planned as a sequel to Snyder and Kyle Higgin's "Gates of Gotham". And even though the line rebooted they're still able to continue what that story started and keep expanding on the twisted history of Gotham City.
Snyder and Greg Capullo are killing it with this story, and set it up perfectly to make readers want to follow the other Bat-Family books to see how everyone else is dealing with this army of Talon's. Last issue was the setup, we got things wrapped up that had been building over the previous 6 issues and found out a little more about the Court of Owls and what they mean to Gotham. Now we see what happens when a secret cult decides that a city is too corrupt. We get action, suspense, comedy, pretty much everything you need to make a fantastic well rounded story. And come on, the Bat-Armor suit? That was just badass!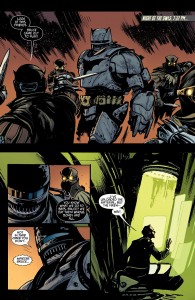 Bat Armor artwork by Rafael Albuquerque and Nathan Fairbairn.
The only disappointment I had from this issue was Alfred, he's always been a great character and though he's up there in years is still a clever, capable character. This shows during the main story of the issue, but in the backup story that sets up the other books (Nightwing, Batgirl, Birds of Prey, etc.) he just comes off as an old man. I get he's facing down some serious threats right now, but at the same time you've got the goddamn Batman outside in a giant suit of armor and you're barricaded behind what looked like a big metal door. He's probably the safest person in Gotham right now. And that's it, that's my problem with this issue, an old man seems old.
Comic fans have a lot to pick from right now, Marvel is running Avengers vs. X-Men and Spider-Man's Ends of the Earth. DC is going to be doing their Second Wave soon. And independent publishers are on the rise with some amazing books of their own. It's a time when picking what to read can be difficult, especially if it's adding a new book to your pull list. So here's what I'm going to do for you, I'm going to make this really simple. If you aren't already reading Batman, then get started. Grab back issues at your local store, order them online, get digital copies. Do what you need to, and get caught up on this book and get sucked into The Night Of Owls, you won't be disappointed one bit.