RETROVIRUS – A New Graphic Novel
---

Image Comics has been releasing some really interesting books lately, or at the very least promoting upcoming releases. We've got another one today, from the team of Jimmy Palmiotti's and Justin Gray with art by Norberto Fernandez called RETROVIRUS. This is the first I've heard of this book, but they ran a successful Kickstater back in the spring.
According to the press release, and the Kickstater the story is about a young scientist working for a company in Antarctica studying a pre-historic virus. Oh yeah the company, they found a damn caveman (to be correct it was a perfectly preserved frozen Neanderthal). And that's just what's getting it started, from the sounds of it this book is going to have a lot more going for it. With tons of sci-fi and drama and fun stuff going on I'm really excited to see what it's really all about. For those of you who have limited funds it's a graphic novel so you won't have to dish out 3-5 dollars a month, you'll get a nice chunk of story right off the bat with this 72 page full color book for $12.99.
I love science fiction, and history or in this case pre-history so this has a ton of factors going in it's favor. I've seen it referenced as a Encino Man meets Jurassic Park by CBR and seriously what isn't cool about that? Well so long as Brendan Fraser doesn't make any cameo's. Admittedly this book isn't for everyone, if you want to see superhero's punching people out of existence or something avoid RETROVIRUS, otherwise give it a shot it's 72 pages for 13 bucks.
Oh if you're curious about what a retrovirus is, look not further:
A retrovirus is an RNA virus that is duplicated in a host cell using the reverse transcriptase enzyme to produce DNA from its RNA genome. The DNA is then incorporated into the host's genome by an integrase enzyme. The virus thereafter replicates as part of the host cell's DNA. Retroviruses are enveloped viruses that belong to the viral family Retroviridae.(Courtesy of Wikipedia)
RETROVIRUS will be available on November 21, 2012 for the above mentioned $12.99. You can pre-order it from your local comic shop now. And if you'd like to check out some of the art, I suggesting looking at the video from the Kickstater.
And lets not forget the full Amanda Connor cover: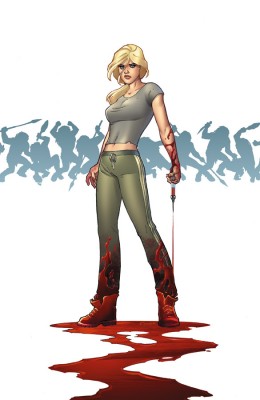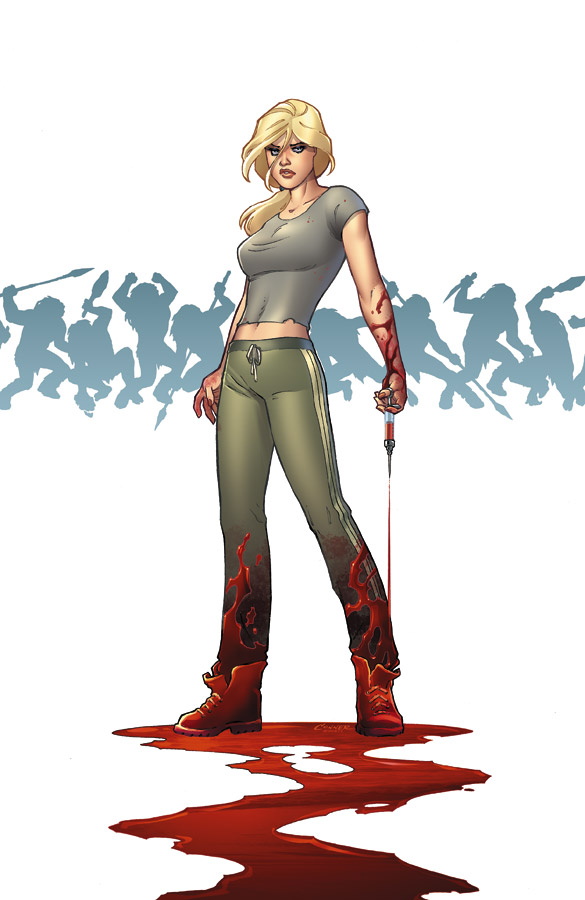 Here is the full press release from Image Comics:

THE SURVIVAL OF SPECIES IN RETROVIRUS
Graphic novel by Palmiotti and Gray plumbs prehistory in sci-fi thriller
Dr. Zoe Wallace, the protagonist of Jimmy Palmiotti's and Justin Gray's new graphic novella RETROVIRUS, is one of the best in the field of viral evolution, a brilliant young scientist who attracts the attention of one of the world's largest and most powerful bio-pharmaceutical corporations. Zoe doesn't usually use her expertise for profit, but when Bio-Pharm gives her the chance to research a prehistoric virus, she can't pass up the chance. However, once Zoe is in their Antarctic compound, face-to-face with a perfectly preserved Neanderthal, Bio-Pharm's secrets may ensure that she never sees the outside world again.
And Zoe has a secret of her own—one that turns her research from theoretical to deeply personal.
"The fun of working on a project like this is looking at the set-up from a point of view like our character Zoe and putting all the pieces, together with her along the way," said Palmiotti. "With every turn the story gets deeper and deeper and more out of control, and like most of the work Justin and I do together, the challenge is to always keep the characters grounded in the madness around them so the reader can relate to every twist and turn."
"I always feel the best fiction is propelled by themes, and with Retrovirus there are a number of personal themes that arose in and around the time we began working on this project," added Gray. "Zoe represents motherhood, survival, determination and our core humanity when presented with terrifying situations. We wanted not only to create a story full of big scary action, but also something people could relate to."
A science fiction thriller that reaches all the way back to human prehistory and pulls the struggle for existence into the twenty-first century, RETROVIRUS is written by the team that has brought the comics industry CREATOR-OWNED HEROES and QUEEN CRAB and carries on the legacy of comics great Tony DeZuniga with Jonah Hex. Gorgeously rendered by Norberto Fernandez (The Tattered Man) and featuring a cover by Amanda Connor, RETROVIRUS blends human drama with science fiction and action in a story that will make readers think about the survival of our species in a new—and frightening—light.