One-Quest's Second Anniversary!
---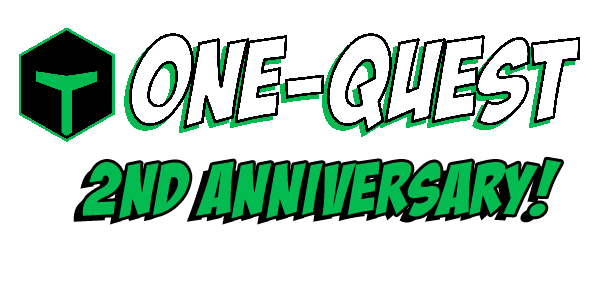 Holy shit people, we missed our anniversary again, if this was a marriage we'd be in the dog house! Anyways, back on January 3, 2014 One-Quest.com officially turned 2 years old. Yep, that's right we've actually been at this for 2 years now, and while we're not the biggest site on the net we're having a great time bringing information to everyone that reads it. So serious to everyone that checks out the site, likes us on Facebook or follows on Twitter thank you, and stick around 2014 should be a pretty awesome year for us.
We're finally getting started with Podcasting, after numerous delays and false starts we'll have some of our first episodes coming out in the coming weeks and months! I've also heard some rumors circling around that we may get back into the Web Comic game sometime soon, and if you're looking forward to that make sure to hound Eric for him to get back on it!
So that's that, 2 years, over 700 posts, and a whole lot of fun later and we're still going with plenty more to come.
And in case you're wondering here are our first 2 posts from January 3, 2012
Welcome
First up we have just our Welcome, while a lot of things have changed since then the goal is still the same!
With Great Power. . .
And here is our first real article, another written by Eric that was originally titled Ultimate Spider-Man Sucks. This was about 6-7 months after Ultimate Peter Parker was killed and Miles Morales was introduced to us all. It's pretty obvious back then that Eric wasn't a fan of the road the book was taken, and like myself he's changed tune as the book got significantly better!
And that's all we've got for now, thanks again for a great 2 years!