One-Quest Knights: The Beginning of the End
---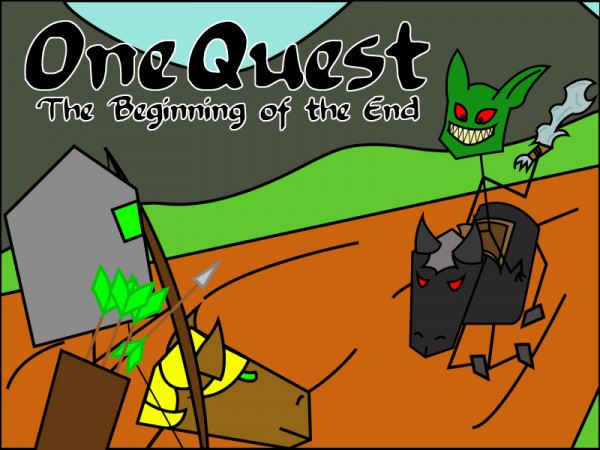 One-Quest is a team with many quests, which kinda goes against our name, but what are you gonna do?
One of our biggest quests is to create and publish games. There have been ideas teased and pitched for a while, but nothing every really took off. Until recently! We started this one in February/March. The idea was to make a series of games based off of our One-Quest logo. The series will follow the knights as they embark on One-Quest to become heroes, before finally joining together to form the Avenge… um… The Bad Guy Fighters! Or something like that. We're still working on the details, and we're terrible with names, but we'll figure it out!
Our first game stars the Green Knight, told you we're bad with names. Green Knight is on his quest to retrieve some artifacts stolen by the League of Evil Bad Men and Women, they don't discriminate. He grabs his bow, hops on his noble steed, and races toward the LoEBMaW!
The game plays as a side scrolling action shooter. Your goal is to avoid being hit by the enemies, and take out as many as possible to maximize your distance traveled.
We'll update the Indie Dev page as often as we can to keep you posted on our progress. We'll even give you information on how the more complicated techniques were implemented, courtesy of our angry coder, Shahid!
We have a working build of our game, so check back soon for a chance to play the alpha build. If you have questions about the process, or anything to say, feel free to ask away in the comments section below!
Thanks!