Ninja Turtles Postponed Indefinitely?
---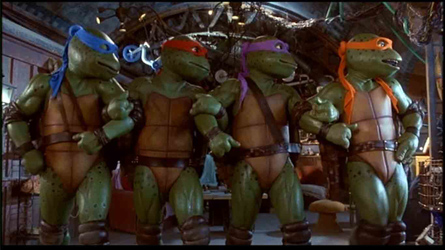 So Paramount seems to be delaying a lot of movies as of late. They pushed back the G.I. Joe sequel to next year, along with World War Z, and now Ninja Turtles production has been stopped and the original winter 2013 release has been pushed to spring 2014.
Is this because Battleship was terrible and Paramount is now trying to save money by putting what will undoubtedly be a CG heavy film on hold for a while. Or did it have something to do with the fan outrage at the changing of the origin from Mutant Ninja Turtles to Alien Ninja Turtles. Personally I think it was probably a little of both, Paramount is probably looking to cut costs since Battleship did not do great and was a pretty expensive film to make. And really if you want to cut something back and put it on hold, why not the film that your fan base is pissed off about, right?
I grew up with the Teenage Mutant Ninja Turtles, they were a huge part of my childhood. The first movie I ever remember going to in the theaters was the original Teenage Mutant Ninja Turtles, and I've seen all of those movies more times than I could count. I had all the toys, watched the cartoons, even the live action show The Next Mutation. And honestly when I heard Michael Bay wanted to revise their origin to be Aliens I was kind of pissed off, but I wasn't going to boycott the damn film like a lot of people claimed they would do. I was still going to go see it and try and find the bright side to it all.
With the film being pushed back a year it brings up a lot of questions though. Especially since not only did it get delayed but production was terminated and everyone working on it was laid off. Are they going to rehash the ideas for the film, get rid of the alien stuff and move forward with something a bit more traditional like Mutants?
Regardless we're going to be waiting a while before we see anything, if we see anything. I'm sure with Michael Bay as part of this film it's going to get made at some point, it's just a matter of when.
Make sure to tell us your thoughts on the movie in the comments below