Mmm…Delicious Jelly Bean
---
Whelp, Android 4.1 (Jelly Bean) has been announced and is scheduled to start rolling out Mid-July. Let's see what's new for us Android users, shall we?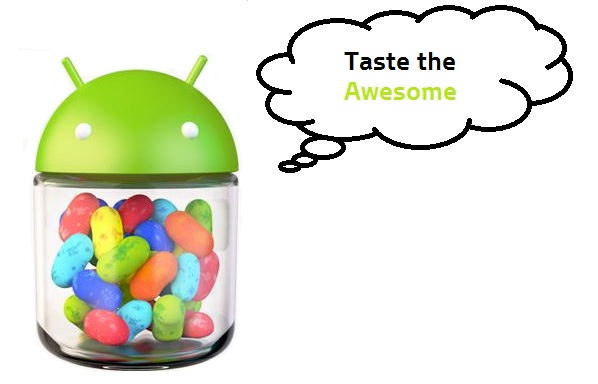 Here's a quick synopsis of what Android 4.1 has to offer:
Faster- Jelly Bean essentially makes your Android device feel like…well…jelly at your finger tips! A more efficient  touch interface allows for smoother transitions between home screens while preserving battery life.
Improved Notification Window – Notifications are now expandable, offering more information and options depending on what's going on. For example, if you get an email, you can read more of it right from the notification window and actually respond right in the same spot!
Easier Customization – One of the more intuitive additions to Jelly Bean is auto-adjusting Widgets! Simply throw your Widget on the screen and other widgets will automatically move over and re-size  to make room.
View and Interact with Photos Quickly – ICS introduced lightning-fast photo taking but lacked quick photo viewing/deleting. Fortunately for us Jelly Bean introduced this feature, allowing you to switch to filmstrip view with just a flick, and another swipe to delete or cycle through the rest of your photos!
Better Texting Experience – Improved Android dictionaries offer better predictive text and text-to-speech, even when not online!
Android Beam – Just tap your android device with your friend's to share whatever is on your screen! (Even though you should never let them touch…meh, it's Android. Touch those bad boys together till your hearts content!)
Accessibility – 'Gesture Mode' now available which allows visually impaired users to navigate much easier using gestures coupled with voice commands!
Optimizations presented in Jelly Bean offers a smoother and more user-friendly experience. Expect to see Jelly Bean updates mid-July, around the same time Google's first  jelly-enabled tablet Nexus 7 ships!
Om nom nom nom nom nom!