Google Nexus 7 Tablet Announced!
---
Well the rumors turned out to be true! Confirmed today at Google I/O, Google in collaboration with ASUS will be releasing their first tablet, dubbed the Nexus 7.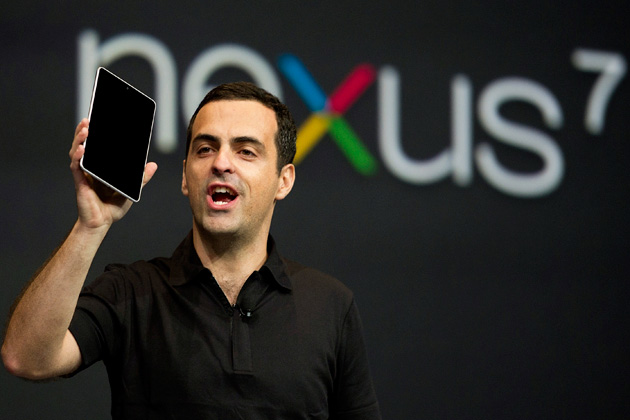 Designed to compete with the  Kindle Fire, Google has made a device that can take full advantage of Google Play while still maintaining relatively low costs. The Nexus 7 boasts a 7″ (Surprise!)  1280×800 HD display. It's rocking a Quad-core Tegra 3 processor, 1GB of ram, and a 12-core GPU, which should make it great for multi-tasking as well as offering a smooth game-play experience. A 1.2mega-pixel forward facing camera is in there for those needed face-to-face skype or google hangout moments!
The Nexus 7 serves as an affordable device for the reader, gamer, and movie watcher at only $199 (8GB) or $250 (16GB).  As an added bonus if you order from Google Play you'll receive a $25 credit towards some apps, plus Transformers: Dark of the Moon. I've pre-ordered my N7 (Hmmm….hope EA doesn't mind that) so stick around for a review to follow once I get it…which'll be around mid-July because I'm not important to Google *pouty-face*.
Here's a quick synopsis of the features taken from the official site!
Screen

7" 1280×800 HD display (216 ppi) Back-lit IPS display           Scratch-resistant Corning glass 1.2MP front-facing camera

Size

198.5 x 120 x 10.45mm

Weight

340g

Wireless

WiFi 802.11 b/g/n




Bluetooth

Memory

8GB or 16GB                         1GB RAM

USB

Micro USB

Battery

4325  mAh (~ 8 hours of active use)

CPU

Quad-core Tegra 3 Processor

Features

Microphone, NFC (Android Beam), Accelerometer, GPS, Magnetometer, Gyroscope