Posted By
Chris
on November 14, 2012 at 11:46 am in
Comic Books
Kickstarter – The Further Travels of Wyatt Earp
---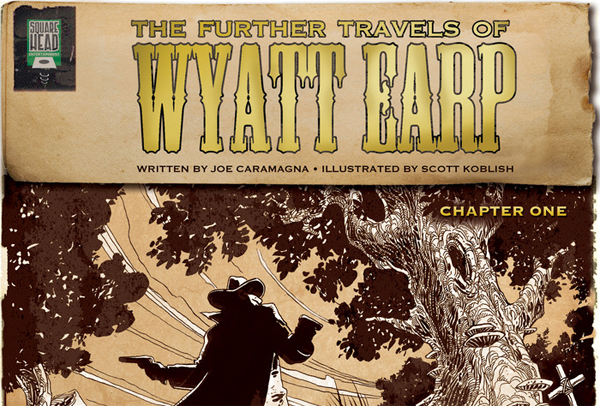 Every so often an interesting Kickstarter crosses our browsers, whether they're for shows, comics, or games doesn't matter. There are some seriously talented individuals out there just trying to achieve something, that at another time wouldn't have been possible. Recently via Twitter I came across the Kickstarter for a digital new comic called The Further Travels of Wyatt Earp. I was immedately intrigued by the concept, I love history and the wild west is such a crazy piece of America history. Even if you don't know a single thing about Wyatt Earp you know the name and that's more than enough. It's like Batman, or Spider-Man you may not know anything past they're names and that they're hero's but if you wanted to read their books that all that really matters.
The Further Travels of Wyatt Earp follows Earp's life after his most famous of adventures, the Gunfight at the O.K. Corral. The movies, and other entertainment mediums that follow Wyatt Earp usually end after the Gunfight, but that's not where this mans journey ends. He went on to do some interesting jobs as he traveled the country, but that's something you'll have to find out more about by checking the Kickstarter page!
You may be wondering who's responsible for this little take on history, and if you're a fan of comic books you should know these guys names. The writer is Joe Caramagna, who is responsible for the lettering in just about every awesome Marvel comic out right now. The art is being handled by Scott Koblish who recently has been handling inks for DC's book World's Finest, but he too has done a slue of other books.
The Further Travels of Wyatt Earp look to have a ton of potential, but it needs some help, with funding. It's a few hundred shy of the half way mark with only 9 days left, and need another 4,006 dollars as of November 14, 2012 at 11:00am EST. The funding is only going to happen if they can make that money and hit their 7,500 dollar goal. So why not take a minute, check out the Kickstarter page and donate a dollar. They've got some cool incentives especially if you're looking to make your own comic or get into the comic business!
So enough of reading this page, head over and get all the details now.