Posted By
Shannon
on September 17, 2012 at 8:30 am in
Food
,
Geek Bites
Geek Bites: Adventure Time Pancakes
---

Being an "artist", I like to get creative. I want to bring you more than just nerdy recipes, so I've decided to give you some pancake art once a month. Now you'll have to bear with me for the first couple months; pancake batter isn't the easiest thing to draw with and these days I do a lot more photography than drawing. I also have an electric stove that likes to misbehave often. This is going to be a learning experience for me and I hope I'll get better as time passes.
To draw objects or characters into your pancakes you need some sort of squirt bottle. I think the ketchup/mustard picnic bottles are the best. Fill the bottle with some batter and leave some aside to fill in the pancakes. Draw your outlines onto the pan and let it cook until the edges are browning. Then fill it in with batter or just cover the whole thing and make a round pancake. Let that cook up and flip, you will see your pancake art, all ready to eat!
So for my first pancakes I tried to do some more simple characters from Adventure Time. I started with Finn, he was very simple and at this point my pan was at a good temperature.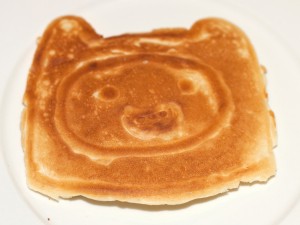 Next I did Jake. He was not as easy because of the little details that didn't quite turn out.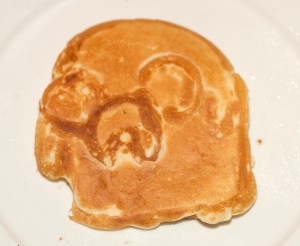 Then I tried Lumpy Space Princess. This one is a complete mess. The picture I based her off of also had small details. I also forgot her eyebrows so I put them on after I had flipped the pancake the first time.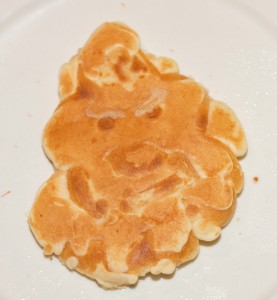 Lastly I made the younger Princess Bubblegum. She didn't come out too bad, just a little sloppy.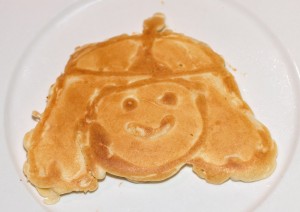 By the end of making all my pancakes, the squirt bottle I was using started to get a little clogged and melted at the tip. We'll see how it goes next month. I'd love some suggestions on characters you'd like to see as pancakes (preferably simple ones).
And now, I leave you with this: