Posted By
Chris
on August 31, 2012 at 1:58 pm in
Friday Five
Friday Five – Saturday Morning Cartoons!
---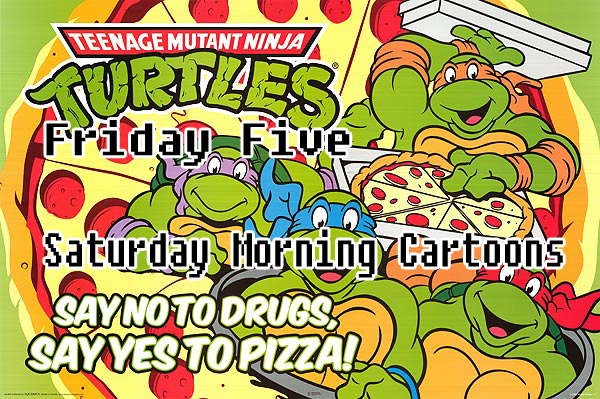 This weeks Friday Five is all about our love of Saturday Morning Cartoons. Being a group of people that grew up in the 80's and 90's we were fortunate enough to get some of the best cartoons. We were also the last true generation to appreciate the ritual that was Saturday morning cartoons. Kids today don't get that, instead they get Cartoon Network that plays crap like Adventure Time. This Friday Five is also something else that's special, it's our 300th post here at One-Quest! We started back in early January and have been going strong ever since. So lets get to this weeks list and see what we all picked. And don't forget to let us know your favorite Saturday morning cartoons in the comments!
---
Chris
I miss Saturday morning cartoons, waking up early and spending all morning sitting in front of the tv eating cereal as one awesome show after another came on. At a certain point there were so many cool shows on I use to set a VCR to record one channel while I watched another. I've got a lot of nostalgia for these shows and so many more that I grew up with.
Teenage Mutant Ninja Turtles – The turtles didn't start out as a Saturday morning cartoon, but that's where I watched it and loved every second. I've probably said before how big of a TMNT fan I am. The first movie I ever made it through in a theater was the original 1990 film, and though the cartoon was drastically different it was still totally tubular.
Sonic The Hedgehog(Satam) – There were two different sonic cartoons, both were on in the '90s around, both had Jaleel White(TV's Steve Urkel) voicing Sonic. That's about it for comparisons, the Saturday morning was darker and more edgy and had the better theme song. Not to say the weekday afternoon wasn't fun, but it had nothing on Sonic SatAM
Pokemon – I was 11 or 12 when I started with Pokemon, first the game then I started watching the show in the mornings before school. Eventually they started showing new episodes on Saturday mornings and I watched them every week for years. I think I made it all the way to Battle Frontier. It wasn't the greatest show but it was addicting much like the game. You just wanted to know what happened to the characters.
Batman The Animated Series – Who didn't like Batman The Animated Series, it was everything a Batman cartoon should be. We got to hear Luke Skywalker(Mark Hamill) as The Joker, and the show introduced us to the Jokers female companion Harley Quinn. The show was so good that the recent Arkham games use the voice actors and definitely have an BTAS feel to them.
Spider-Man – I really don't know what I can say about this show. It was the first Spider-Man related media I ever followed. It covered a lot of stories from the comics but with it's own twists and flairs. Plus we got some interesting crossovers with some of the other Marvel cartoons like X-Men. I had my problems with the series, but for a show that never used bullets or words relating to death or dying it was action packed and fun every week.
Eric
I remember watching these shows almost religiously as a kid, and into my late teens, and even still today with Netflix. . . I know a lot of these aired in other timeslots as well, but I primarily watched them on Saturday mornings.
Bobby's World – This kid's voice was so incredibly annoying, and his mom was Canadian as hell. I always got a good laugh out of this. Although, Life With Louie was a pretty close contender.
X-Men – MORPH!!! This and Spider-man would lay the groundwork that would become my love of comic books! :p
Spider-Man – This was the #1 show I looked out for at all times. Spider-Man was just so cool! And the sound his spider-sense made was awesome!
Teenage Mutant Ninja Turtles – TMNT was the first Saturday morning cartoon that I needed to watch all the time. Like many my age I needed everything TMNT, and it was all because this show and the movies were TOTALLY TUBULAR, DUDE!
Animaniacs – HELLOOOOOOOOO NURSE! I liken the Animaniacs to Aqua Teen Hunger Force, or whatever the hell they call themselves now. It was nonsensical, stupid fun, and I loved it!
Walnuts
Care Bears
Hello Kitty's Furry Tale Theatre
Piggsburg Piggs
Fat Albert
Rubix The Amazing Cube
http://youtu.be/lNm5Hqow78I