Posted By
Eric
on March 30, 2012 at 3:20 pm in
Friday Five
Friday Five: Musical Artist/Bands
---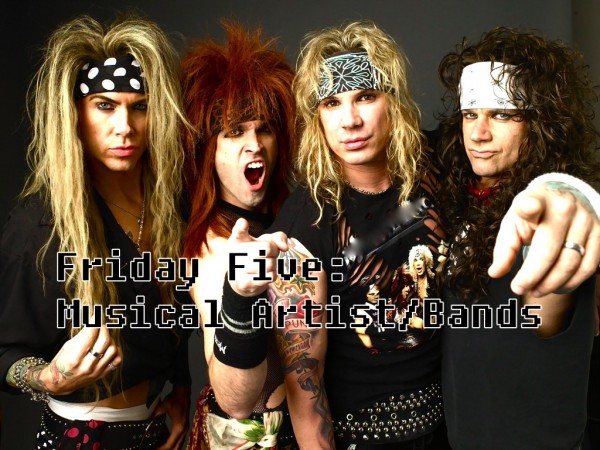 Welcome to the Friday Five! Each week we help you get to know our writers a little better through the ancient art of a Top Five list. This week we present you our top five Musical Artists/Bands.
This post isn't just the newest Friday Five post, it's also our 100th One-Quest.com post! So check out our special "not-as-long-as-last-time-but-still-really-long" edition Friday Five: Musical Artist/Bands!
Music is one of those topics I tend to avoid, primarily because I have a drastically different taste in music than many of my friends. That's not to say they all like to listen to the exact same types of music, or even the same bands. We just all like something different. It's funny how a group of friends, who all like to do pretty much the same things, can have a huge difference in their musical preferences. It's a really cool way to hear some new sounds, and get into some new bands. But more often then not, there are disagreements, and those are best left for more important topics such as: Pirates or Ninjas.
Check out our top 5 bands, and let us know yours in the comments section below!
Drootin
I am a big music fan as was mentioned in the list of video game music so I won't go into all of that again. This is a pretty cool topic and I look forward to seeing who everyone else puts on their list for maybe some new stuff to listen to.
Boys Night Out – Canadian band that probably most people haven't heard of but (as is obvious by being my #1) I love. They have 3 full albums and 1 EP full of awesomeness and great music with awesome, well sung, dark lyrics totally sucked me in. I'm pretty sure I saw them a total of 12 times in a 4-5 year span.
The Beatles – So I have to be honest but I did not like The Beatles really even up to 3 years ago. A combination of hype and not being exposed to them when I was younger made for my true ignorance of them. This all changed when I met my fiance and she talked me into getting The Beatles: Rock Band and boy were my eyes opened and since then I've definitely become a Beatles fan. My fiance and I even went to see Paul McCartney back in 2010. There's nothing else really to be said about them that hasn't been said in the near 50 years they have been around.
The Doors – I was first introduced to The Doors in the early 2000s and was instantly hooked. Between Jim Morrison's booze and sex fueled lyrics, Ray Manzerek's keyboards, Robbie Kreiger's bluesy guitar sound, and John Densmore's drumming they were a great band that had an interesting range of sounds in their songs and no 2 songs seemed the same. Who knows what else we would have heard from them had Jim Morrison not met an untimely death at age 27.
Foo Fighters – Not much was thought of them when they started, people were unsure of Dave Grohl's ability to be a front man after being the drummer of one of the biggest bands of the 90s, Nirvana, and now he is the face of rock and roll. And I will say it, Foo Fighters > Nirvana.
Rush – Canadian prog-rock band that is shamefully left out of the Rock 'n Roll Hall of Fame. Songs like Tom Sawyer, The Trees, Limelight, and many many more are frigging amazing. Geddy Lee is amazing on bass and vocals, Alex Lifeson is under rated as a guitarist, and Neil Peart is arguably the greatest drummer of all time.
Anthony
Music is a huge passion of mine, dare I say even more so than nerdy things? Like I had mentioned in the Video Game Music post, I'm a bit of a musician, and I actually worked on music for two student made games. I'm currently slotted to be the composer of all One-Quest projects too! Anyway I listen to pretty much every type of music, except country. I could easily, do a top 20 on this topic. To pick just 5 is an injustice to so many great bands… but here's my list:
R.E.M. – I was born in 86' so their career had already been underway for a couple years. My dad was a big fan, and when Monster came out in 1994 I guess I was just getting to an age where I could appreciate music. I loved that cassette tape! I began listening to all kinds of my dad's tapes and I really fell in love with music. R.E.M. was the first band I called my "favorite band" and its really never changed.
Iron Maiden
Alkaline Trio
Guster
Metallica
Walnuts
MUSIC?!?! REALLY GUYS?!?! The HARDEST topic I ever have to answer is what is/are my favorite bands/Types of music/songs/CD's and everything else in that mix. I listen to all kinds of music that it is so hard to decide who I like more than others. I can't even cheat to make a bigger list that would be just as hard. I love music that is catchy, good beats, and is a blast to listen too… at least that is when I'm in a good mood, find me pissed and I'll listen to more dark, heavy, loud music… well actually all my music is loud.
DragonForce – Fast paced Power Metal about epic journeys, with many kinds of different guitar sound effects. I remember seeing them in concert once where they weren't even headlining and after their set pretty much the venue cleared out. They get you pumped up that when they are finished you have no choice but to leave. They even held a contest to replace their lead singer ZP.
Avenged Sevenfold – Pretty much the same thing as DragonForce, these guys know how to rock. Even after the tragic loss of their Drummer James "The Rev" Sullivan they were able to put out a great album.
Rise Against – Their music is great, fast paced, and they stand for a cause. They are all Animal Rights activists. Their songs have meanings behind lyrics and like I said they have great music.
Eminem – I haven't always been a fan of rap but have recently gotten more into that genre of music. Eminem is by far the best in that field. His beats, rhymes, and stories he has in his songs all show his true art.
This last one was hard to figure out, so it is a tie between Black Eyed Peas and B.O.B. BEP just has fun and fucks around all the time and I really love B.O.B's song Airplanes.
Walnuts' other favorite band:

Eric
These guys overthink music too much! :p Really, my musical tastes change too often for me to have a top 5 of all times. There are one or 2 bands that I tend to always be in to, but the fact that most bands suck beyond belief after a few albums keeps me from following many for more than a few years. There's also the main issue that the music I listen to most often comes from the video games I'm playing. So it breaks down like this:
Nobuo Uematsu – Technically not a band, but a composer. The composer of every Final Fantasy from I – XI. He's also in a band, the Earthbound Papas. And he used to be in The Black Mages. They did rock covers of his Final Fantasy compositions, and were quite badass. All of his music is fantastic, and a key ingredient to the success of Final Fantasy. While the scores for FFXII and FFXIII weren't bad, Hitoshi Sakimoto and Masashi Hamauzu did a great job in keeping with the tones of the series, they just didn't have the same influence as Nobuo's work on earlier titles.
Daft Punk – A French robot duo that create genius electronic tunes. I remember being first introduced to them on Cartoon Network, when they played Interstella 555 late one Saturday night. I thought it was awesome, and loved the music. I became a huge fan from then on. They're also the reason I can't hate Tron: Legacy.
Coldplay – I remember hearing the song "Clocks" during an HBO commercial once and thinking it sounded really cool. The next day I downloaded all (3 at the time) of their albums and began listening. I haven't missed a CD launch yet, and am dying to see them live.
Skrillex – Dubstep is a recent addition to my listening catalog. I happened upon it through the use of pandora. Skrillex, in particular, appeared on Pandora one day while I was listening to my DeadMau5 station, which I had discovered thru my Daft Punk station, and intrigued me. My Skrillex pandora station has been my default for about 3 months now.
Nero – See, I have phases. It started with Daft Punk, moved to DeadMau5, then to Skrillex, and now Nero. Nero has come up on more than a few occasions in the Skrillex station, and is one of the bands I look forward to when pandora begins it's shuffle of songs. It was also really cool to recognize the music played during the new Borderlands 2 trailer. :p
Chris
I love music, I listen to it every day whether I'm working or at home, or driving. One of the best parts about driving is getting to crank up your radio and relax especially on longer drives. I could go on listing bands and musicians I love for days, this list might not even truly be a top 5, just the top 5 I could think of at the moment.
Boys Night Out – They're a great band, and I wish they would put out some new stuff, it's been a few years that they've been broken up/on hiatus and it sucks. I think I saw them one less time than Drootin did back when they were touring near constantly.
He Is Legend – I've been listening to these guys for about 5 years now and they really good. The singer has a pretty interesting vocal range, from clean and crisp to these deep throaty screams.
Green Day – I've been listening to them since I was a kid. I got to see them 3 times in concert and as much as people may hate on them for "selling out" they know how to put on one hell of a show.
R.E.M. – They just announced they were done a few months back and that was some pretty terrible news. These guys have been around longer then I have been alive and put out one great album after another. Luckily I managed to see them live since I probably won't have another chance anytime soon.
Nine Inch Nails – Trent Reznor writes some truly crazy songs. He was always trying new stuff with his music, and did some video game sound tracks. Johnny Cash even won a Grammy covering one of his songs (Hurt). NIN also puts on one hell of a live show.
Cobb apparently hate's this song. So I included it anyway. :-p