Posted By
Chris
on August 15, 2014 at 4:40 pm in
Featured
,
Friday Five
Friday Five – Favorite Robin Williams Roles
---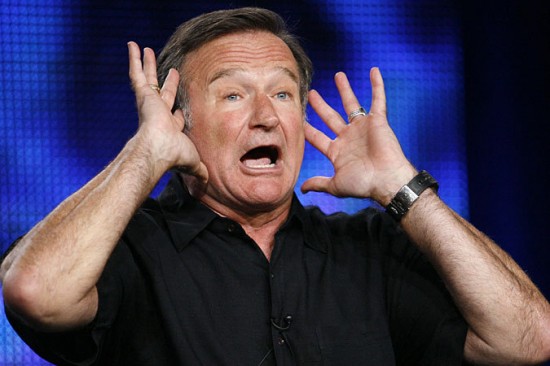 Welcome to the Friday Five! Each week we help you get to know our writers with the help of a top 5 list. This weeks category: Favorite Robin Williams Roles
This was a truly sad week as we lost a brilliant man, the one and only Robin Williams. All of us at One-Quest grew up with him, he taught us how to fly, to seize the day, and to be ourselves. Unfortunately his lessons may be over, but the ones he left will live on. Decades of entertaining millions of fans around the world, left us with the idea to try and pick our favorite roles that Williams played, it's a hard list though, because all of his roles were amazing in one way other another from the serious to the hysterical he was definitely one of a kind.
Chris
This is a really really hard one, it's damn near impossible to come up with just 5 favorite roles that Robin Williams has done over the years. This list doesn't even begin to cover all his wonderful roles, so many favorite childhood movies involved that hilarious man.
Genie – Aladdin – Aladdin is one of my favorite movies, animated or otherwise, and a lot of the reason for that goes to the amazing Genie that William's so magically brought to life.
Peter Banning / Peter Pan – Hook – Bangarang! If any one man could portray a grown up Peter Pan it was Robin Williams. He did fantastic as the straight lace Peter Banning, but when he finally remembers, and finally embraces his legacy as Pan. . . Boy does the movie just take off.
John Keating – Dead Poet Society – This wasn't a movie I watched as a kid, but I remember seeing it for the first time in high school and finding it really interesting. Over the years I've seen it again and again, and it all still really holds up, and Williams' performance as the teacher and mentor to those boys is one role that will always be remembered.
Daniel Hillard / Mrs. Euphegenia Doubtfire – Mrs. Doubtfire – Everyone loved this movie, it was great! You had Robin Williams dressing up as an old woman to be around his kids, he played this role so wonderfully. It could have easily become over the top but it never did. It's a shame we never got that seqeul that had been in the works.
>Mork – Mork & Mindy – The role that really brought Williams to the spot light, I remember watching reruns of this on Nick at Nite and not really understanding all of it, but loving the idea of this cooky alien trying to live on earth.
Shannon
Mrs. Doubtfire
Jumanji
Night at the Museum Series
Hook
Man of the Year
Vogel
Man of the Year
Aladdin
What Dreams May Come
Good Morning, Vietnam
Dead Poet Society
Eric
I made a list, tore it up, and re wrote it like a hundred times. There are no "5 best roles" for Robin Williams. They were all his best!
Peter Banning / Peter Pan – Hook – "Oh, no. To live… to live would be an awfully big adventure."
Alan Parrish – Jumanji – "You think that mosquitos, monkeys, and lions are bad? That is just the beginning. I've seen things you've only seen in your nightmares. Things you can't even imagine. Things you can't even see. There are things that hunt you in the night. Then something screams. Then you hear them eating, and you hope to God that you're not dessert. Afraid? You don't even know what afraid is. You would not last five minutes without me."
Genie – Aladdin – "You ain't never had a friend like me!"
Rainbow Randolph – Death to Smoochy – "Die! Die, you stuffed son of fluff! You illegitimate Teletubby! Die, you Muppet from hell! Die, you foam motherfucker!"
Daniel Hillard – Mrs. Doubtfire – "HELLLLOOOOOOO!!!"