Posted By
Chris
on August 3, 2012 at 2:52 pm in
Friday Five
Friday Five – Favorite Movies From the '90s
---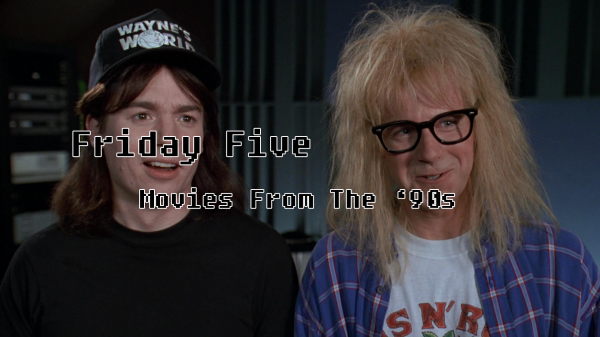 Our first Friday Five of August is, as I'm sure you can tell from the title and image, all about movies from the '90s. Anything release from 1990 till 1999 was fair game, and some of us definitely have weird taste in movies! And don't forget to let us know your favorites in the comments at the bottom.
Anthony
Oh what's that, sequels actually used to be pretty good?! Some of my favorite movies from the '90s were sequels. "Check it Friday" (Hackers Reference). . . Hackers just made my list. . . fk. Now I'm disappointed with myself. I knew I was a nerd, but 3 of my favorite movies from the '90s deal with computers and/or technology. "28.8 bps modem!" "It's not just a processor it's equipped with a PCI Bus!"
(After the rant, I feel I made it abundantly clear that I love the movie Hackers (1995), therefore it is not on my top 5 list. I cheated this week.)
Shawshank Redemption – September 23, 1994
Teenage Mutant Ninja Turtles II: Secret of the Ooze – March 22, 1991
The Crow – May 13, 1994
The Matrix – March 31, 1999
Terminator 2 : Judgement Day – July 3, 1991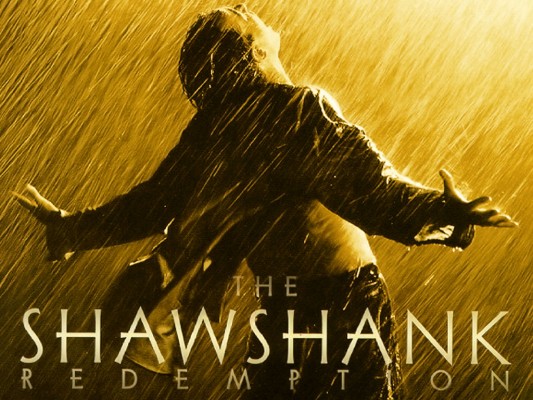 Chris
It wasn't until I actually started to make this list that I realized just how many great movies there were in the '90s. I was only a kid during that decade but I still have a lot of good memories of watching so many of the movies. This list isn't so much my absolute favorites but a collection of some of my favorite movies from various genres.
Teenage Mutant Ninja Turtles – March 30, 1990 – Anthony picked the sequel which was amazing with Super Shredder, and all that, but the original is still my favorite. It had some of the best lines, and Casey Jones makes a movie. It's a shame he wasn't really in the sequels except as a babysitter in the 3rd film, though Elias Koteas played dual roles.
Clerks – October 19, 1994 – I was originally going to pick Mallrats. Whatever, Clerks was just as good and introduced us to the View Askewniverse. It also drew attention to the hotly debated topic of whether the people building the second Death Star deserved to die or not.
Aladdin – November 25, 1992 – Aladdin is probably my favorite Disney movie, not counting Pixar films. Robin Williams was amazing as the Genie and it was just a fun movie. Plus remember that episode of Full House where the family went to Disney World and DJ keeps seeing Steve all over the place, and that one time she sees him as Aladdin that was funny because Steve (Scott Weinger) was the voice of Aladdin in the movie, and pretty much every other media Aladdin was in.
American History X – October 30, 1998 – Something about seeing John Connor as a Neo-Nazi makes this fun romantic comedy worth watching. . . Seriously though it's a great movie and something that if you haven't seen by now you fucked up somewhere in life.
Hook – December 11, 1991 – RU – FI – OOOOOOO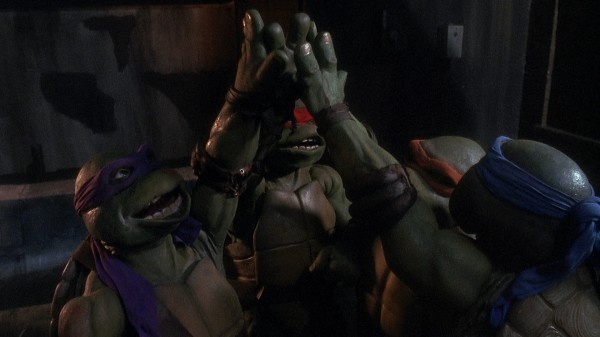 Drootin
It's already been said but the '90s had some great movies. I'm not gonna give any sort of synopsis/spoilers. If you haven't seen any of these movies, go watch them. Picking only 5 is very difficult, although Cobb, and Anthony made things a little easier by picking a few that I would pick so I can skip them. (American History X, Clerks, Mallrats, The Matrix, The Crow, Aladdin, TMNT I & II, Terminator 2. So there I REALLY cheated and picked 14 movies =p)
Fight Club – October 15, 1999 – This is probably my favorite all time movie. I really can't speak more highly of this movie. Just a good movie, and it features two of my favorite actors, Edward Norton and Brad Pitt.
Boondock Saints – January 21, 1999 – An underappreciated movie in my opinion, it's original U.S. theater release was only 1 week. This movie became much more widely known on DVD, it's definitely in my top 5 of the '90s and likely in my top 5 movies overall.
Saving Private Ryan – July 24, 1998 – Easily the greatest war movie of the '90s, and probably one of the greatest World War II movies of all time. It's just an all-time classic. If somehow you've never seen this movie go watch it RIGHT NOW!
Pulp Fiction – October 14, 1994 – Quentin Tarantino is one of my favorite directors and Pulp Fiction is my favorite of his movies. It has a star-studded cast and is just a great movie.
Philadelphia – December 23, 1993 – This is a very heavy movie, but since 9 other of the movies I would have picked were taken so I figured I would put this on here. Both Tom Hanks and Denzel Washington are outstanding in this movie. If you're looking to watch a heavy drama, watch this movie.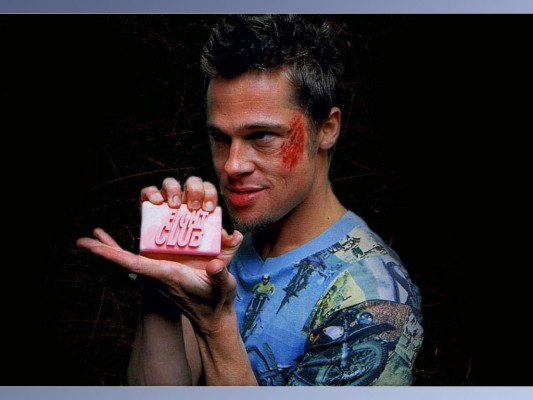 Walnuts
I was born in 1988 so I don't really remember many movies from the early '90s so this is gonna be a pretty lame list.
Teenage Mutant Ninja Turtles – March 30, 1990 – I love the turtles.
Teenage Mutant Ninja Turtles II: The Secret of the Ooze – March 22, 1991 – Like I said I love the turtles.
Jurassic Park – June 11, 1993 – Dinosaurs are cool, and the movie scared me back then.
The Lost World: Jurassic Park – May 23, 1997 – I love dinosaurs, and both these movies had great soundtracks.
Star Wars: Episode 1 – The Phantom Menace – May 19, 1999 – Jar Jar Binks is the man!!! If it wasn't for him the empire would have never gained control.
Eric
Well this blows… In the '90s all I cared about was playing Sega Genesis and… fucking playing Sega Genesis. I wasn't a huge movie buff back then. Even now the best "old" movies I can remember were all movies I saw as a teenager that were made before the '90s (Predator, 2001: A Space Odyssey, Aliens, etc.). I'll do my best to scrounge up some movies I watched in the '90s that I can still remember. . .
Power Rangers – June 30, 1995 – Seriously? No one fucking put this one in here yet? This movie was awesome! How awesome? Well, my mom wanted to take me to see The Indian in the Cupboard and I was not going to have it, because fucking Power Rangers was in theaters! I cried my ass off till my parents gave in and took me, and Walnuts, to see this masterful piece of cinema! Also, we watched it at Otakon last year, and it's still awesome!
Jurassic Park – June 11, 1993 – Yeah, Walnuts said this already. Here's the full story. I've always loved dinosaurs, and after I saw JP I wanted to be a paleontologist so bad! I loved this movie so much that I made my parents bring me to see it 3 times! And each and every G-damned time Walnuts jumped the hell out of his seat crying when Lex almost gets her ass eaten while climbing into the vents! Honestly, I think that's why I thought this movie was so great. . .
Dragonheart – May 31, 1996 – I really don't think I remember this movie being that great. But I liked it for one major reason: It's involved in the earliest prank I remember playing on Walnuts! An elaboration for those that are curious: We were at grandma's house, watching tv and junk. Walnuts had gotten the "good" seat that day, and of course it pissed me off. He refused to move so I went into the other room and pretended to talk to my mom, then came running out screaming "We're gonna go see Dragonheart! Right now! Let's Go!" Walnuts jumped out of the seat excitedly and ran toward the door. We both head out to wait by the car, and a minute or so goes by. I stomp my foot and say "I'm gonna go see what's taking so long. Wait here." And he does. I run inside, sit in the good seat and watch tv. Walnuts came in a half hour later, very unhappy. It was hilarious!
MIB – July 2, 1997 – I love sci fi movies, and the Fresh Prince of Bel Air. MIB was easily one of my favorite movies as a kid. No crazy stories with this one though. . . just an awesome movie!
The Lion King – June 15, 1994 – MUFASA! Of course it made me cry, I was 8. However, it wasn't because Mufasa died. It was because James Earl Jones' voice died again! NOOOOOOOOOOOOOOOOOOOOOOOO! Also, Timon and Pumbaa were stupid awesome!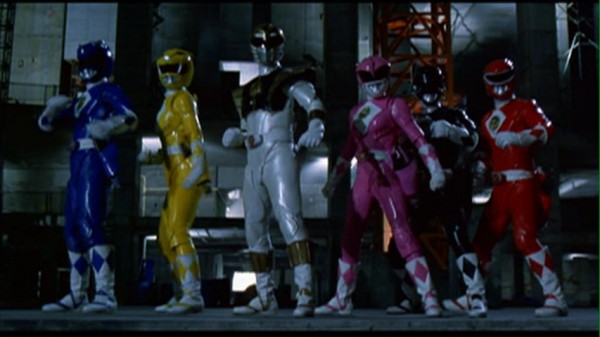 Audra
Walnuts, I agree with you. For some reason all the movies I come up with are either 1980s or 2000s. I must have slipped into some black hole during the '90s. Let's give this a go.
Mulan – June 19, 1998 – Which I let my cousin borrow and never got back. Some argue that she's not a Disney princess, that's for a later discussion.
Now and Then – October 20, 1995 – A movie about 4 girls growing up with different lives. It has a lot of well-known actors in it was well.
Jurassic Park – June 11, 1993 – Should have scared me because I was so young but didn't.
Mighty Joe Young – December 25, 1998 – I think I played the hell out of that VHS.
Grumpy Old Men – December 25, 1993 – Only watching this movie later as an adult did I truly appreciate all of the humor.