Posted By
Eric
on February 21, 2014 at 3:10 pm in
Friday Five
,
Quest Log
Friday Five – Favorite Burgers
---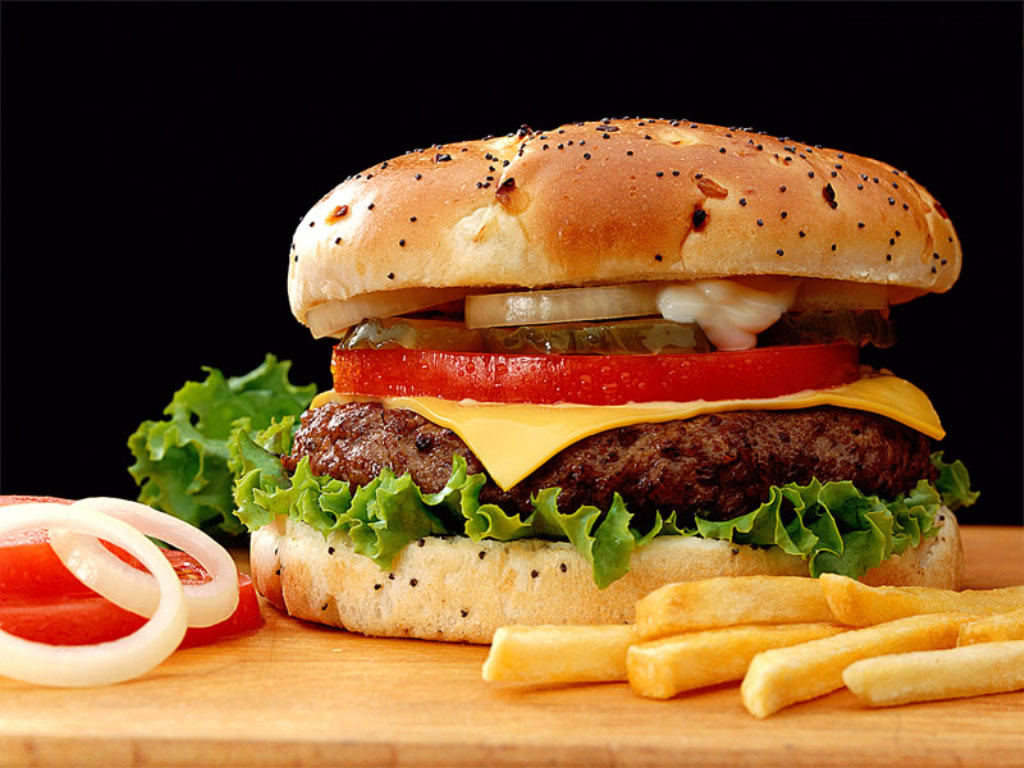 Welcome to the Friday Five! Each week we help you get to know our writers with the help of a top 5 list! This weeks category: BURGERS!

Who doesn't love cheeseburgers? The answer is: NOBODY! Nobody doesn't love cheeseburgers! NOBODY! It's un'murican to not love cheeseburgers! Do you hate 'murica? DO YOU? I didn't think so! In that case, you LOVE cheeseburgers! And as a result you have a favorite, or a couple favorite. Well, that's what we have here. A full list of complete 'murican deliciousness! Read it. Love it. Then tell us your favorite cheeseburgers in the comments below. 'MURICA!

Chris
Burgers are amazing, as long as they're cooked right and actually meat. One of the best examples of a burger lover is Ron Swanson, so a good portion of my selections are inspired by that amazing man.
Paunch Burger – Parks & Rec – The number two: "Double bacon grenade deluxe, hashbrowns, chili cheese fries, and one poached egg" (sometimes including a banana for health stuff). The first of a few Parks and Rec picks, this meal sounds amazing, but any burger named Double Bacon Grenade Deluxe is a must have. Also, they have a soda size that is called Baby Sized because it is the size of a child!
Turkey Burger – Parks & Rec – A burger with a fried turkey leg inside, if that doesn't exist at every fair in the world then I don't want to live on this planet any more.
Drootin's Dad's Burgers – IRL – Another I have to steal from someone else, but it's true these burgers are some of the best I've ever had, and they're huge way more red meat than anyone should eat, but EVERYONE should eat them!
Royal Red Robin Burger – Red Robin – Aside from homemade, which are generally the best, Red Robin has some of the better burgers I've had. This one is easily my favorite, a burger with bacon, cheese, and all the other usual suspects plus a fried egg. Of course this is delicious.
Good Burger – Good Burger/All That – Because why the hell not?
Drootin
Finally a topic I actually can comment on! Burgers are one of my favorite foods and almost never turn down a chance to get one.
My dad's bacon cheeseburger – My dad makes some kick ass bacon cheeseburgers, he has a special mix of stuff that he mixes into the ground beef and it is still my favorite burger to eat. The ironic thing is, my dad is a vegetarian but me and my siblings never were so my dad would cook us all kinds of non-vegetarian meals and he got really good at it.
Sara's homemade 'Juicy Lucy's' – Juicy Lucy's are cheeseburgers but with the cheese melted inside the burger instead of on top. With the cheese in the middle these burgers stay extra juicy and Sara seasons then perfectly. These burgers are great and I can't wait until the next time Sara makes some.
Five Guys – In the like not quite fast food fast food burgers I like Five Guys the best. They have the best selection of toppings (most for free) and also I REALLY like their fries so that probably skews my perception a little but it's part of the package.
Any Fat sandwich involving burgers – So this is cheating a bit because Fat sandwiches come on a hoagie roll so they aren't your classic burger configuration. Anyway Fat sandwiches are crazy and almost only available in New Brunswick, NJ near the Rutgers university campus. They consist of a base meat (usually burger, cheesesteak, or ckicken) then topped with things like french fries, mozzarella sticks, chicken fingers, etc. They are pretty awesome and I wish they were more prevalent.
Wendy's Baconator/Burger King Stacker – This is a tie for me in the "fast food" division as these are easily the best 2 fast food burgers around. These have the trifecta of burger, bacon, and cheese, with the Stacker maybe getting the slight edge for its sauce but the Baconator is on a better bun so it's difficult for me to decide on which one. Also McDonald's burgers suck so don't even ask me about Big Mac or Quarter Pounders.
Eric
Like everyone else here, I love cheeseburgers almost as much as life itself. Cheeseburgers are my primary excuse for not going vegetarian, or partaking in any type of diet ever. They're delicious, and you can put anything on them to make them even better.
Whiskey River BBQ Burger – Red Robin – A few years ago the wife and I were marathoning through Psych. Season 2 had some sort of advertising deal with Red Robin, and it was mentioned in nearly every episode. After 6 episodes we decided that Red Robin had to happen. The nearest store was over an hour away. This was the burger I got, and it's still my favorite on their menu to this day.
Kobe Burger – Cheesecake Factory – My wife and I decided to go to Cheesecake Factory a few years back. As we walked through the restaurant to our table I spotted a beautiful cheeseburger on another table. For some reason I went with a pasta dish and I regretted it. Not that the dish was bad, but it wasn't the burger. The next time I went I got this burger and it literally melted in my mouth. However, I hate mushrooms. So I get it without that crap.
The Ultimate Burger – Appetites on Main, Exton, PA – This place is near my wife's home town, and it's really good. What made it appealing was that all of their sandwiches could substitute vegetarian "meat" which is great since my wife is a vegetations. Me? Not so much.I just want burgers, and this burger lives up to it's name. French Fries, Bacon, BBQ Sauce, American, and Cheddar Cheese tops a half pound patty in between two spectacular buns. Superb!
Five Guys Burgers and Fries – If I'm in the mood for a quick burger that tastes great, I look to Five Guys! 2 patties, bacon, cheese, and anything else you want on it! Great burgers!
McDouble – McDonalds – Is it a great burger? Not really. Is it great when you only have a $1 in your pocket? Hell yeah! It's not my favorite burger to go to, but when I'm low on funds (which is often) I have no problem getting my burger-fix for a dollar.