Posted By
Chris
on October 5, 2012 at 3:12 pm in
Friday Five
Friday Five – Appointment TV Shows
---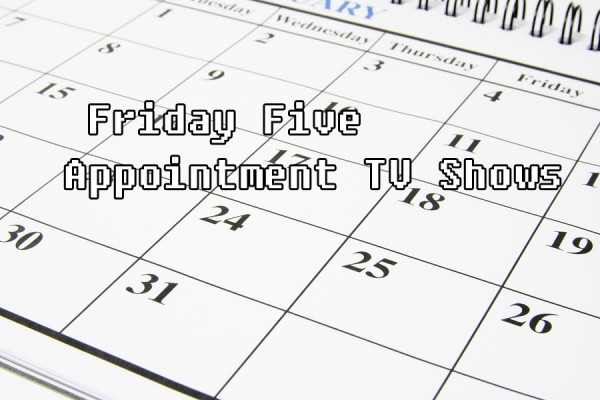 With all the new shows, and season premieres happening we decided this week's Friday Five would be all about what shows we just can't miss. You know the ones you watch religiously from week to week. Doesn't matter if you watch them as they air, or 2 days later OnDemand, or from your DVR that same night. Like a weekly appointment. These are our favorite Appointment TV Shows, and make sure to tell us yours in the comments!
Chris
This season has a ton of new shows that are actually really interesting, at least so far. And I have a lot of them setup to record on my DVR. Even with that DVR though I still have some shows that I try to be around for when they air, most of them haven't been around that long either only a season or two in.
Grimm – I've liked this show since it debuted last year, I'm always nervious for it though it's already on one of the least watched networks according to ratings (NBC), and it's on Friday nights. So far it's been doing well though and got picked up for it's second season which is always a good sign.
Dr. Who – I only recently started watching this on Netflix, but I watch it fairly regularly, usually an episode or two after work, I'll be caught up in no time.
Once Upon A Time – This just had an interesting premise, and some of the creative staff came over from LOST which is one of my favorite shows.
Revolution – We're only about 3 episodes in and already this is one of the best new shows of the year. It's got a lot of big names behind it though so it makes sense. Hopefully they can keep it going and it doesn't get canceled after one season like so many other shows do.
How I Met Your Mother – I really just want to know who the mother is already!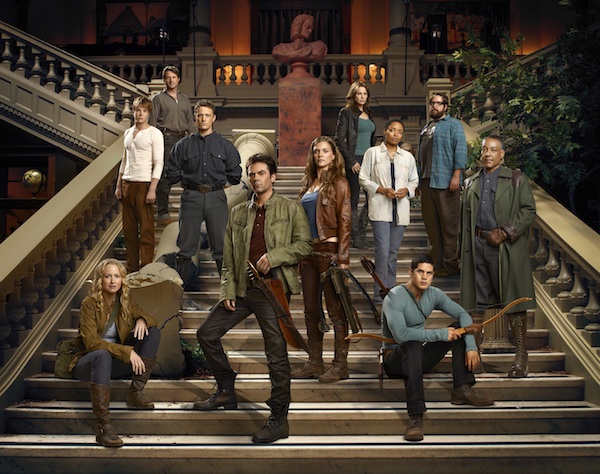 Drootin
This is a tough 5 for me because I'm really not a big TV watcher. To be perfectly honest I'd say between 75 and 80% of my TV viewing (if not more) is sports related stuff be it highlight shows or live games. Now throw in the fact the 1 of the shows that would have been on my list is canceled (House) coming up with 5 is a tough task.
WWE Monday Night Raw – Yeah, its pro-wrestling but I've made no bones about being a huge fan of pro-wrestling so I'm not ashamed to have this on my list (if you follow me on twitter I often tweet during RAW)
The Walking Dead – I missed watching the first season as it aired but just kept hearing how good it was. So as the second season was coming around my fiance and I watched the first season on Netflix and we were hooked and I can't wait for it to come back.
Philadelphia Eagles football games – So I'm totally gonna cheat this week for the 5 cause honestly I don't have many shows I feel are must watch. I do however feel I must watch every Eagles game. I love football and the Eagles are my favorite team and I always look forward to Sundays from September to January to watch football and football previews from like 11am-11pm each week.
Any lacrosse game – Like I said I'm sportsing it up this week. Lacrosse is hands down my favorite sport and I will watch every game I can. I don't care if it's NCAA, pro indoor (NLL), or pro outdoor (MLL), if it's on TV I'll watch it.
Around the Horn/Pardon the Interruption – ESPN's 5 'o clock hour shows have been about as close to can't miss as TV gets for me since these 2 shows came on the air in 2001 and 2002.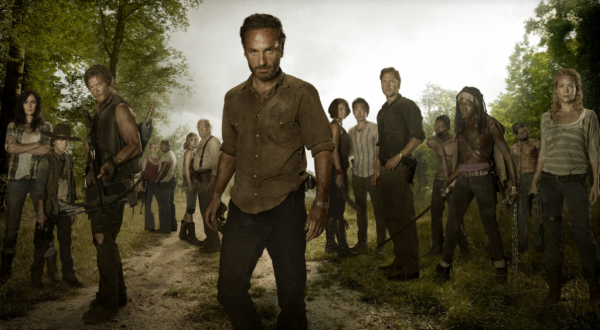 Shannon
I work an evening shift so I have to record most of my shows. Luckily I only work 3 days a week and I do get to watch some shows live if the tv isn't being hogged.
Bones – I'm actually home for this show, so I try to catch it while it's airing or within a couple hours afterwards.
Face Off – We've watched both previous seasons and this one is the best. There is far less drama between the contestants (with the exception of episode 1), and as always there is some amazing makeup and special effects work.
The Big Bang Theory – Been watching this since the beginning.
Elementary – I'll be watching this one religiously now.
Glee – Yes, I watch Glee, what of it?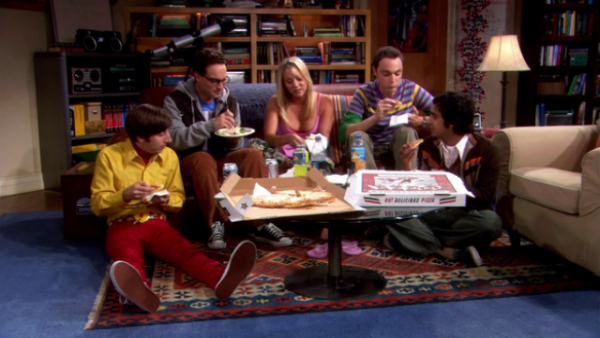 Vogel
Since my wife works nights I usually have to wait until she gets home to watch the shows that I want to watch so that we can "spend time together." There's a show or two that I watch that she doesn't so I can usually watch them live.
The Big Bang Theory
Bones- I'm going to have to wait til they bring back Pelant, I think he's my favorite part of the show.
Fringe- I caught on to Fringe in the second season when I worked at MovieStop. I borrowed the first season on bluray and power watched it in 3 or 4 sittings and I've been watching it live ever since.
Elementary- I know the series just started but if you read my article about the show you'd know I already love it. I'll be watching every week.
The Walking Dead- I got into this show in a big way when they put the first season on Netflix. It was only 6 episodes but I couldn't stop watching it. I got ahold of the second season and watched that almost as quickly.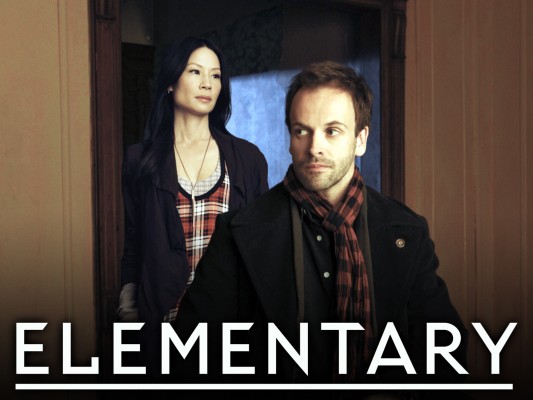 Walnut
I watch an insane amount of television, and I know some of what I will say here I don't watch on tv but, I make sure to keep up every week. The fall premier season is always hard on me, especially this year since EVERYTHING is on on Thursdays. I do my best to watch every new episode(and since the Phillies aren't in the playoffs I have more time to watch new shows)
Walking Dead – I am a huge zombie buff and I love this show. I just wish they wouldn't do the mid season break.
LOST – I know it isn't on any more, but every Wednesday I watched it and looked forward to it
The new shows: Last Resort and Revolution – Yeah I know I cheated but they are only 2 or 3 episodes in, can we really count them? They are only appointment because they are new.
How I Met Your Mother – It's just a great show and relatable to many aspects to everyday life. I've actually used this show as reference points to help some friends through emotional times.
Naruto Shippuden – Every Thursday I make sure that I am caught up to the most recent episode that aired in Japan earlier in the day. Thats all I have set to watch on my Thursdays (Throw in Last Resort for thursdays)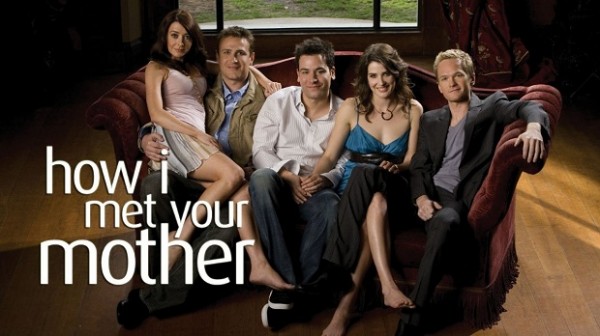 Eric
Well… I don't have time for TV. I have far too many video games to play, and wedding planning has consumed my life(JUST 1 WEEK TO GO!). When I watch TV it's usually through netflix and hulu, and I'm generally watching old seasons of canceled shows, or a few that are still running. There's really only 1 show on TV right now that I'm current with, and most of the others I'm either a few seasons behind on or haven't started airing yet. Oh well, here's my dumb list. And Drootin, I miss House too!
Grimm – The only show that's currently running that I watch. I don't see it the night it airs, but usually the weekend that follow.
The Walking Dead – Like everyone else, I love this show. It's excellent, and luckily I'll be in florida next sunday when it premieres.
Parks and Recreation – I just started watching this one on netflix, and I can't stop. I should be caught up with the current season by the end of the month at the latest!
Boardwalk Empire – I couldn't stop watching this show last season. Everything about it was awesome! Until the finale. . . The ending left me a little upset, and while I haven't managed to watch any of the current season yet, I have every intention of catching up after the wedding.
The Office – I watched the first six season in just a few months on netflix. It was hilarious. With the departure of Steve Carrell, and the shows amazingly fast decline into mediocrity afterward, I decided to move on. Knowing the current season is the last has given me the drive to catch up and watch the finale as it airs. I'll blast through season 7, and the missed parts of season 8 after I've caught up with Parks and Rec.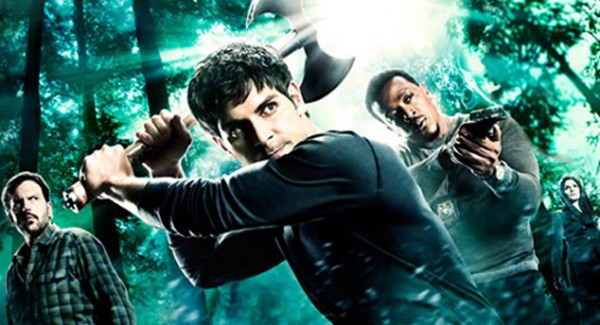 Audra
So we dropped our cable and now I only really watch the wide assortment on Netfix. However, there are still a couple of shows that I will make sure I'm around to watch on what cable we do have.
Psych – Turns out there is a pineapple in every single episode they do. This season they are having a musical 2 hour special, "Rocky Horror Picture Show" spoof. Be there!
Grimm – I was nervous when this season started up again, what with the lame new introduction (his retelling of what the show is about over the beginning song), but they ditched the voice over and now just have the music. Looking forward to a good season.
Last Man Standing – The mirror image of Home Improvement only with 3 girls instead of the 3 boys. Still stars Tim Allen but the humor is updated and they leave out the "end moral" in their episodes.
Walking Dead – I know, seems everyone already picked this one, but I'm right there watching it too.
True Blood – So the last season hit the shitter. I can't say that I didn't watch every episode though. Having read every Sookie Stackhouse novel (with the exeception of the very last one) I feel its kind of my duty to stick with it.