Posted By
Chris
on August 14, 2013 at 8:44 am in
Video Games
Diablo III Expansion Teased?
---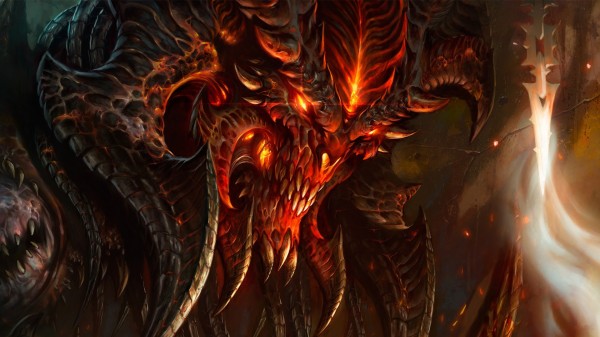 Have you seen the new 'teaser' site on battle.net? http://us.battle.net/d3/en/reaper-of-souls/there it is.
Any Diablo fan is going to see a certain name that will make them do a double take. . .
"BOOK OF TYRAEL"
At this point, it could mean anything, could probably be that it's pointing at the console release of Diablo III next month, or maybe a release date for the PS4 version of the game. If you read into it enough that would work, think about it.
"DEATH, AT LAST, SHALL SPREAD ITS WINGS OVER ALL. – BOOK OF TYRAEL"
The bit about spreading wings over all could easily be a reference to Diablo III branching out to the home console market.
But that would just be silly. . .
No what this is more likely is a teaser for what we all knew to be coming, a Diablo III expansion. . . Sure there's nothing right on the page that says it, but there are a few things if you look in the right spots.
Lets start with the two hardest to find things, if you look at the source code for the page, you'll see that it is definitely Diablo related, see the image below for what I'm talking about.
And now if you did look at that source code and you clicked on the Stylesheet link you're going to see a lot of stuff you may not understand, and multiple lines that include the following:
(../../images/teaser-page/d3x_teaser-es-es.jpg)
For those who don't work on Websites, that's the CSS for an image, and that image name is d3x_teaser-es-es.jpg. Being someone who works in the Web Design world, D3X would be a great way to shorten Diablo III Expansion for image names, and teaser is pretty self explanatory.
If you don't feel like going through the work of looking yourself, here is what I'm talking about.
And finally and easiest to find, if you throw that link into Facebook you get the following:
Now we already knew Blizzard was planning on spilling some beans come Gamescon later this month, but now it's looking even more likely it will definitely be an expansion to a game that desperately needs one. So keep an eye on One-Quest and we'll update you on any Diablo III expansion news as we hear it!