Posted By
Eric
on March 20, 2013 at 10:46 am in
Comic Books
Brian K. Vaughan and Marcos Martin go digital with The Private Eye
---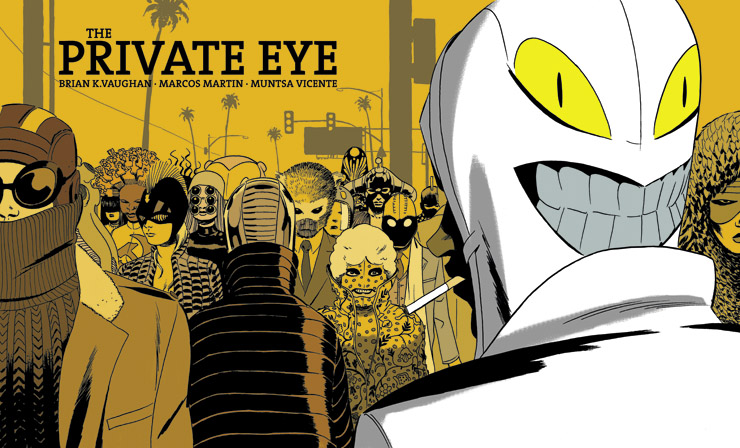 Brian K. Vaughan, the technology challenged writer of Saga and Y: The Last Man, teams up with Marcos Martin, known for his work on The Amazing Spider-Man and Daredevil, to bring you a new creator owned comic, The Private Eye. This new books is being brought to you, astoundingly for BKV, through a completely DRM free, pay what you want, digital distribution model located at www.panelsyndicate.com.
The Private Eye takes place in a futuristic America that doesn't use the internet. Privacy has become so important that everyone keeps their identity a complete secret, even going about their day to day activities in masks and costumes. Everyone's lives are kept totally private, and no one is allowed to know your secrets without permission. Enter the Private Eye. If there's something you need to know, or someone you need to find, he's your guy, provided you have enough cash.
It's interesting to see this world of privacy when today you can't check facebook without knowing that one of your friends just took a crap. Privacy is all but forgotten in our age, and it looks like the world of The Private Eye has paid a price for it. The plot runs smoothly, with BKVs dialogue as entertaining as ever. He really excels at making readers feel for his characters, even if this is just our first introduction to them. Marcos Martins' art is also quite spectacular. It has a bit of a retro feel that helps sell the futuristic ideals. The colors by Muntsa Vicente are also perfect. Everything just sort of flows together and looks beautiful.
The Private Eye is available solely in digital formats(.cbr, .cbz, and .pdf) from panelsyndicate.com. The hope is for a 10 issue "maxiseries" which is fully dependent on the success of the book and contributions from the readers. Also worth noting again, you can pay what you want. Starting as low as NOTHING! But I highly recommend you give them a little something, because it's worth it.
The Private Eye is an excellent read, and can literally fit anyone's budget. You have, literally, no reason not to check it out.