Posted By
Chris
on August 8, 2013 at 7:38 am in
Video Games
Batman Arkham Origins UK Collectors Edition Revealed
---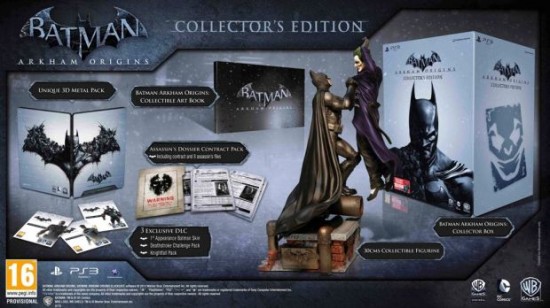 I'm really not a fan of Collectors Editions of games, I've purchased a few in my time, but more often than not I'm hugely disappointed by the 'extra goodies'. The last one I picked up was for Assassin Creed III, and while the statue is pretty cool it just wasn't worth all that extra money. That said, the Batman Arkham Origins Collectors Edition looks pretty cool, particular that Batman & Joker statue. Downside, it's the UK version and us folks in the US will probably get some bastardized version of it that isn't nearly as cool. So if you're a UK reader and like this it's going to be £79.99 and available October 25, 2013.
If we can get an $79.99 edition with some nice goodies I might just give it a go, but track record on Collectors Editions aren't so good at the moment. So let us know what you think about this stuff in the comment below!
And did anyone happen to get Batman Arkham City Collectors Edition? I believe that was the one that didn't come with a normal case for your game.