How I Met Your Mother – 8pm on CBS (Premiere Date 9/23/2013 *1 hour premiere*)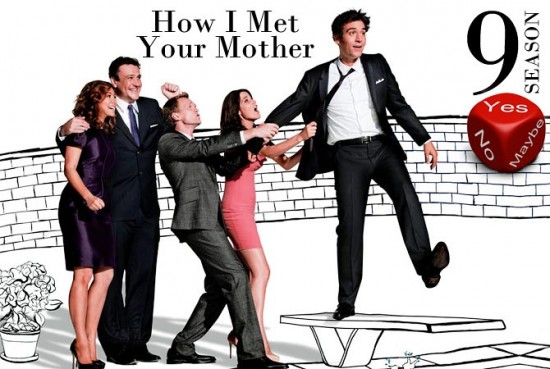 How I Met Your Mother's final season is a few weeks in now and it's be going pretty well so far. The last two season I felt were a little weak, they had their moments, but overall I just wasn't impressed with where a lot of story lines were going. Now with this final stretch to the end the writers have an ending in sight and only so many episode left to get to it. Without focusing to much on the more recent episode, lets talk a bit about the one hour season premiere. This was our introduction to just how this season is going to run, with the gang attending Barney and Robin's wedding at a nice hotel in a town called Farhampton. Of course it's not going to be that easy, the first episode featured a brief road trip to the hotel with Ted and Lily, which Lily quickly baled on because Ted is crazy. This of course led to our first real introduction to the woman known only as The Mother. Unfortunately for Ted, it was Lily who first met her, and it was actually a great introduction. She seemed to actually hit it off with Lily really well, and her personality just felt like she would fit into this group of friends. The problem with the first half of the premiere was that this was the highlight, meeting this character we've been waiting on for so many years was great, but the rest of the episode left something to be desired. Barney and Robin's almost incest was weird, and the only enjoyable parts were the ring bear and Game of Thrones reference. Yeah, Joffrey was a great King. . .
Marshall had a story that could have been good, had it not obviously been something that's going to drag out over several episode. Was it really necessary to make his character have to take this long road trip with a stranger to get back in time for the wedding? Just let the poor guy take a plane ride! I suppose with the reveal last year that he was offered a Judges job, while he and Lily were preparing to go to Italy for a year is an alright reason to drag things out, it still feels forced. Ted was really the only character that didn't have much going on in this first episode, though at the end we did get a pretty big glimpse into where his mind was at the moment. On the bright side we kind of know how things are going to play out, sure bad stuff will probably going down, but we can assume a show like this is going to have a fairly happy ending by the end. Granted I know that we've heard Ted reference to Aunt Robin, Aunt Lily and Uncle Marshall to his kids, but I honestly can't remember if he ever mentions Barney in a similar way to his kids. I could just be forgetting things, or possibly this is foreshadowing dun dun dun.
Anyway, the second episode had the characters actually arriving at the hotel, and while the Mother wasn't really a big part of this episode, her one scene was probably the highlight of the entire episode. Without spoiling things, it's nice to know that the show at least threw fans a bone on this one, and hopefully we get a few more. We all know that Ted will not be meeting her till probably the last couple episodes, if not the very last. We've seen where it happens, and have a pretty good idea of when, it's going to be one hell of a season getting there though. If you haven't started watching this season of How I Met Your Mother yet stop hesitating and get to it already, this is certainly to be one of those shows you don't want to miss.
Verdict: Watch it and be ready to cry this spring!
Score: 8/10
Reviewed By: Chris