Posted By
Drootin
on February 16, 2014 at 9:42 am in
The Week In Gaming
,
Video Games
T.W.I.G. 2/16/2014
---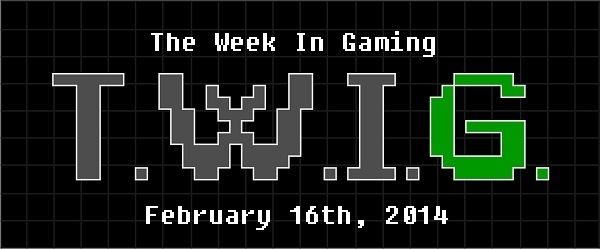 Well, its been an interesting news week this week so there's actually quite a bit to report, so let's get right to it.
The News:
Halo 2 Anniversary coming this year? Master Chief voice actor Steve Downes said to GameZone "I think you may be ahead of yourself on Halo 5. I wouldn't expect anything until 2015. What you can look forward to this year is an anniversary edition of Halo 2". When asked by Polygon.com to comment Microsoft only responded with "your next Halo journey will begin in 2014". So it looks like we will have to wait and see but I'm sure this isn't what Halo fans wanted to hear.
According to the U.K. site for Amazon a new Transformers game titled Rise of the Dark Spark is coming to the PS3, PS4, 360, XboxOne, 3DS, and WiiU. No word on a release or who is developing the game but the last 2 non-movie tie-in games have been very well reviewed so we will be keeping a close eye on this one.
Nintendo's newest Kirby game, Triple Deluxe, will be releasing on May 2nd in North America for the 3DS
A new character has been unveiled for the next Super Smash Bros game for WiiU and 3DS. Punch Out's Little Mac has been upgraded from an assist trophy to a full on playable character.
MLB 14 The Show has been given release dates. The PS3 and Vita versions will release on April 1st and the PS4 version will be releasing in May. The delay was made to ensure that all the games have all the same features and to not leave the PS4 lacking any major features that series fans have come to expect.
The WiiU version of Watch Dogs has been delayed to an undetermined time. Rumor mills are churning that the game has been canceled for the WiiU after the preorder SKU temporarily disappeared from GameStop systems and Nintendo not mentioning it as a game for their upcoming fiscal year during their 3rd quarter financial report.
Donkey Kong Country: Tropical Freeze will not be using 2 screens. Players will be asked to chose which screen they want the game displayed on when they load up the game and the other screen (TV or the GamePad) will be blank. This is the first WiiU game to do this and its quite surprising given that Nintendo in its latest investor call said that more focus would be put into the GamePad being a key component of the WiiU so we will see if this is something that shows up in more games or not.

The new releases:
Plants vs Zombies: Garden Warfare (2/18) – 360, XB1
Earth Defense Force 2025 (2/18) – 360, PS3
Strider (2/18) – PS3, PS4, XB1
Donkey Kong Country: Tropical Freeze (2/21) – WiiU