Dropbox It Like It's Hot!
---
Dropbox has served me quite well in the past year. With access to my files on my phone or really any device I own, Dropbox has certainly made my life a bit simpler!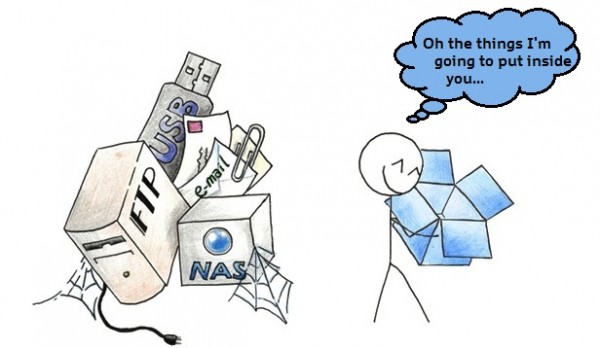 As a student, Dropbox has saved my ass time and time again. Working on my graduate degree in Computer Science and with a job that took a significant part of my time, I was forced to study in awkward places. Dropbox served as a gateway to my professor's slides on Fibonacci Heaps pretty much anywhere I was thanks to their nifty Android App, leading me to an A in my Advanced Design and Analysis of Algorithms class! *flex*
Group projects were also made a breeze! Dropbox played a huge role in making the first build of our up and coming game possible. Instead of mindlessly emailing the art assets needed for the game, all Eric had to do was drop them in our shared assets folder. I'd then get a nifty little notification letting me know there's new art that needed to be incorporated into the game. I humbly thank Dropbox for making file sharing easier…and well, safer! If your computer crashes, just download Dropbox on another device and your files will be there. No more losing hours of work in the blink of an eye!
Enough about my personal experience with Dropbox, let's hear more about them! Dropbox was founded in June 2007 and was officially launched in September of 2008 by Drew Houston and Arash Ferdowsi. The original idea was sparked by Drew who was simply sick of emailing a bunch of files back and forth. So here we are 5 years later with an easy to use service that's free (up to a certain amount of space)!
So here is how Dropbox works. You download the program and it generates a folder called Dropbox on your device. Throw a file in, and it automatically syncs it to your Dropbox account via the interwebs…and really that's all it takes. You can organize your folders however you please; Dropbox will take care of the heavy-lifting for you. Can't download Dropbox on your device? It's all good, just log in to your Dropbox account at their website and download your files from there. Want to share a file with someone who doesn't have Dropbox? Toss your file in the 'Public' folder provided by Dropbox which provides a link that you can give to others to download your file. You can also have shared folders between other Dropbox members. Now I know what you're thinking…what if someone is editing the same file that I am and we hit save both at the same time? Dropbox took care of that too! If a situation like that happens, it'll generate a conflict file. You can then check to see what you want to save or delete from either file, so no data is lost.
The generous folks at Dropbox start you off with 2GB worth of space at no cost which can be expanded to 16GB if you refer enough people! Starting a business? Dropbox has various premium packages at descent prices to help you fit your needs.
Seriously, if you don't have Dropbox get it now and tell your friends. Why go through the hassle of emailing attachments back and forth all day when you can just drop em in your folder. To top it all off, Dropbox doesn't discriminate! Apple, Linux, Microsoft, Android…they have you covered. From all of us at One-Quest, we wish Dropbox well on their quest to make life a bit easier! Thank you and keep being awesome!