Posted By
Chris
on June 10, 2013 at 5:16 pm in
Comic Books
Zenescope Announces NO TOMORROW!
---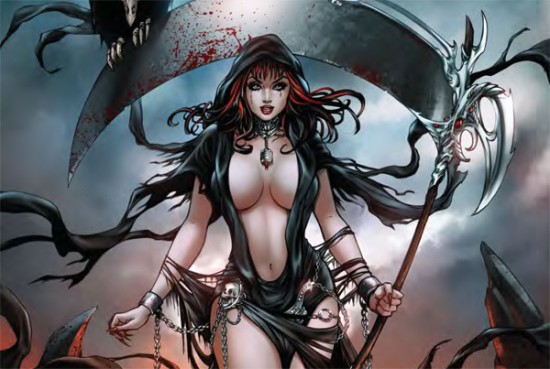 Zenescope is once again going to throw us a new spin off series from their Grimm Fairy Tales line, and this one sounds dark and twisted and tragic like none before it. No Tomorrow is about a vengeful angel of death and a normal man trying to stop her! So basically cheat death, it sounds like it'll have a lot of depth and meaning more so than most comics on their today. And of course it's going to have the expected level of characterization, sexiness, and story that we always get from a Zenescope book.
No Tomorrow will be available this August, so make sure to get out there and tell your local comic shop to reserve you a copy!
We don't know a ton more about the book, but check out the full press release below followed by a preview of the 4 covers for the series.
Zenescope Entertainment Announces Grimm Fairy Tales: NO TOMORROW
Zenescope Entertainment has announced its newest Grimm Fairy Tales spin off mini-series, entitled Grimm Fairy Tales: No Tomorrow. The five part mini-series is a supernatural horror/thriller that could be the scariest comic the company has published since its spine-tingling comic book prequel to the film SE7EN back in 2007.
Set in the not so far off future, the long fought battle between the forces of good and evil has finally come to an end, and now an ancient new horror has entered the Grimm Universe. Keres, the Goddess of the Death, has begun to wreak havoc on an unsuspecting Earth, and one family man will feel the effects more than any other. Now this man must attempt to uncover the truth behind Keres and how to stop her before all is lost. But will his obsession with destroying "death" also prove to be his downfall?
Drawn partially from the tragic loss of a close friend, writer Raven Gregory came up with the idea of a vengeful "Grimm Reaper" who needs to be stopped. "At its core, No Tomorrow is about a man who decides to fight the inevitable, regardless of the consequences," says Gregory. "It's horror in its purest form."
"I've wanted to do a story about an angel of death for a long time then Raven suddenly pitched this to Joe and I and we knew this was the right concept." said Zenescpe Editor-in-Chief, Ralph Tedesco "It's tragic, scary and thrilling. It has a great hook and fantastic characters. I'm very excited to be part of this series."
The first issue is available now for pre-order in Diamond's May edition of PREVIEWS and hits stands in August. The issue also features four beautiful covers by Mike Krome, Harvey Tolibao, Stjepan Sejic, and Pasquale Qualano. For more information on No Tomorrow or any other Zenescope title, visit www.zenescope.com or follow their updates on Facebook.com/Zenescope and Twitter @Zenescope.